Film and Plot Synopsis
Rad is the story of a Cru Jones. He's a small town guy who delivers newspapers and has fun with his friends— all of whom are amateur BMX bike riders. One day, a once-in-a-lifetime opportunity comes along for him to compete in a race which mixed amateurs with professionals. Cru jumps at the chance to qualify. Once there, he meets Christian, a female semi-pro BMX racer who rides for Mongoose. While Cru falls in love with the girl, he blows off his SATs to qualify for a Helltrack. Putting it all on the line to win something amazing unites his small town against sinister corporate flunkeys. Cru overcomes the odds to show everyone what true passion really means.
Buy the Film
Rad
13 new from $12.53
3 used from $12.48
Free shipping
as of November 28, 2023 8:17 am
*As an Amazon Associate we earn from qualifying purchases.
'Rad' Movie Summary
The summary below contains many spoilers and feeble attempts at humor.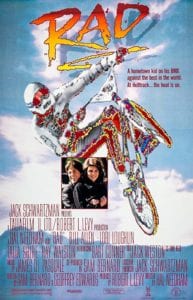 Rad
, otherwise known as Paperboy: The Movie, is a film about dreams and America's favorite pastime: montages.
High school student, Cru Jones has a paper route and down syndrome, but don't let that fool you. This kid has more determination and talent than any other kid in the country. He can deliver his papers quicker than anyone else. He can out run the local motorcycle policeman, and he can bounce on the front tire of his bike forever.
When BMX corporate comes to Cru's small town for Helltrack, the greatest BMX race ever held, Cru wants to prove himself as the best in the world. Unfortunately, this race is only for professional factory racers like Mongoose's Bart Taylor; played by the 1984 summer hero Bart Connors himself. Bart and his evil twin friends, who apparently only have one girlfriend between them, show off their biking and dancing skills.
The townspeople occupy Helltrack, and force the BMX people to open up the race to some of the local kids. However, unlike all the other Occupy events, these simple folk are actually successful, and Helltrack agrees to hold a qualifying race for the townies.
Cru is intent on qualifying even though the qualifying race is on the same days as the SATs. Cru has to decide between college and a chance at Helltrack, or a chance at Helltrack, and starting college in the winter instead of the Fall. Either way, Cru's mom, Adrian, is pissed, but she gets over it pretty quickly because this story line is just bullshit false conflict.
Although Cru has more determination and talent than anyone, he finishes 3rd, 2nd, and 2nd in his 3 heats. This earns him enough points to qualify for Helltrack and $10K.
Unfortunately, 80s greed takes over, and the BMX corporate head, Duke Best, institutes a new rule that all Helltrack riders need a sponsor. Cru takes the 10K he won, and makes up T shirts to form his own sponsor: Rad Racing. Apparently, Chico's Bail Bonds wasn't available. This new sponsor spends $10K to earn just under $500.00 in T-shirt sales—this is where Obama got his economic plan.
Duke isn't through with these meddling kids. He institutes a new rule that all sponsors must have at least $50K in sales. It looks like Cru gave up on the SATs for nothing.
This is small town America (or Canada), and they don't take too kindly to big business coming in and throwing their weight around. So, Aunt Mae and a middle aged mom that wants to bang Cru convince the people at a town hall meeting to donate money so Cru can race. Unfortunately, these town folk fall $27K short.
A local business man played by Mr. Hand who has invested in Helltrack decides to fuck his investment, and support the local kid by buying $27K in Rad Racing T-shirts.
The race is on with Cru and Bart as the top contenders. Cru is out to an early lead when one of Bart's teammates goes all Bobby from Karate kid, and tries to take Cru out. Cru quickly regains his position by using his patented back flip move which somehow allows him to move up 15 spots. In this movie the back-flip is kind of like listening to music while flying a plane.
It's the last lap, and Cru is still well behind Bart. Luckily, Bart tires of corporate servitude, and he sets out to prove that he is the best. So, he stops and lets Cru catch-up so the race will be fair. Cru just edges out Bart for the win; making Rad Racing a legitimate BMX team.
Duke is so pissed that he fires Bart, and tells him he'll never work again; despite being the second best BMXer in the world. Which is kind of like being the second best at playing the accordion: no one really cares. Cru invites Bart to ride with his new indie company, and the movie ends Chips style.
Additional Film Information
Rate the Film!
TriStar Pictures released Rad on March 21, 1986. Hal Needham directed film starring Bart Conner, Lori Loughlin, and Bill Allen.