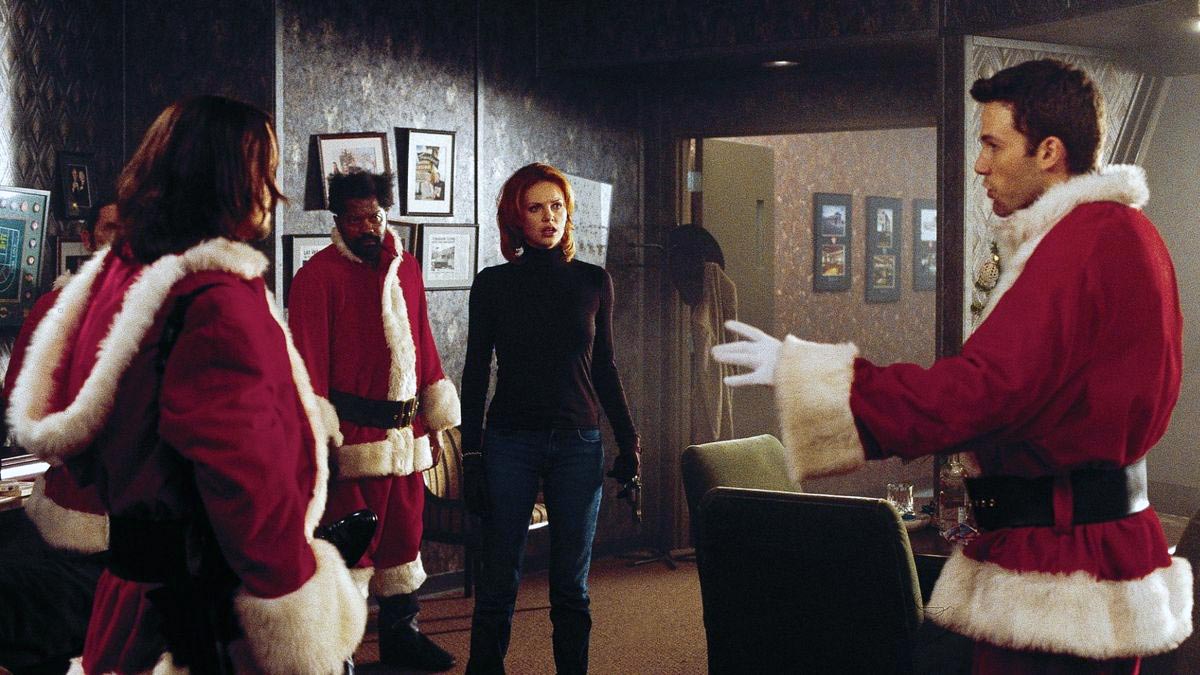 Film and Plot Synopsis
Rudy Duncan is a convicted car thief who is two days away from his release. Rudy wants to get his life back on track and reunite with his family for Christmas. However, when his cellmate is suddenly killed in a prison fight, Rudy decides to impersonate his friend to meet his cellmate's unseen letter writing girlfriend. However, Rudy and Ashley are soon kidnapped by Ashley's brother, Gabriel, who wants to "Nick" to assist his gang in robbing a casino that "Nick" used to work at. Now, Rudy has to maneuver his way through the complicated path towards freedom that is filled with secret agendas and double-crosses.
Buy the Film
Reindeer Games - The Director's Cut [Blu-ray + Digital HD]
9 used from $21.20

as of November 28, 2022 11:48 pm
*As an Amazon Associate we earn from qualifying purchases.
'Reindeer Games' Movie Summary
The summary below contains spoilers.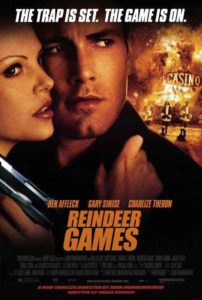 Criminals Rudy Duncan (
Ben Affleck
) and Nick Cassidy (
James Frain
) are cellmates in prison. The two men are two days away from release. Nick has been exchanging letters with a woman on the outside named Ashley Mercer (
Charlize Theron
). Ashley is eagerly awaiting Nick's release. However, Nick is killed in a prison fight just before he is scheduled to be released. Rudy decides to assume Nick's identity and goes to meet with Ashley, who has never seen Nick.
Once Rudy and Ashley meet, they also encounter Ashley's brother Gabriel (Gary Sinise). Gabriel is the leader of a criminal gang who kidnaps Rudy and Ashley from the cabin where they retreat for their romantic getaway. Gabriel tells "Nick" that the gang needs him to help them rob a casino that he used to work at. Rudy reveals that he is not Nick to Ashley, but Ashley believes that he is. She reveals that she wrote to him knowing that Gabriel was going to force Rudy to assist in the robbery.
Rudy uses the information that he can recall from Nick's prison cell stories to devise a robbery plan. He informs Gabriel that the largest amount of money is hidden inside a safe in the casino manager Jack Bangs' (Dennis Farina) office. One night, Rudy breaks out of his hotel room and hopes to escape. He comes across Gabriel and Ashley together. He learns that they are not siblings, but are in fact lovers. Rudy is nearly discovered and is forced to return to his hotel room.
Soon after, the gang robs the casino with each member dressed as Santa Claus. Rudy is forced to take part in the robbery against his will. He does not let on that he knows Ashley and Gabriel are involved with each other. During the robbery, several security guards and gang members are shot. Ashley drives into the casino and lets Rudy know she is in on the heist. Gabriel and Rudy make it to the manager's office. Gabriel introduces Rudy as Nick to the casino manager, but the casino manager states that Rudy is not Nick.
Rudy confesses his deception to Gabriel who is not pleased with being fooled. Gabriel does not immediately kill Rudy, but does demand that the convict tell him where the Pow Wow safe is. The manager opens the safe and grabs a gun from inside. He kills one of the robbers as the rest of the gang flee. The casino manager dies during the shootout. Rudy kills one of the other robbers during the shootout, but is captured by Gabriel and Ashley. They tie him up and place them in their 18-wheel truck.
Ashley and Gabriel plan to drive Rudy in a burning car off the edge of cliff with a little of the money to mislead police investigators. After accidentally revealing too much information during an argument with Rudy, Ashley shoots and kills the now suspicious Gabriel. Soon after, Nick mysteriously appears, having staged his death in prison. Ashley reveals that her true name is Millie Bobeck, and that she and Nick planned to rob the casino using Rudy, Gabriel, and Gabriel's gang. Mille confesses to knowing who Rudy truly was the entire time. Nick reveals that all his prison stories were part of the set-up as well.
Millie and Nick tie Rudy to the steering wheel to the car they plan to drive off the cliff. Rudy uses a knife that he acquired earlier in the film to cut his binds. He hot wires the car and drives it in reverse, crushing Nick's legs in the process. Millie fires multiple shots at Rudy in the car. Rudy drives the fiery car into her and dives out of the car just before it goes over the cliff with Millie. The still living Nick tries to convince Rudy to split the money with him, but Rudy locks Nick into the back of the semi-truck and sends it over the cliff as well.
Rudy then picks up the stolen cash and begins heading home to his family. Along the way, he places bundles of the money in various mailboxes on the road on his way home. Once home, he eats a Christmas dinner with his family and smiles in satisfaction.
Additional Film Information
Rate the Film!
Miramax Films released Reindeer Games on February 25, 2000. John Frankenheimer directed the film starring Ben Affleck, Gary Sinise, and Charlize Theron.