Film and Plot Synopsis
In this comedic take on the story of Robin Hood, Mel Brooks brings his usual style of comedy to a classic tale. Robin of Loxley returns from the Crusades to find that his family lands and title have been stolen by the corrupt Prince John. Robin forms his Merry Men to fight against the oppressive Prince and his henchman, the Sheriff of Rottingham. However, Robin's attention is soon diverted when he encounters the beautiful Maid Marian. Now, Robin must not only overthrow the Prince and regain his lands, but also win the hand of the woman that he loves.
Buy the Film
Robin Hood: Men in Tights [Blu-ray]
10 new from $9.15
17 used from $5.10

as of December 3, 2023 2:15 am
*As an Amazon Associate we earn from qualifying purchases.
'Robin Hood: Men in Tights' Movie Summary
The summary below contains spoilers.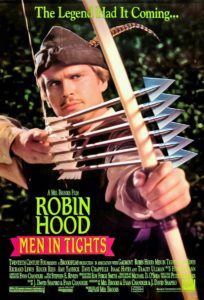 During the Crusades, Robin of Loxley (
Cary Elwes
) is captured and imprisoned in Jerusalem by the Moors. He escapes imprisonment with the assistance of fellow inmate Asneeze (
Isaac Hayes
) who helps him free the other prisoners. Once at the sea, Asneeze asks Robin to check on his son Ahchoo (
Dave Chappelle
) when he returns to England. Robin swims back to his home in England. Once there, he saves Ahchoo from several of Prince John's (
Richard Lewis
) men. He also discovers that the Prince has assumed control of not only Robin's family estate, Loxley Hall, but King Richard's thrown as well while the King is away fighting in the Crusades.
When Robin returns to what is left of his home, he finds his loyal servant Blinkin (Mark Blankfield) who tells Robin that his family is dead. He also provides Robin with a key from his father that will open the greatest treasure in all the land. Robin begins recruiting people to assist him with his quest to regain his family lands and oust Prince John from the throne. He first recruits two men from Sherwood Forest, Little John (Eric Allan Kramer) and Will Scarlet O'Hara (Matthew Porretta). During his quest, he meets Maid Marian of Bagelle (Amy Yasbeck), a young maid who is seeking the man who has the key to her Everlast chastity belt. Robin's group is also joined by Rabbi Tuckman (Mel Brooks), who provides the Merry Men with his sacramental wine and his ability to provide circumcisions.
While Robin trains his men in Sherwood Forest, the Sheriff of Rottingham (Roger Rees) hires the local Mafioso Don Giovanni (Dom DeLuise) to assassinate Robin at the archery tournament during the Spring Festival. Maid Marian overhears the plot and rides into Sherwood Forest with her hand maiden, Broomhilde (Megan Cavanagh), to warn her love. Marian pleads with Robin not to fall for the Sheriff's plot, but Robin proceeds to enter the tournament anyways disguised as an old man.
During the tournament, Robin advances to the final round, but loses after his arrow is split in two by one of Don Giovanni's henchmen, Filthy Luca (Steve Lancora). Robin reviews the film's script and discovers that he gets another shot. Luca attempts to kill Robin by shooting him with a scoped crossbow, but Blinkin catches the arrow in midair. Robin takes his second shot with his PATRIOT arrow and hits the target. The Prince and the Sheriff have Robin arrested and prepare to hang him. Marian promises to marry the Sheriff in exchange for Robin's life. Ahchoo, Little John, and Will show up and free Robin, allowing Marian to refuse the Sheriff's hand in marriage. Robin and the Sheriff fight. During the fight, Robin's key is knocked from around his neck and unlocks Marian's chastity belt. Robin stabs the Sheriff, who is mortally wounded. Prince John's witch, Latrine (Tracey Ullman), saves the Sheriff from death if he promises to marry her which he does, and soon regrets.
With evil defeated, Robin and Marian begin a passionate embrace. Broomhilde interrupts and tells them that they must marry before they have sex. Robin and Marian ask Rabbi Tuckman to quickly marry them. However, the marriage is interrupted by King Richard (Patrick Stewart) who has returned from the Crusades. Richard condemns his brother to imprisonment and restores Robin's lands and title. Robin appoints Ahchoo as the new, and the first black sheriff of Rottingham. Robin and Marian marry with King Richard as a witness.
That night, Robin and Maid Marian attempt to open the chastity belt, only to discover that even with the key, the lock will not open. The film ends with Robin summoning a locksmith.
Additional Film Information
Rate the Film!
20th Century Fox released Robin Hood: Men in Tights on July 28, 1993. Mel Brooks directed the film starring Cary Elwes, Richard Lewis, and Roger Rees.