Film and Plot Synopsis
San Francisco takes place in the city of the same name in 1906. When a party boss and dance hall owner named Blackie Norton refuses to release singer Mary Blake from her contract with him, his best friend, Father Tim Mullin, urges him to do so. He wants Mary to sing for the city's respectable opera. However, Blackie can't admit to anyone that he won't let Mary go because he's in love with her. Suddenly the great 1906 earthquake strikes and destroys the city. Blackie and Mary discover what is truly important in their lives, and together they vow to rebuild their relationship and their beloved city.
Buy the Film
San Francisco [Blu-ray]
12 new from $13.49
5 used from $9.43
Free shipping
as of September 25, 2023 3:07 pm
*As an Amazon Associate we earn from qualifying purchases.
'San Francisco' Movie Summary
The summary below contains spoilers.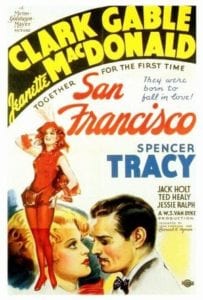 San Francisco
begins on New Years Day 1906, in the boxing ring, with two men sparring. When one man knocks the other down, their session ends. The winner, Father Tim Mullen, changes out of his workout clothes and into his clerical clothing. The loser is his childhood friend Blackie Norton; the saloon owner of the Paradise Club on Pacific Street in the Barbary Coast.
After the match, Blackie hires the classically trained singer, Mary Blake, fresh out of Benson, Colorado. When she quickly becomes his main attraction, Blackie's buddy, Mat predicts
Mary won't be there for long.
As Father Tim tries to bring God to Blackie (who is atheist), the other local nightclub owners try to persuade Blackie to run for the San Francisco Board of Supervisors to protect their crooked enterprises. Father Tim thinks Blackie can use the position to reform the area, so Blackie agrees to run.
By this time, Blackie has strong feelings for Mary, but his rival, Jack Burley, tries to buy her contract from him so she can sing at his Tivoli Opera House on Market Street. Mary initially decides to stay at the Paradise Club, but after Blackie tries to seduce her, she accepts Jack's offer.
On opening night, Jack proposes marriage to Mary. Blackie shows up at the performance with a plan to stop Mary from singing. However, when he hears Mary sing, he decides not to stop the opera. He instead visits Mary after her performance, where Mary realizes she loves Blackie. She asks him to marry her. Blackie agrees, but Jack shows up and becomes jealous from her having another suitor.
He realizes Blackie plans to take Mary from him, so he pleads for her to stay at the Tivoli. Blackie counters with an ultimatum; come back to the Paradise Club with him (and get married) or stay with Jack at the Tivoli.
Mary returns to the Paradise, and on the night of her big return performance, she asks Blackie if they can set a wedding date. Blackie agrees to set one, but he wants to wait until after the election.
Father Tim drops by, but the skimpy outfit Blackie has made Mary wear angers him. He orders Blackie to make her change. Blackie's negative reaction to Father Tim's order disgusts Mary, and she decides to leave with the Father. So, Blackie punches Father Tim, and knocks him down.
Upset with the confrontation, Mary returns to Jack where he introduces her to his mother at their lavish Nob Hill Mansion. The two chat alone, and Mary confides to her that she doesn't feel worthy enough to marry into their family. When Mrs. Burley reveals that she too came from humble beginnings, Mary decides to accept Jack's marriage proposal.
The day is now April 17, 1906, and Jack pulls some strings to get the San Francisco Police Department to raid the Paradise. They destroy all his gambling equipment, and them arrest all of his performers, which ruins his chance of winning the Chicken Ball and the grand prize money that comes along with it.
At the Chicken Ball, Mary and Burley watch the performances from the other Barbary Coast clubs. When the MC requests the Paradise Club's entry, no one is out of jail to perform. Since Mary now knows of the club's closure, she enters the competition on their behalf. Her rendition of "San Francisco" wins the club the grand prize.
Blackie shows up, and angrily refuses the prize money because Mary had no right to sing on behalf of his club. Mary is beyond embarrassed, and prepares to leave the ball with Jack. However, the time is now 5:13 am on April 18, 1906. The great earthquake tears into the city; devastating it, and killing an untold number of people.
In the chaos, Blackie loses sight of Mary. He wanders around the ruins searching for her, and fears the worst when he finds Jack dead underneath a pile of rubble. He ends up on Nob Hill where he comes across Mrs. Burley. She can tell from his demeanor that her son is dead.
She leaves her home to a safe area as US Army troops blow up her mansion with dynamite to help make a firebreak. Blackie winds up at the Hall of Justice on Washington Street where Mat barely clings to life. Before he dies, he tells Blackie he was wrong about Mary.
Blackie finally thinks to find Father Tim, who does know where Mary's at. He takes Blackie to Golden Gate Park where, Blackie hears Mary singing with a group of mourners. Upon seeing her, Blackie falls to his knees, and thanks God for sparing Mary's life. Mary spots Blackie praying, and goes to him.
As she walks up, word spreads that the fire is out. This fills people with hope, and they shout that they will rebuild San Francisco. Blackie and Mary join the crowd in a spirited rendition of The Battle Hymn of the Republic.
The film ends as San Francisco's smoldering ruins transform into the present day version of the 1930s metropolis for a hopeful ending.
Additional Film Information
Rate the Film!
Metro-Goldwyn-Mayer (MGM) released San Francisco on June 26, 1936. W.S. Van Dyke directed the film starring Clark Gable, Jeanette MacDonald, and Spencer Tracy.