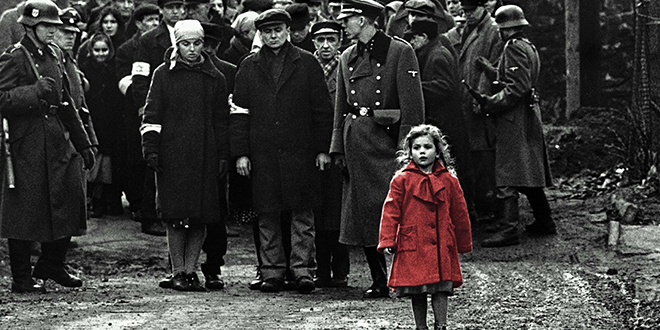 Podcast: Play in new window | Download
Subscribe: Apple Podcasts | Android | Google Play | Stitcher | RSS | More
Universal Pictures released Schindler's List to theaters on December 15, 1993. Steven Spielberg directed the film which starred Liam Neeson, Ralph Fiennes, and Ben Kingsley.
'Schindler's List' Movie Summary
Steven Spielberg's Schindler's List is the true story of Oskar Schindler, a German industrialist and member of the Nazi party. Schindler acquired an enamelware factory in Krakow, Poland in 1939. Looking to make a quick Reichsmark, Schindler greased the palms of many Nazi soldiers to make sure he could acquire free labor in the form of the Jewish community in Poland. All while seeking to receive financing from the same Jewish community in exchange for providing them goods that they could trade on the black market.
The film follows the evolution of Schindler from a womanizing, greedy war profiteer to savior of over 1,100 Jews. In the film, Schindler bankrupts himself in order to prevent his Jewish workers from deportation and death in a Jewish concentration camp, all while he finds himself a better husband, a better friend, and a better man.
Disclaimer
This podcast is not endorsed by Universal Studios Home Video, and is intended for entertainment and information purposes only. Schindler's List, all names and sounds of Schindler's List characters, and any other Schindler's List related items are registered trademarks and/or copyrights of Universal Studios Home Video or their respective trademark and/or copyright holders. All original content of this podcast is the intellectual property of Movie House Memories, the MHM Podcast Network, and Fuzzy Bunny Slippers Entertainment LLC. unless otherwise noted.
Affiliate links contained in this post will take you to Amazon.com and/or the iTunes Store. This means when you click a link, and purchase an item, the MHM Podcast Network will receive an affiliate commission. Advertisers and Affiliate Partnerships do not influence our content. See our Terms of Use about the inclusion of affiliate links on this site for more information.
---
---