Film and Plot Synopsis
Scott Pilgrim just met the girl of his dreams… literally. However, in order for them to date, he must defeat her seven evil exes including an infamous skateboarder, a vegan rock star, and identical twins!
Buy the Film
Scott Pilgrim vs. The World - 4K Ultra HD + Blu-ray + Digital [4K UHD]
7 new from $14.99
3 used from $10.98
Free shipping
as of September 27, 2023 6:07 am
*As an Amazon Associate we earn from qualifying purchases.
'Scott Pilgrim vs. the World' Movie Summary
The summary below contains spoilers.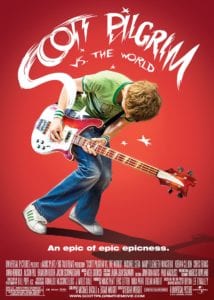 Scott Pilgrim vs. the World
takes place in Toronto, Canada. 22-year-old Scott Pilgrim is the bassist for a garage band called Sex Bob-Omb. Currently, he's dating Knives Chau, a 17-year-old high school student, and neither his friends nor his sister, Stacey, approves. This is the first girl he's dated in over a year since he got dumped by she-who-will-not-be-named.
One day, Scott literally spots the girl of his dreams; Ramona Flowers, a delivery girl from the United States. He immediately loses all interest in Knives, but is too much of a pussy to break up with her. Instead, he starts dating Ramona while still dating Knives… awkward! Scott eventually breaks up with Knives, but she snaps, and swears she will win him back.
Evil Ex Number One
Ramona agrees to watch Sex Bob-Omb play in a battle of the bands that record executive G-Man Grave has sponsored. Her first evil ex, Matthew Patel, shows up, and attacks Scott. He is able to defeat Patel, but he now knows that if he's going to date Ramona, he needs to defeat her remaining six evil exes.
Evil Ex Number Two
Ramona's second evil ex is Captain America himself, the very popular acton star and multi-talented skateboarder, Lucas Lee. Scott defeats him after getting him to perform a ridiculously dangerous stunt where he crashes his skateboard.
Evil Ex Number Three
Evil ex number three is a real superman. Being vegan has given Todd Ingram superpowers that he uses to fight Scott. (He also uses those powers to knock the highlights out of Knives' hair.)
To make things worse, Todd is dating Scott's ex-girlfriend (and current Captain Marvel), Envy Adams. He defeats Todd after he tricks Todd into drinking half n half. The Vegan Police immediately swoop in, and de-veganize him.
Evil Ex Number Four
Roxy Richter is evil ex number four, but since Scott can't hit a girl, Ramona helps take her out. She tells Scott that Roxy's weak spot is behind her knee. Scott takes advantage, and wins yet again.
By now, Scott is a bit over Ramona's dating history, but before he can do anything about it, Ramona breaks up with him. However, that doesn't stop her evil exes from attacking.
Evil Exes Numbers Five and Six
At the next battle of the bands, Sex Bob-Omb as a group defeats Ramona's fifth and sixth evil exes, twin brothers Kyle and Ken Katayanagi. Scott gets an extra life from this victory.
Evil Ex Number Seven
By now, Ramona is back dating her seventh evil ex, Gideon, AKA G-Man Graves, AKA the battle of the bands sponsor. Gideon offers Sex Bob-Omb a record deal. They all accept it except for Scott. He quits the band on principle.
Gideon invites Scott to the Chaos Theater he owns. Sex Bob-Omb is there too playing songs. Scott challenges Gideon to a fight for Ramona's affections. This challenge earns him the "Power of Love" sword. Knives shows up too, and attacks Ramona. Scott reveals he cheated on both women during the fight. Gideon takes this tender moment to kill Scott. Ramona visits him in his limbo state to tell him Gideon implanted a mind control device in her.
Scott uses his 1-up, and re-enters the Chaos Theater battle. He reconciles with Sex Bob-Omb, and challenges Gideon yet again, but this time its for himself. Now, he gains the "Power of Self-Respect" sword, and easily disarms Gideon.
Scott pauses a moment to apologize to Ramona and Knives for cheating on them, then all three join forces to defeat Gideon once and for all.
Free from Gideon's control, Ramona goes to leave. Knives understands that her relationship with Scott is over and, tells him to go to Ramona. He walks over to her, and the two leave together.
Yes, it's a happy ending, but how long will it be before Scott too becomes an Evil Ex?
Additional Film Information
Rate the Film!
Universal Pictures released Scott Pilgrim vs. the World on August 13, 2010. Edgar Wright directed film starring Michael Cera, Mary Elizabeth Winstead, and Kieran Culkin.