Film and Plot Synopsis
In this third sequel to the original Scream film, Sidney Prescott returns home to Woodsboro on the fifteenth anniversary of the original Woodsboro murders. However, a new Ghostface killer has arisen and begun killing teenagers again. When Sidney's cousin Jill is threatened, Sidney will need the help of her friends and fellow survivors, Sheriff Dewey Riley and Gale Weathers, to protect Jill and her friends. But can Sidney, Gale, and Dewey figure out who is reinventing the deadly game before it comes too late?
Buy the Film
Scream 4 (Blu-ray + DVD + Digital Copy)
8 new from $10.79
9 used from $5.68
Free shipping
as of September 25, 2023 5:03 pm
*As an Amazon Associate we earn from qualifying purchases.
'Scream 4' Movie Summary
The summary below contains spoilers.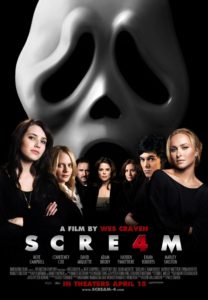 Fifteen years after the original Woodsboro murders in Scream, two high school students from Woodsboro High, Jenny Randall (Aimee Teegarden) and Marnie Cooper (Britt Robertson), are killed by a new Ghostface killer while they are watching the latest Stab sequel starring Lucy Hale, Shenae Grimes, Anna Paquin, and Kristen Bell. The following day, Sidney Prescott (Neve Campbell) returns to Woodsboro for the first time in years to promote her self-help book. She is accompanied by her narcissistic publicist Rebecca Walters (Alison Brie).
While at her book signing, evidence is found in the trunk of Sidney's car that makes her a suspect in the murders. Sheriff Dewey Riley (David Arquette) orders Sidney to stay in town until he can clear her name. Sidney stays with her Aunt Kate Roberts (Mary McDonnell) and cousin Jill Roberts (Emma Roberts). Jill is coping with a recent break up with her boyfriend Trevor Sheldon (Nico Tortorella) who was unfaithful towards her. Jill and her friend Olivia Morris (Marielle Jaffe) begin receiving threatening phone calls from Ghostface. Dewey questions the girls and their friend Kirby Reed (Hayden Panettiere) about the calls hoping to establish some connection with the killer.
Meanwhile, Dewey is facing some marital strife with his now wife Gale Weathers (Courteney Cox). Gale is struggling with a bad case of writer's block and is finding the quiet life in Woodsboro a little boring. To make matters worse, Dewey's deputy, Judy Hicks (Marley Shelton), is romantically interested in Dewey and is desperately trying to get Dewey's attention. Dewey is not interested, but the love obsessed deputy irks Gale to no end. Nevertheless, Gale decides to investigate the murders herself despite Dewey asking her to stay out of the investigation.
Back at the Roberts' household, Sidney and Jill hide out while the house is protected by Dewey's deputies, Ross Hoss (Adam Brody) and Anthony Perkins (Anthony Anderson). Kirby stays the night with Jill, and the two receive a phone call from Ghostface. Ghostface threatens that he will kill Olivia in her house across the street. As Jill and Kirby try to warn Olivia, Ghostface kills Olivia while Jill and Kirby watch from Jill's bedroom. Sidney and Jill rush over to the house to help Olivia, but the killer injures them and escapes.
Sidney and Jill are taken to the hospital and treated. At the hospital, Rebecca suggests to Sidney that she capitalize on the murders to increase her books sales. An angry Sidney fires the publicist. A short time later, Rebecca is killed in the hospital's parking garage by Ghostface. Rebecca's body is thrown from the parking garage onto a nearby car in front of Dewey and Sidney. At the same time, Gale enlists the help of two high school movie fanatics, Charlie Walker (Rory Culkin) and Robbie Mercer (Erik Knudsen), who explain to her that the killer is using the rules of movie remakes to commit his murders.
Charlie theorizes that Ghostface will likely strike at a screening party for the Stab franchise that is being held that night at a farm. Gale secretly attends the party to investigate and places portable cameras around the barn. However, she notices that someone is turning her cameras off and she reenters the barn. She is attacked by Ghostface and stabbed in the shoulder. Dewey arrives to help her, and Ghostface runs off.
You forgot the first rule of remakes, Jill. Don't fuck with the original! Sidney Prescott (Neve Campbell)
Meanwhile, Hoss and Perkins are murdered in and near their patrol vehicle. Ghostface calls Sidney and threatens to kill Jill. Sidney discovers that Jill is not in the house and has left for Kirby's house. Sidney tells Kate, but Sidney and her aunt are then attacked by Ghostface. Kate is killed and Ghostface disappears again. Deputy Hicks arrives and suspects that Sidney might have something to do with Kate's death, and Sidney escapes Hicks and leaves for Kirby's house to save her cousin.
At Kirby's house, Jill, Kirby, Charlie, and Robbie are present watching movies together. Trevor arrives and Jill gets upset and leaves. A drunk Robbie goes outside, while Kirby and Charlie begin to get romantic. Ghostface kills Robbie. Sidney arrives at the house and tries to leave with Jill. However, they are both chased by the killer and become separated. Sidney calls Dewey for help. Sidney tries to find Jill while Kirby is forced to answer horror movie trivia to save Charlie who is tied up outside. After Kirby answers Ghostface's questions, she goes outside to untie Charlie, who immediately stabs her and reveals himself as Ghostface. Charlie leaves Kirby to bleed out.
Inside the house, Sidney is confronted by Charlie and stabbed by a second Ghostface, who reveals herself to be Jill. Jill confesses that she and Charlie concocted the plan to achieve notoriety. Jill expresses how she became angry and jealous of the fame that Sidney received for merely surviving the previous murders. Jill also tells Sidney how she and Charlie intend to frame Trevor as Ghostface. Jill kills Trevor and then betrays Charlie by stabbing him to death. With Charlie now framed as Trevor's accomplice, Jill stabs Sidney and then herself, making herself the sole survivor. Dewey, Hicks, and the police arrive at Kirby's house. Both Sidney and Jill are taken to the hospital.
Once at the hospital, Jill is informed by Dewey that Sidney is still alive. Realizing that Sidney can implicate her, Jill goes to Sidney's hospital room and tries to kill her. Dewey and Gale figure out that Jill is involved and arrive at Sidney's hospital room with Hicks. Jill subdues Dewey and Hicks and holds Gale at gunpoint. Sidney recovers from her attack and incapacitates Jill with a defibrillator before ultimately shooting her dead. Dewey calls in all police units, as the media mistakenly reports that Jill is the sole surviving hero of the new attacks.
Additional Film Information
Rate the Film!
Dimension Films released Scream 4 on April 15, 2011. Wes Craven directed the film starring Neve Campbell, Courteney Cox, and David Arquette.