Film and Plot Synopsis
Jefferson "Jake" Briggs and Kristy Briggs are a young couple who fell in love after meeting at a party in college. The film follows the couple as the get married and begin their lives together. Jake acts as the narrator of the film as he quests to answer his constantly pressing question, am I happy? Jake and Kristy move from Chicago to New Mexico and back to Chicago again as Jake struggles to become an author but settles for a job with an advertising agency. At the same time, Kristy desires to start a family something that frightens Jake. However, when Kristy gets pregnant, will Jake be able to adjust to his new responsibilities?
Buy the Film
She's Having a Baby [Blu-ray]
9 new from $11.49
2 used from $10.99
Free shipping
as of June 1, 2023 2:11 am
*As an Amazon Associate we earn from qualifying purchases.
'She's Having A Baby' Movie Summary
The summary below contains spoilers.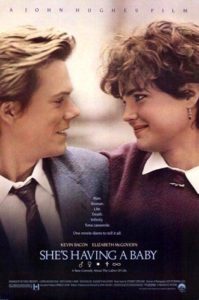 Jefferson "Jake" Briggs (Kevin Bacon) and Kristy Briggs (Elizabeth McGovern) are a young couple who fell in love after meeting at a party in college. As the film begins, it is their wedding day. Jake is having second thoughts, although he is unsure why. Outside the church, Jake discusses his wedding with his best friend Davis McDonald (Alex Baldwin). Jake asks his friend if he will be happy if he marries Kristy, to which Davis replies, "Yeah, you'll be happy. You just won't know it." Davis offers to drive away and leave the wedding behind, but Jake decides to go through with it.
After the wedding, Jake and Kristy head off to New Mexico so that Jake can acquire his master's degree. However, after a short time, Jake decides to leave the graduate program to pursue his dream of becoming a writer. The couple returns to Chicago where Jake takes a job as an advertising copywriter for a company that discovers that he fabricated everything on his resume. His bosses, Bill (Dennis Dugan) and Howard (Paul Gleason), are cynical and jaded, but admire Jake's desperation. Bill advises Jake that a dream to become a novelist is unlikely, but Jake decides to pursue it anyways. Kristy finds work as a research analyst, and the young married couple buy a decent house in the suburbs.
As time passes, Jake and Kristy adjust to their new lives, but often not without conflict. Jake and Kristy are pressured by their parents to start a family. Eventually, Kristy caves to the pressure and stops taking her birth control, but she does not tell Jake. A visit by Davis and his slutty girlfriend (Valerie Breiman) causes Jake and Kristy to fight. Around the same time, Jake continually encounters a young French model (Isabel García Lorca) who he begins fantasizing about having an affair with. Eventually, Jake has an opportunity to engage with the French model, but he chooses not to. After a few months, Kristy tells Jake about her decision to stop taking her birth control, which throws Jake into a panic. However, the reason for Kristy's failure to get pregnant during that time frame is soon discovered to be Jake's low sperm count. Jake changes his underwear, and he and Kristy begin having sex on a schedule to improve their chances for pregnancy.
After not seeing Jake and Kristy for a few years, Davis visits them unexpectedly after his father has died. Jake and Kristy are supportive and allow him to stay the night in their house. Kristy tries to console Davis, but Davis unexpectedly confesses his love for Kristy and attempts to make a pass at her. Kristy shuts Davis down and tells him that she loves Jake.
Not long afterwards, Kristy leaves a message for Jake at works to meet her at the Natural History Museum. Jake becomes nervous because the museum was where he met the French model, even though he did not have an affair. At the museum, Kristy reveals that she is pregnant, and Jake shows some restrained joy.
On the day of the child's birth, Kristy and Jake head to the hospital. However, complications ensue when the baby moves into a breach position. Jake is not allowed into the delivery room as the doctors and nurses work to save both Kristy and the baby. As Jake sits in the lobby with his and Kristy's parents, Jake realizes that Davis was correct, that he didn't know that he was happy the whole time. As he worries about Kristy and the baby, he realizes that his own selfishness and immaturity had been his obstacle to his happiness. Eventually, Jake is allowed to see Kristy, who tells him that both she and their baby boy are fine.
The film ends with the reveal that Jake's voiceover throughout the entire film was him reading his first novel entitled She's Having a Baby to his wife and son.
During one of the best closing credits scenes of the 80's, Jake and Kristy discuss what to name their son as many of Hollywood's biggest stars such as Dan Aykroyd, John Candy, Matthew Broderick, Chevy Chase, Ted Danson, Roy Orbison, Woody Harrelson, Bill Murray, Magic Johnson, and many more offer their advice as to baby names. Ultimately, the couple decides on the name of Christopher.
Additional Film Information
Rate the Film!
Paramount Pictures released She's Having A Baby on February 5, 1988. John Hughes directed the film starring Kevin Bacon, Elizabeth McGovern, and Alec Baldwin.