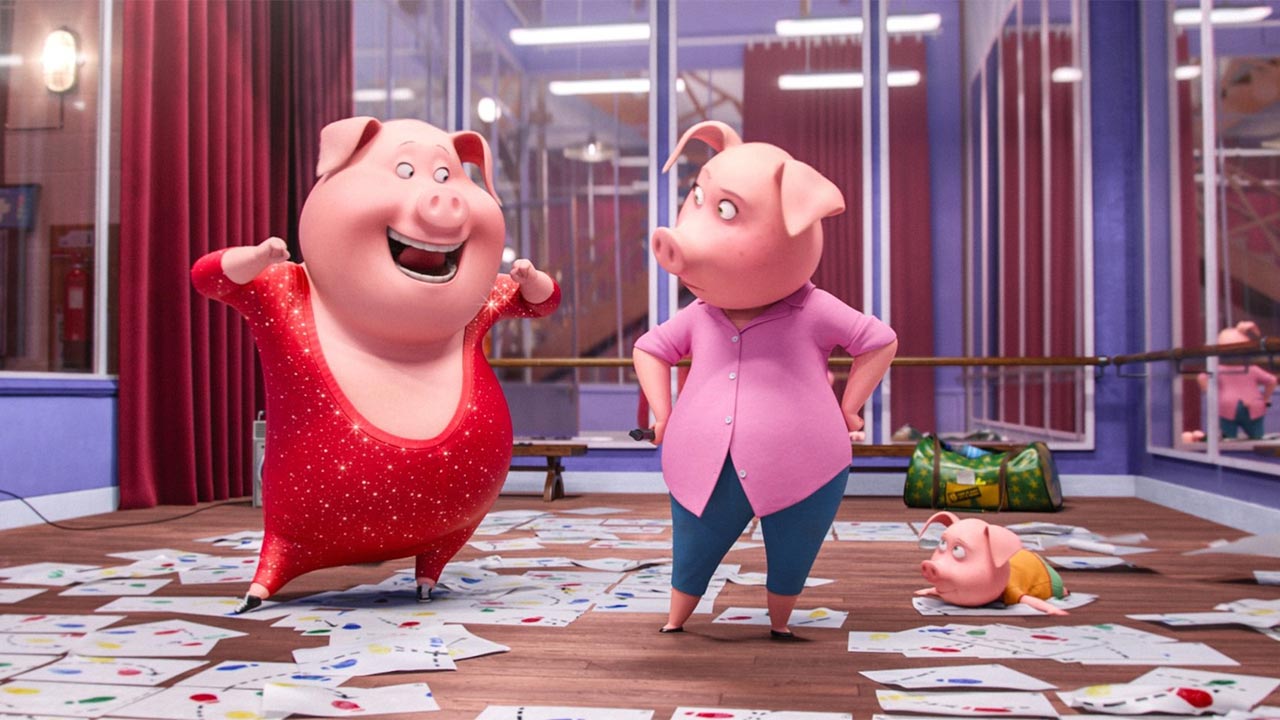 Film and Plot Synopsis
Buster Moon is a dapper koala who runs a run-down theater in Calatonia, a city filled with anthropomorphic animals. Buster decides to put on a singing contest for amateur singers with a prize of a $1,000. However, a typographical error announces a prize of $100,000 which draws an enormous number of contestants. Undeterred, Buster presses forward in the hope that a wealthy heiress will assist in sponsoring the contest if he can restore the prestige of the theater.
Buy the Film
Sing [Blu-ray]
17 new from $13.12
14 used from $5.00
Free shipping
as of June 26, 2022 10:20 pm
*As an Amazon Associate we earn from qualifying purchases.
'Sing' Movie Summary
The summary below contains spoilers.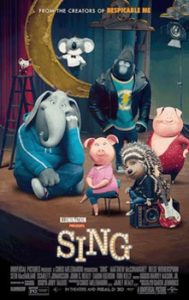 Calatonia is a city filled with anthropomorphic animals. Koala bear Buster Moon (Matthew McConaughey) is the optimistic owner of a struggling theater. The theater is being threatened with foreclosure by bank representative Judith (Rhea Perlman), a llama. To raise some capital, Buster decides to hold a singing competition with a prize of $1,000. However, Buster's scattered brained and half blind iguana assistant Miss Crawly (Garth Jennings) creates a typo on the flyers that lists the prize as $100,000 just prior to the flyers being blown out of the window by a fan. The flyers are distributed by the wind throughout the city.
The flyers draw dozens of potential contestants to the theater. Buster has auditions and selects several singers to compete in the competition. These include pig homemaker and mother of twenty-five piglets Rosita (Reese Witherspoon), the teenage gorilla Johnny (Taron Egerton), punk-rock porcupine Ash (Scarlett Johansson), street musician mouse Mike (Seth MacFarlane), dancing pig Gunter (Nick Kroll), an opera singer camel Pete, and a trio of dancing frogs. A teenage elephant Meena (Tori Kelly) fails her audition due to her stage fright, but Buster keeps her as a stagehand. Ash is torn about being involved in the contest due to her self-absorbed boyfriend Lance (Beck Bennett) being cut during the audition and Buster's song choices for her. Buster also pushes Rosita to team with the energetic Gunter for a dance number and forces Johnny to learn how to play the piano for his number.
A short time later, Buster discovers that the flyers listed a prize of $100,000 and begins to panic. Buster's ram friend Eddie Noodleman (John C. Reilly) suggests that Buster pay a visit to Eddie's wealthy grandmother and former singer star Nana Noodleman (Jennifer Saunders) so that he may ask her to sponsor the show. Nana is reluctant to sponsor the show but agrees to attend a private preview of the show before making a decision. During rehearsals, the frog trio breaks up and Pete is injured so Buster adds Meena as an additional act, although she struggles with her stage fright.
This stage is about to explode with major piggy power! Gunter (Nick Kroll)
Gunter and Rosita struggle with their dance routine as Rosita believes that her motherly duties and responsibilities to her workaholic husband Norman (Nick Offerman) have caused her to lose her passion. Ash discovers Lance cheating on her with another singer and throws him out. Ash also struggles with the songs that Buster wants her to sing, so she begins writing her own song. Overconfident Mike believes that he is a guarantee to win the competition and buys a fancy car and cheats against some Russian bears in a card game.
At the same time, Johnny is forced by his father, Big Daddy (Peter Serafinowicz), to be the getaway driver in a criminal heist. Johnny sneaks away to practice his piano playing during the heist and is unable to get back to his post in time resulting in Big Daddy and his gang being arrested. Big Daddy angrily disowns his son. Desperate, Johnny considers stealing the prize money to bail his father out of jail. However, Johnny sees a handwritten note by Buster that shows that the theater owner genuinely believes in Johnny's talent. The young gorilla resolves to focus on his musical career and give up his father's life of crime.
On the day of the preview, the Russian bears learn of the alleged prize money from Mike and interrupt the performance. The bears demand the money from Buster, and they open the locked prize chest to find that Buster does not have the $100,000. However, the bears inadvertently break a glass tank filled with luminescent squids that were lighting the stage. The resulting flood destroys the theater and Buster's dreams. As a result, Judith repossesses the lot. Buster begins living with Eddie. The contestants attempt to cheer him up, but Buster is too depressed to listen. Eventually, Buster tries to raise money to start over again by opening a car wash.
Meena visits the ruins of Buster's theater and sings Leonard Cohen's "Hallelujah." Her song is overheard by Buster who is inspired to stage an outdoor show just for Meena and Rosita's families and their general love of music. During the show, Rosita and Gunter finally come together and nail their song and dance performance. Norman finally notices his wife's talent and shows his appreciation. As the impromptu show progresses, a news team begins to broadcast the performances. The broadcast draws an audience to the show. Big Daddy sees Johnny's performance on television and breaks out of jail to make amends with his son. Once at the show, Big Daddy tells Johnny that he is proud of him for his singing. Ash sings her original song which impresses Lance who watches her on television. The arrogant Mike, who initially refused to perform for free, is taunted into returning and singing. The show closes with Meena overcoming her stage fright and singing a rousing version of Stevie Wonder's "Don't You Worry 'Bout A Thing." Nana secretly attends the show and is impressed with Buster's show. Nana buys the lot and funds the rebuild of the theater which Buster reopens.
Additional Film Information
Rate the Film!
Universal Pictures released Sing on December 21, 2016. Garth Jennings directed the film starring Matthew McConaughey, Reese Witherspoon, and Seth MacFarlane.