Film and Plot Synopsis
Six Days, Seven Nights is an adventure hit about a dream vacation that turns into a hilarious tropical nightmare! A gruff, rough-hewn cargo pilot living in the islands, Quinn Harris hates tourists … though he's not above making a fast buck from a sharp-tongued New Yorker, Robin Monroe, when she's desperate for a quick flight to Tahiti! But this already uneasy relationship suddenly takes a nosedive when his weather-beaten old plane is forced down in a storm! Now, stranded together on a deserted isle, Quinn and Robin quickly discover all the perils of paradise.
Buy the Film
Six Days, Seven Nights
17 new from $7.44
104 used from $2.85

as of November 26, 2023 11:26 pm
*As an Amazon Associate we earn from qualifying purchases.
'Six Days Seven Nights' Movie Summary
The summary below contains spoilers.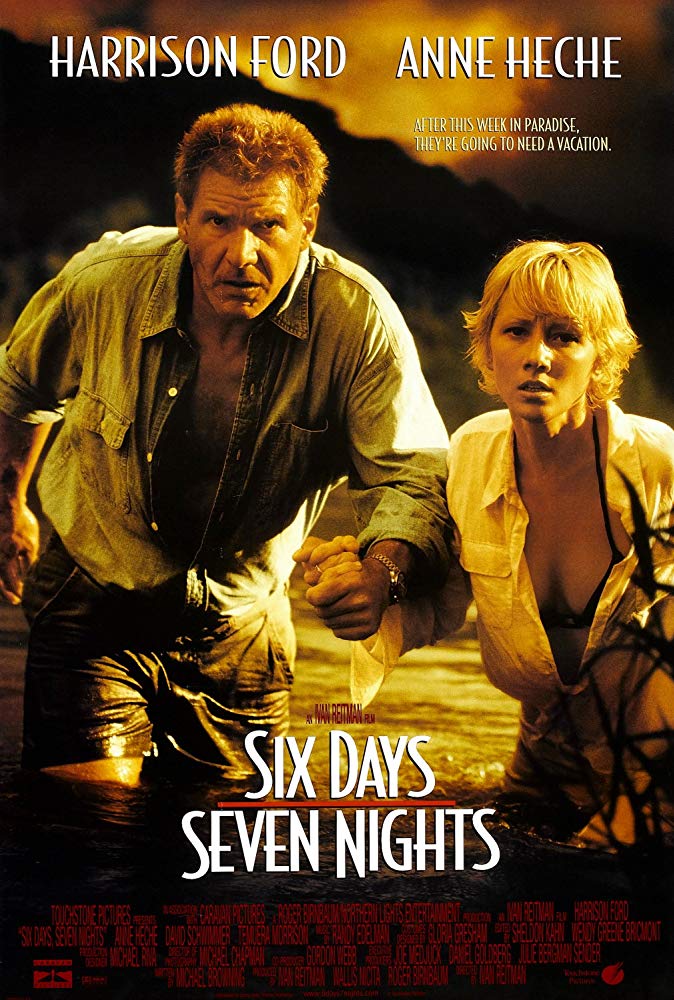 In
Six Days Seven Nights
, Robin Monroe (
Anne Heche
) is a New York City journalist who works for the fashion magazine Dazzle. She is engaged to be married to Frank (
David Schwimmer
) who invites her to spend a week with him on the island of Makatea in the South Pacific. Makatea is a remote island that can only be reached by small plane or boat. Robin and Frank are flown in by a middle-aged American named Quinn Harris (
Harrison Ford
). Quinn is accompanied by his much younger girlfriend and "co-pilot" Angelica (
Jacqueline Obradors
).
Frank proposes to Robin on their first night on the island. Robin happily accepts. While Frank steps away, a drunk Quinn hits on Robin, not realizing that she was the woman he flew to the island earlier in the day. Robin is appalled by Quinn's behavior and rejects his advances just as Frank reappears.
The next morning, Robin's boss, Marjorie (Allison Janney), calls and asks Robin to supervise a fashion event a few hours away from Makatea. Despite being on vacation, Robin agrees and hires a hung over Quinn to fly her to the event and then back to Makatea. While they are in route, Quinn and Robin encounter a severe thunderstorm that encircles them and prevents them from going forward or returning to Makatea. Quinn is forced to crash land on the beach of a small island. Robin and Quinn are knocked unconscious during the crash, and Quinn's plane is damaged, preventing them from taking off again.
The next day, Quinn and Robin explore the island. Quinn believes he knows which island they are on, and leads Robin up into the hills to find a radio tower to shut it off, causing repair crews to come to the island to fix the radio tower. However, Quinn discovers that they are on a different island with no radio tower. Worse, Quinn realizes that the island they are on is hundreds of miles off their course, and therefore, they are unlikely to be found by any search and rescue teams.
Back on Makatea, Frank and Angelica are informed that Quinn and Robin never made it to their destination and are considered missing. The two board a helicopter to search for their missing partners. They have no success on their first day and Frank begins to believe that Robin is dead. Frank and Angelica begin to drink together to drown their sorrows and end up sleeping together, although Frank initially resists the idea.
On the island, Robin and Quinn see a boat from the hilltop and rush back down to the beach to grab an inflatable boat from Quinn's plane to paddle to the boat. Once they near the boat, they see a second boat which is captained by Jager (Temuera Morrison) and his small crew of pirates (Cliff Curtis and Danny Trejo). The pirates kill the passengers and crew of the first boat, and Quinn and Robin try to hurriedly paddle to shore to hide. Unfortunately, the pirates see them and pursue them to eliminate any witnesses to their crimes.
Robin and Quinn reach the shore and run into the jungle. The pirates pursue and ultimately overtake them. Robin and Quinn are captured, but Quinn is able to distract the pirates briefly with a promise of gold. Once again, Robin and Quinn run from the pirates, ultimately escaping from them by jumping off a high cliff into the ocean. The pirates do not pursue.
Robin and Quinn swim back to the shore again. Once on shore, they kiss passionately, happy to be alive and with each other. The couple hides out in the jungle, afraid that returning to Quinn's plane on the beach will draw the attention of the pirates. In the jungle, they find an old World War II Japanese plane, which Quinn theorizes he can convert the fuselage into pontoons for his plane, allowing them to make a takeoff in the sea. Robin and Quinn cut sections of the Japanese plane down and take them back to the Quinn's plane. They convert Quinn's land plane to a sea plane and begin to prepare for takeoff.
The pirates find them right as they prepare to leave the island. One of the pirates' explosives injures Quinn just prior to take off. Robin and Quinn get their plane into the water and point it directly at the pirate ship. They are able to get into the air as the pirates launch an explosive round straight into the air at the plane, that only lands and destroys the pirate ship.
In the plane, Quinn teaches Robin a crash course in aviation fearing that he will be unconscious when it comes time to land the plane at sea. Quinn does lose consciousness, and Robin is forced to land the plane. She partially succeeds, not crashing the plane, but overturning it in the water. People on the beach, including Frank and Angelica, who were attending a memorial ceremony for the missing pair, rush out into the surf to help Robin and Quinn.
Robin and Quinn suffer minor injuries, but they go their separate ways. Quinn is taken to the hospital for his injuries. The next day, Robin goes to the hospital and tells Quinn her feelings for him. However, Quinn, fearful of complicating his life, rejects her affections. Frank and Robin get on a plane to return to New York the next day. Overwhelmed with his guilt, Frank confesses his infidelity to Robin, who is not upset by it. She tells Frank of her feelings for Quinn. They decide that they are not in love and she gives him back the engagement ring.
Meanwhile, Quinn has a change of heart and rushes to the airport to stop Robin from leaving. However, he is too late. He then overhears Robin arguing with someone nearby and realizes that she got off the plane. Quinn walks up to Robin and tells her that he wants to complicate the hell out of his life and they kiss each other.
Add the film to your collection today!
Additional Film Information
Rate the Film!
Buena Vista Pictures released Six Days Seven Nights on June 12, 1998. Ivan Reitman directed the film starring Harrison Ford, Anne Heche, and David Schwimmer.