Film and Plot Synopsis
Can two serial cheaters get a second chance at love? After a one-night stand in college, New Yorkers Lainey (Alison Brie) and Jake (Jason Sudeikis) meet by chance twelve years later and discover they each have the same problem: because of their monogamy-challenged ways, neither can maintain a relationship. Determined to stay friends despite their mutual attraction, they make a pact to keep it platonic, a deal that proves easier said than done. (Courtesy of IM Global)
Buy the Film
Sleeping With Other People
2 new from $10.95
1 used from $6.49
Free shipping
as of March 24, 2023 6:38 pm
*As an Amazon Associate we earn from qualifying purchases.
'Sleeping with Other People' Movie Summary
The summary below contains spoilers.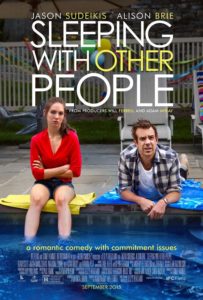 In 2002, Elaine "Lainey" Dalton (
Alison Brie
) is causing a scene in a men's dorm room at Columbia University. Before she gets into trouble, stranger Jake (
Jason Sudeikis
) takes pity on the intoxicated Lainey and claims her as his guest. Once back in Jake's dorm room, Lainey reveals that she was there in order to lose her virginity to her class' teaching assistant, Matthew Sobvechik (
Adam Scott
), who Jake thinks is the most boring guy in the entire dorm. During their conversation, the pair reveal many things about each other including that Jake is a virgin as well. The two eventually lose their virginity to each other that night.
Twelve years later, Jake has become a womanizer that frequently cheats on his girlfriends, while Lainey breaks up with her long-term boyfriend Sam (Adam Brody) after she reveals that she has been cheating on him with Matthew who is now a doctor. Lainey feels guilty about her behavior and attends a sex addicts meeting at the suggestion of her therapist. At the meeting, she runs into Jake who she has not seen since their one night together. Jake is attending the meeting due to his inability to commit. The two talk outside the meeting. While they are talking, Lainey schedules a doctor's appointment with Matthew so that she can end their relationship. At the appointment, Matthew agrees to end the affair and reveals that he is engaged. However, they end up having sex in Matthew's office.
Yeah. Don't sell yourself short. We wouldn't have The West Wing without you. Jake (Jason Sudekis)
Afterwards, Lainey once feels guilty again and on the advice of her gay friend, Kara (Natasha Lyonne), she contacts Jake. The two former lovers go on a date where they confess all their sexual problems. At the end of the date, Jake confesses that he wants to sleep with her again. However, Lainey doesn't want a purely sexual relationship and insists that the two of them should just be friends. The pair agree upon a safe word to state whenever the sexual tension becomes too powerful for one of them.
As time goes by, Jake and Lainey hang out often and become best friends. They talk about their commitment problems in the past as well as their current dating lives. Jake's best friend and business partner, Xander (Jason Mantzoukas), pushes Jake to commit to dating Lainey. However, Jake decides to pursue a relationship with his boss, Paula (Amanda Peet), who is not that interested in dating Jake. At the same time, Lainey announces her intent to re-enroll in medical school to finish her long-delayed education and possibly move to Michigan.
A few weeks later, Jake convinces Lainey to take ecstasy and attend Xander's son's birthday party. Lainey impresses Xander and his wife, Naomi (Andrea Savage), with her ability to manage a large group of unruly children. More importantly, she catches that attention of one of the single parents at the party, Chris (Marc Blucas), who asks her out. Not long after, Chris and Lainey become a serious item. Jake is disappointed and redoubles his efforts to date Paula, who finally gives in and goes out on a date with him.
Not long after, Lainey is on a date with Chris at a party when they run into Matthew and his now-pregnant wife. Lainey begins to have a panic attack concerning her feelings for Matthew. She tries to text Jake, but he is unresponsive since he is on a date with Paula. Lainey leaves the party by herself after sharing some private words with Matthew and goes to Jake's apartment. At the same time, Jake has sex with Paula and accidentally calls her Lainey. A little while later, Jake returns to his apartment to find a despondent Lainey on his stoop. They spend the night together and realize that they are both in love with each other. However, neither of them acts on their feelings, afraid that they will mess up their friendship just as they have damaged their other relationships in the past.
The day finally arrives, and Lainey moves to Michigan. Jake throws himself into the relationship with Paula and becomes a close surrogate father to Paula's son. A few months later, Jake and Paula are at lunch together when Jake sees Matthew in the restaurant with his wife. Jake walks up to the table and punches Matthew in the face on behalf of Lainey. The two men fight and Jake yells at Matthew for what he did to "my girl". After the altercation, Paula breaks up with Jake and he is arrested. Jake calls Lainey from the police station and confesses his love for her. He admits that he wants to pursue a relationship with her even if it ultimately fails. A giddy Lainey confesses that she feels the same way.
A few months later, Matthew is suing Jake for emotional distress from the fight. He refuses every settlement offer that Matthew makes. Lainey goes to see Matthew and tells him that she will tell his wife about their prior relationship if he does not drop the case. Matthew reluctantly agrees. After leaving the office, Lainey meets up with Jake. The two plan on getting married that day before Lainey returns to Michigan to finish school. They discuss the irony that the first time they will have sex since college will be on their wedding night. However, the couple suddenly reconsiders and runs to have a quick one before heading off to the courthouse.
Additional Film Information
Rate the Film!
IFC Films released Sleeping with Other People on September 11, 2015. Leslye Headland directed the film starring Jason Sudeikis, Alison Brie, and Adam Scott.