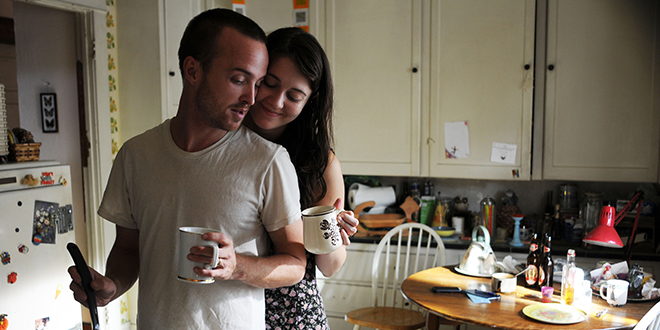 MHM Mart
Smashed (2012) Comes To Blu-ray This March
Smashed [Blu-ray]
10 new from $6.52
10 used from $2.99
Free shipping
as of October 26, 2022 4:39 pm
Sony Pictures has announced that they are bringing their dramedy Smashed to Blu-ray this March.  The film is co-written and directed by James Ponsoldt and stars Mary Elizabeth Winstead, Aaron Paul, Octavia Spencer, Nick Offerman, and Megan Mullally.  Smashed will be available in stores on Blu-ray and DVD on March 12, 2013.
In the film, Kate (Winstead) and Charlie (Paul) have a relationship well lubricated with alcohol, but Kate finally finds her chemical appetites have gotten completely out of control.  With the help of an ex-addict friend at work, Kate finds a support group that helps her begin to conquer her addictions.  However, that recovery proves just part of a larger personal challenge to rebuild her life even as her marriage with her drunken husband deteriorates.
Smashed was released in October of 2012 and has grossed a paltry sum of just over $300 thousand at the box office, but has received a lot of critical acclaim.
The Blu-ray will include several special features, including: a commentary with Director James Ponsoldt & Actress Mary Elizabeth Winstead; deleted scenes; Making Smashed featurette; and Toronto Film Festival Red Carpet and Q&A featurette.
Disclaimer: Affiliate links are contained in this post. This means when you click a link, and purchase an item, Movie House Memories will receive an affiliate commission. Advertisers and Affiliate Partnerships do not influence our content. See our
Terms of Use
about the inclusion of affiliate links on this site for more information.