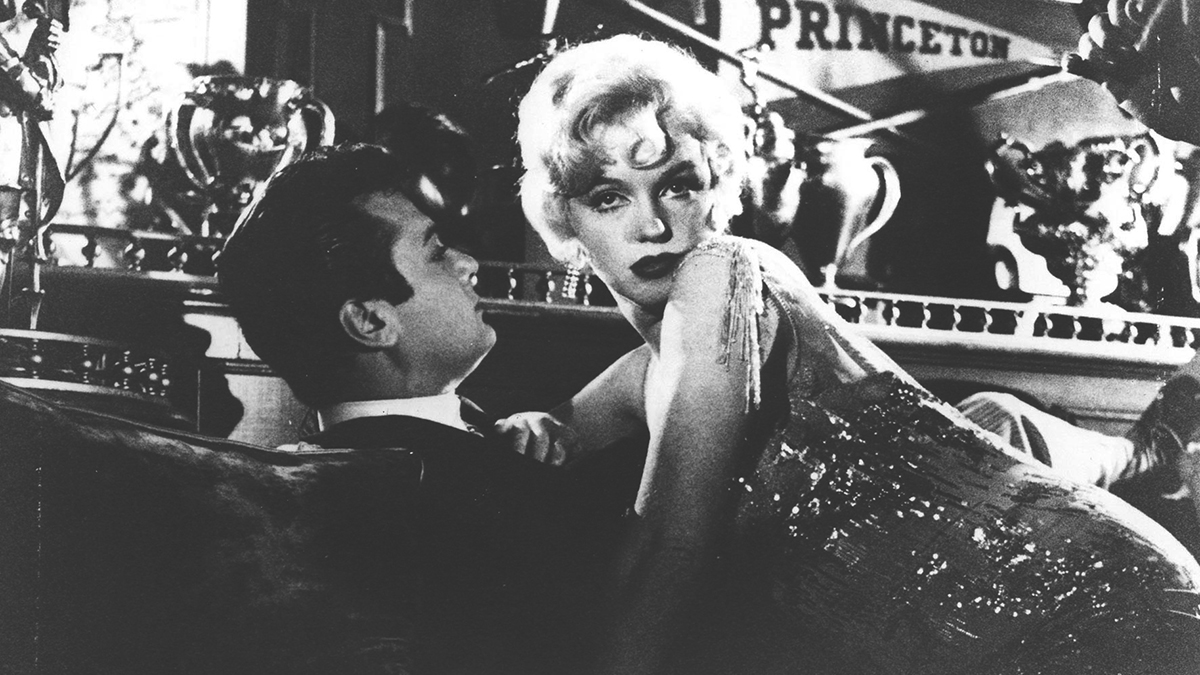 Film and Plot Synopsis
In Some Like It Hot, two struggling musicians witness the St. Valentine's Day Massacre and try to find a way out of the city before the mob finds and kills them. The only job that will pay their way is an all girl band, so the two men dress up as women. Once in hiding, one of them falls for another band member, but can't tell her his gender. The other has a rich male suitor who will not take "No," for an answer regardless of gender. Nobody's perfect.
Buy the Film
Some Like It Hot (The Criterion Collection) [Blu-ray]
16 new from $18.00
8 used from $14.74
Free shipping
as of May 11, 2022 7:26 am
*As an Amazon Associate we earn from qualifying purchases.
'Some Like It Hot' Movie Summary
The summary below contains spoilers.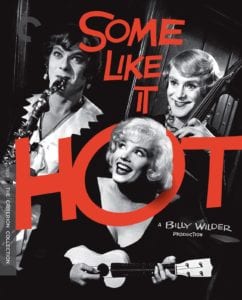 In
Some Like It Hot
, Jerry (
Jack Lemmon
) and Joe (
Tony Curtis
) are two down on their luck musicians. The year is 1929, the city is Chicago, and prohibition is in full swing. They are playing in a band in a mob speak easy cleverly hidden in funeral parlor when the joint is raided. They narrowly escape and are now out of work.
They trek to their employment agency where they are told no jobs are available except for one in Indiana and one for female musicians. One of the reasons they are so down on their luck is that Joe likes to gamble away their earnings and the coats off of their backs on losing horses.
Jerry and Joe are desperate and arrange to borrow a car from one of Jerry's girl friends to get to Indiana. Meanwhile, their former employer, Spats Colombo, the infamous mob boss that owned the "mortuary" has learned who betrayed his speakeasy to the cops and is out for revenge. He tracks down the nark to a Chicago garage. It happens to be the same garage where the car our musicians are borrowing is stored.
The two unfortunately have front row seats for the Valentine's Day-like massacre of Toothpick Charlie and all of the witnesses except for them. Their luck appears to be in escaping and they make an even narrower one. However, they know that being wanted by the Chicago Mob makes them dead ducks. They decide to make a run for it disguised as female musicians on a train to Florida for the job they heard about. They take on the alter egos of Josephine (Joe) and Daphne (Jerry) and the mystery of how women walk in heels.
On the train they meet their strict new bandleader, Sweet Sue, and her manager, Mr. Beinstalk. They also meet the band ladies including the bombshell Sugar Kane (Marilyn Monroe) The new "ladies" quickly bond with the girls and form a special friendship with Sugar. They cover for her and save her from getting kicked out of the band for having liquor. Sugar confides that she has a weakness for saxophone players but is finished being used by men.
The group and the fugitives arrive in sunny Florida. Daphne is instantly hit on by a millionaire named Osgood Fielding III which pushes Jerry over the edge. He begs Joe to get out of there. Joe talks Jerry out of bailing just yet and sets his sights on Sugar. He comes up with a third identity, Shell Oil Jr., who sounds a lot like Cary Grant to me. Shell and Sugar meet on the beach and hit it off instantly.
Jerry-Daphne receives flowers and an invitation for dinner aboard Osgood's yacht. Joe accepts for him and cons Jerry into spending the night dancing on the town with Osgood while he woos Sugar aboard the yacht.
Joe's lies get more outrageous as he warns Sugar that women do not excite him. Sugar does her best to interest him and he finally admits that he is attracted to her.
When Joe returns after his romantic getaway with Sugar, Jerry-Daphne confesses that he is engaged to Osgood for "security". This screwball comedy gets even more nuts as the Chicago gangsters the boys are hiding from arrive at the hotel for a Gangster Convention. One of the other mobsters, Little Bonaparte, has a plan to snuff out Spats for the murder of Toothpick Charlie.
The boys see the gangsters and quickly plan to get out of Dodge. First, Jerry, or Shell Oil, says goodbye and breaks up with Sugar and gives her an expensive diamond bracelet that Osgood had given Daphne.
The boys luck at escaping has run out and Spats and his cronies spot them. They are chased and hide under a table where they are wheeled right into the middle of the gangster's convention to witness the murder of Spats. Now they are wanted by a new set of mobsters.
The best bet for their escape appears to be aboard Osgood's yacht. As they make their way out, Joe hears Sugar singing sadly and has guilt. Dressed as Josephine, he walks on the stage and tenderly kisses Sugar before continuing his escape. Sugar instantly figures out what is going on and follows him.
The two couples escape aboard the speedboat in the night. Joe confesses to Sugar that he is no good for her and she kisses him. Jerry breaks the news to Osgood that he is a man. Osgood takes it well and concedes "Nobody's Perfect."
Additional Film Information
Rate the Film!
United Artists released Some Like It Hot to theaters on April 14, 1959. Billy Wilder directs the film which stars Marilyn Monroe, Tony Curtis, and Jack Lemmon.