Summaries
Song of the Thin Man (1947)
Movie review coming on 4/8/2024
Film and Plot Synopsis
As Nick and Nora Charles attend a charity benefit aboard a gambling ship, tensions among those connected with the ship simmer among the festive atmosphere. Tommy Drake is the ship's unpopular and very spiteful band-leader. When someone murders him later that night, suspicion falls on Phil Brant, who had an argument with Drake earlier in the evening. When Phil and his wife seek help from Nick and Nora, Nick of course refuses to get involved. However, when someone fires a gun outside his own apartment, Nick decised to investigate. He soon finds himself in a confusing case with numerous suspects. After several more murders occur, Nick gathers everyone into the same room to reveal the true identity of the killer.
Buy the Film
Song of the Thin Man (blu-ray)
8 new from $14.14
3 used from $20.40
Free shipping
as of February 6, 2023 10:02 pm
*As an Amazon Associate we earn from qualifying purchases.
'Song of the Thin Man' Movie Summary
The summary below contains spoilers.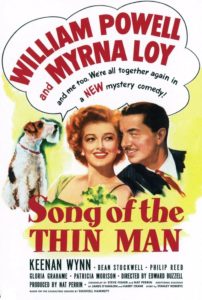 The film begins with Nick (William Powell) and Nora Charles (Myrna Loy) attending David Thayar's (Ralph Morgan) charity benefit on board a gambling boat named the S.S. Fortune—owned by entrepreneur Phil Brant (Bruce Cowling). On board is a jazz band led by Tommy Drake (Philip Reed); singer, Fran Page (Gloria Grahame), and a mentally-unstable clarinetist named Buddy Hollis (Don Taylor).
During a break between sets, Drake tells Brant that he is taking a new job with Mitchell Talbin (Leon Ames) who will pay him more money—and he needs that money because he owes the gangster, Al Amboy (William Bishop) $12,000—Brant is not pleased.
Unfortunately for Drake, Amboy is at the little party too and when he hears of Drake's good fortunes, he demands full payment of what's owed him that night. As such, Drake asks Mitchel for an advance, but Mitchel balks. Desperate, Drake sneaks into Brant's office to steal the money from his safe. During this robbery, someone sneaks in from behind and kills Drake. Brant then elopes with David's daughter, Janet (Jayne Meadows), because David won't agree to give Brant her hand in marriage as he thinks Brant is too low class for his daughter.
The next morning, Brant and Janet show up to the Charles's apartment to inform them that Brant is the prime suspect in Drake's murder. As they are talking, someone takes a shot at Brant. When the bullet narrowly misses him, Nick turns him in to the police for safe-keeping, and then proceeds to investigate the murder.
He sneaks back on the S.S. Fortune and finds on the back of a sheet of music a receipt Al Amboy signed which acknowledged Drake's debt to him had been paid. As he continues on, Nick runs into the remaining members of Drake's band who were allowed back on board to collect their instruments. When he questions them, he learns that Drake had many enemies—including the mentally-unstable Buddy Hollis. Clarence "Clinker" Krause (Keenan Wynn) agrees to help Nick track Buddy down, but he's nowhere to be found.
Later, Nick and Nora pay Janet a visit, and she's none-too-happy to see them. You see, the bullet that killed Drake came from an antique gun, and Nick knows Janet's father, David, is an avid collector of antique guns. Even more interesting, Nick finds that one gun is missing from David's collection. When Janet suddenly receives a phone call, she quickly leaves, and Nick and Nora tail her to see where she goes. She arrives at Fran's apartment where Fran lies dead with a fresh stab wound to the back. Janet claims Fran called her to sell her some information, but when she arrived, the woman was already dead.
It's here that Nick finds a matchbook from a hotel in Poughkeepsie that leads him to a sanitarium where Buddy is undergoing treatment. Unfortunately, Buddy is too unstable to answer Nick's questions, but Nora's presence calms him. So she later sneaks back to talk to Buddy alone but he gets angry then confesses to the murder. Then he pulls the missing antique gun on her and tries to shoot Nora but misses. When Nick hears the news, he does not believe Buddy's confession because the bullet that killed Drake was a well-aimed shot and Buddy couldn't hit the broad side of a barn.
Nick now does what he does best, he gathers all the suspects together on board the S.S. Fortune and waits for someone to slip up which will reveal the true killer. He tells the gathered group that Buddy has fully recovered and will reveal the murderer's true identity that night.
Meanwhile, Nora has noted that Amboy's wife, Helen (Marie Windsor) was wearing a valuable necklace that matched the earrings Mitchell Talbin's wife, Phyllis (Patricia Morison), owned. However that necklace is now mysteriously around Phyllis's neck. As Nick confronts Mitchell, Phyllis reveals that she was lovers with Drake and she paid off his debt using the necklace.
Nick then tries to get Buddy to finger the killer, and as he does so, Mitchell confesses to both killings before pulling out a gun of his own. An enraged Phyllis shoots him first, but only wounds him. As Nick tries to get her to put the gun down, she unloads the remaining bullets on Mitchel until he's dead.
Rate the Film!
Loew's, Inc. released Song of the Thin Man on August 28, 1947. Edward Buzzell directed the film starring William Powell, Myrna Loy, and Keenan Wynn.