Film and Plot Synopsis
Based on the global blockbuster videogame franchise from Sega, Sonic the Hedgehog tells the story of the world's speediest hedgehog as he embraces his new home on Earth. In this live-action adventure comedy, Sonic and his new best friend Tom team up to defend the planet from the evil genius Dr. Robotnik and his plans for world domination.
Buy the Film
Sonic the Hedgehog (4K UHD + Blu-ray + Digital)
5 new from $14.02
11 used from $5.40
Free shipping
as of November 25, 2023 1:04 pm
*As an Amazon Associate we earn from qualifying purchases.
'Sonic the Hedgehog' Movie Summary
The summary below contains spoilers.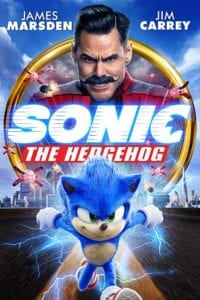 Sonic (
Ben Schwartz
) is an extraterrestrial blue-hedgehog who can run at supersonic speeds. He is hunted by a tribe of echidnas for his unique power. Sonic's guardian is Longclaw the Owl (
Donna Jay Fulks
). Longclaw gives Sonic a bag of rings that can create portals to other worlds. When the echidnas get close, Longclaw uses one of the rings to send Sonic to Earth to protect him. She also gives Sonic a map to a planet filled with giant mushrooms to use if he ever encounters danger on Earth.
Ten years pass and Sonic grows up to be an annoying teenage blue-hedgehog. He lives near the town of Green Hills, Montana. He longs to have friends, although he constantly spies on the citizens of Green Hills. One of the people that Sonic stalks is the town sheriff, Tom Wachowski (James Marsden), and his veterinarian wife, Maddie (Tika Sumpter). Sonic secretly idolizes Tom from a far, but the hedgehog does not know that the Sheriff is planning on moving out of the sleepy little town to become a police officer in San Francisco.
One night, Sonic is overcome by his loneliness after playing baseball with himself and runs at supersonic speed. The incredible speed triggers an electromagnetic pulse that knocks out the power across the Pacific Northwest. The loss of power draws the attention of the United States government who dispatches the roboticist and scientific genius Doctor Robotnik (Jim Carrey) to investigate. The arrogant scientist, along with his assistant Agent Stone (Lee Majdoub), are able to track Sonic in the forest. Sonic hides in the Wachowski's shed.
Tom discovers Sonic and accidentally shoots him with a tranquilizer, which causes the hedgehog to inadvertently send his bag of rings through a portal to San Francisco. The shell shocked Tom reluctantly agrees to help Sonic hide when Robotnik arrives at the Wachowskis' house. Robotnik confronts Tom and threatens to kill him unless he reveals Sonic's location. Sonic reveals himself, shocking the scientist. Tom knocks Robotnik out with one punch, and he and Sonic flee in Tom's truck. Robotnik has Tom declared a domestic terrorist and begins to track the pair across the United States as they head towards San Francisco.
Sonic and Tom begin to bond as they travel to the west coast. However, a rift develops between them when Tom reveals that he is planning on leaving Green Hills. Sonic considers Green Hills a utopian society and can't understand why anyone would want to leave it. He sees Tom's rejection of Green Hills as a rejection of him.
Meanwhile, Robotnik examines one of Sonic's quills in his mobile laboratory. He discovers that the power contained in the single quill is sufficient to power all of his robots. This further drives his obsession to find Sonic. His robot vehicles track Tom's truck and attack the two runaways on the highway. Tom and Sonic fight off the attack, but Sonic is knocked unconscious during the exchange.
Tom takes Sonic to Maddie, who is visiting her sister, Rachel (Natasha Rothwell) in San Francisco. She is able to revive Sonic, and Maddie's niece Jojo (Melody Nosipho Niemann) gives Sonic a new pair of sneakers so he can run faster. Maddie and Tom tie up Rachel to prevent her from calling the government and head off to the Transamerica Pyramid to retrieve Sonic's rings from the top of the building.
Once on top of the building, Sonic retrieves his rings, but Robotnik arrives with an army of his robots, all powered by Sonic's stolen quill. Sonic is relatively safe because of his speed, but Tom and Maddie are vulnerable. Sonic throws the two humans off the top of the building, and then runs down the side of the building to catch them. He uses one of his rings to send them back to Green Hills. Sonic runs from Robotnik who is able to keep pace with Sonic due to the super powered quill. Sonic uses the rings to jump around the world, but Robotnik keeps pace with him.
Ultimately, they too return to Green Hills. Robotnik incapacitates Sonic, but Tom intervenes, allowing Sonic to regain his strength. Sonic siphons back the energy from his stolen quill in Robotnik's ship. Sonic uses another ring to open a passageway to the mushroom world and sends Robotnik through the threshold, marooning him on the distant planet.
In the aftermath, Tom and Maddie decide to stay in Green Hills and Sonic lives with them. The United States government erases all evidence of the events, including any records relating to Robotnik. They also provide Tom and Maddie with a $50 gift card to the Olive Garden as an apology. Meanwhile, Robotnik begins planning his revenge against Sonic on the distant mushroom world.
In a mid-credits scene, a twin-tailed fox from Sonic's world named Tails (Colleen Villard) emerges from a ring portal. She communicates with someone else that she believes Sonic is on Earth and begins to look for him.
Additional Film Information
Rate the Film!
Paramount Pictures released Sonic the Hedgehog on February 14, 2020. Jeff Fowler directed the film starring Ben Schwartz, James Marsden, and Jim Carrey.