Film and Plot Synopsis
Joe Gardner, a middle school music teacher, has long dreamed of performing jazz music onstage, and finally gets a chance after impressing other jazz musicians during an opening act at the Half Note Club. However, an untimely accident causes Gardner's soul to be separated from his body and begin to proceed to the Great Beyond, and Gardner manages to escape to the Great Before, a world where souls develop personalities, quirks, and traits before being sent off to Earth. There, Gardner must work with souls in training at the Great Before, such as 22, a soul with a dim view on the concept of life, in order to return to Earth before his body dies.
Buy the Film
Soul (Feature) [Blu-ray]
13 new from $13.98
11 used from $2.99
Free shipping
as of June 5, 2023 6:37 am
*As an Amazon Associate we earn from qualifying purchases.
'Soul' Movie Summary
The summary below contains spoilers.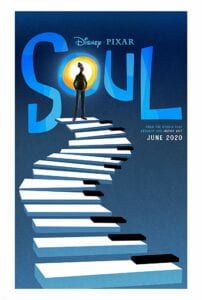 Joe Gardner (
Jamie Foxx
) is a middle school music teacher who is trying desperately to inspire his students to the wonders of music. However, Joe feels unfulfilled at his job and dreams of a career in jazz. He is contacted by a former student, Curley (
Questlove
), who offers him an opportunity to play with jazz legend Dorothea Williams (
Angela Bassett
). Joe goes to audition where he impresses Dorothea with his piano playing and is offered the job on the spot. Joe is so ecstatic about the opportunity, that he fails to pay attention to his surroundings and falls down a manhole.
Joe next finds himself as a soul heading into the Great Beyond. Joe is unwilling to accept his death due to his big break and tries to escape back to Earth. However, he ends up in the Great Before, a place where soul counselors, all named Jerry, set up young souls for life on Earth. While there, Joe poses as an instructor to train the souls. Meanwhile, a soul accountant, named Terry (Rachel House
), has detected the absence of Joe's soul passing into the Great Beyond and goes looking for him.
Joe is assigned 22 (Tina Fey), a cynical soul who has remained in the Great Before for several millennia and sees no point in living on Earth. 22 has been counseled by thousands of soul counselors, but does not want to move on. 22 reveals that she has badge that fills up with traits. She needs to find to find her spark to complete her badge. Joe believes that the spark is a soul's purpose in life. 22 tells Joe that she will give him her badge so that he can return to Earth. Joe relives his life and his love for jazz in the hopes that he can get 22 to find something to be passionate about but he continues to reach dead ends. Out of options, 22 takes Joe to the zone, an area that people enter when their passion sets them into a euphoric trance. The zone is also the home to lost souls who have become obsessed with minor things.
In the zone, Joe and 22 meet Moonwind (Graham Norton), a sign twirler on Earth who works in the zone to rescue lost souls. Although he has never done it before, Moonwind agrees to help Joe return to his untethered body. Moonwind has Joe focus on his body and discovers that he has fallen into a coma. Joe's is so excited that he is alive that he jumps back to Earth. However, Joe pulls 22 back to Earth with him. 22 ends up in Joe's body and Joe ends up in the body of a therapy cat. 22 panics since she never wanted to go to Earth, and Joe desperately wants his body back.
At the same time, Terry discovers that it is Joe who is missing and convinces the Jerrys to let her go back to Earth to bring him back. Back on Earth, 22 and Joe escape the hospital. 22 initially wants to stay in Joe's body until it dies again, but eventually calms down and begins finding joy in the simple things in life such as food. They seek out Moonwind, in human form, to try to fix their bodies. He tells them that he can fix them when the conditions are right, which will be at 6:30 that night. Joe needs his body back by later that night so that he can play in Dorothea's band. They return to Joe's apartment where Connie (Cora Champommier), one of Joe's students arrives to tell him that she is quitting the band and maybe even school. Connie plays one last performance for 22 as Joe, who tells Connie that she really loves music and that she should stay with music. Connie decides not to quit. 22 decides that she wants to experience some things while she is on Earth.
The next day, 22 holds a deep, poignant conversation with a barber named Dez (Donnell Rawlings) after Joe messes up 22's hair with some clippers. Afterwards, 22 rips Joe's pants and they go to see Libba Gardner (Phylicia Rashad), a seamstress and Joe's mother, to fix them. Once again, 22 as Joe has a serious conversation with his mother about his passion for music. Libba has never approved of Joe's music career due to her experiences with Joe's father and wants Joe to have a stable job. Libba finally accepts Joe's desire and offers him his father's old suit.
Shortly before their meeting with Moonwind, 22 decides that she wants to live on Earth. She runs away in Joe's body and Joe chases after her. Terry catches up with both of them and returns them to the Great Before. Once there, 22 sees that her badge has been filled out, meaning that she can move on to a body on Earth. However, Joe tells her that she was using his experiences to complete her badge and that it does not matter. 22 angrily throws the badge at Joe and disappears into the zone. 22 believes that she has no purpose. Joe learns from Jerry that instead of a life's purpose, a spark simply means that a soul is ready to live. Joe heads back to Earth using 22's badge. He has a successful first performance as Dorothea's pianist, but he does not feel right about what happened.
Joe is forever changed by his experience with 22. Joe plays his piano in his apartment and enters the zone to search for 22, who has become a lost soul. Once he finds her, he tries to return her badge, but 22 remains hopeless and broken about her lack of purpose. Joe uses a small maple see that caught 22's attention before to convince her that she is ready to live. Once she calms down, 22 returns to normal. Joe returns 22's badge to her, knowing that he will not be able to return to Earth. He rides with her as far as he can as 22 finally enters Earth. Joe turns and prepares to head into the Great Beyond, but he is stopped by Jerry. Jerry tells Joe that he has inspired them all, and as a reward, they will give him another chance at life. Joe thanks them and returns to the living with the intent to live his life to the fullest.
Additional Film Information
Rate the Film!
Walt Disney Studios Motion Pictures released Soul on December 25, 2020. Pete Docter directed the film starring Jamie Foxx, Tina Fey, and Graham Norton.