Film and Plot Synopsis
In this sequel to the 90's hit animated film; LeBron James finds himself in conflict with his young son Dom who does not want to follow in his father's footsteps. When father and son are abducted into the Warner Bros. virtual world by the evil artificial intelligence, Al-G, LeBron will be forced to play a basketball game with the Looney Tunes as his teammates in order to win his and Dom's freedom. However, LeBron will find a bigger challenge in winning back his son's love.
Buy the Film
Space Jam: A New Legacy (4K Ultra HD + Blu-ray + Digital)
15 new from $11.89
15 used from $4.59
Free shipping
as of December 6, 2023 3:45 pm
*As an Amazon Associate we earn from qualifying purchases.
'Space Jam: A New Legacy' Movie Summary
The summary below contains spoilers.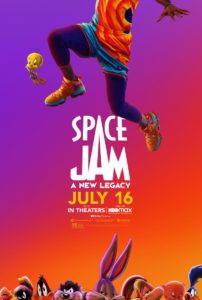 The film begins when 13-year-old LeBron James (
Stephen Kankole
) is a child playing basketball and videogames. LeBron's coach (
Wood Harris
) lectures him about distracting himself with the videogames and not focusing on and developing his athletic gift. LeBron promises his coach that he will dedicate himself to the game and eventually becomes a basketball superstar.
Years later, LeBron James (LeBron James) is an NBA superstar with a family. LeBron wishes for both of his sons, Darius (Ceyair J. Wright) and Dom (Cedric Joe), to follow in his footsteps. However, Dom has little interest in playing basketball and instead focuses on playing and developing videogames. LeBron's wife Kamiyah (Sonequa Martin-Green) tells her husband to respect their son's wish and allow him to choose his own path. LeBron attempts to bond with his son by playing a video game that he developed. However, Dom discovers a glitch in his character after performing a specific move which causes the character to be deleted. Dom is disappointed that he must reprogram the character a second time.
A few days later, LeBron is invited with his family to the Warner Bros. Studios in Burbank. The studio wishes to incorporate LeBron into many of their film franchises. The studio is inspired with this idea by their state-of-the-art artificial intelligence, Al-G Rhythm (Don Cheadle). Al-G has secretly become self-aware and desires more recognition from the world. However, LeBron is not interested in the proposal although Dom shows some interest. Al-G is angered LeBron turned down his idea. Dom expresses an interest in a future with Warner Bros. which displeases his father who wants him to continue to practice basketball. Al-G lures both Dom and LeBron into the basement server room and downloads them into Al-G's virtual reality.
The computer villain takes Dom as his prisoner, although Dom is unaware of his own imprisonment. Al-G challenges LeBron to a basketball game with the prize being the release of the father and son. He dispatches LeBron into the Warner Bros. multiverse, where he lands on the world of the Looney Tunes. Immediately afterwards, Al-G mentors Dom and helps the boy further develop his basketball video game. Al-G's real purpose is turn Dom against his own father by playing on his resentments. With Dom's assistance, Al-G upgrades himself and his game.
Meanwhile, animated LeBron finds the world of Looney Tunes completed deserted except for Bugs Bunny (Jeff Bergman). Bugs explains that Al-G persuaded the rest of the Looney Tunes to leave their world and explore the realities. Bugs and LeBron steal Marvin the Martian's (Eric Bauza) spaceship and begin traveling to the other worlds in the Warner Bros. multiverse, including Harry Potter, Austin Powers, Game of Thrones, DC Superheroes, Casablanca, and the Matrix. They recruit Daffy Duck (Eric Bauza), Speedy Gonzales (Gabriel Iglesias), Foghorn Leghorn (Eric Bauza), Elmer Fudd (Eric Bauza), Porky Pig (Eric Bauza), and Yosemite Sam (Jeff Bergman) to join the Tune Squad basketball team.
LeBron insists on coaching his teammates on the fundamentals of basketball although Bugs disagrees with his approach. Eventually, Al-G arrives on Tune World with his team, the Goon Squad, which is made up of upgraded avatars of professional basketball players that Dom scanned into his game, including Sue Bird, Draymond Green, and A'ja Wilson. Each of the Good Squad players and Dom has special superpowers to make them unbeatable. Al-G uses Dom's scanning technology and abducts countless viewers from the real world and brings them to the virtual world to watch the game. Al-G also summons hundreds of Warner Bros. characters to watch the games as well. The computer villain ups the stakes and states that if the Tune Squad loses, all the real-world viewers will remain in the computer world forever and the Looney Tunes will be deleted permanently.
The game begins and the Good Squad easily dominates the first half of the game, using their powers to score extra points in an unorthodox scoring method. During half time, Sylvester the Cat (Jeff Bergman) attempts to recruit former Tune Squad member Michael Jordan to join the team, but he accidentally brings in actor Michael B. Jordan instead. LeBron realizes that his coaching method does not work for the Looney Tunes and allows Bugs to coach the team. Bugs develops a strategy for the second half of the game using many of the Looney Tunes gimmicks to close the scoring gap. During a timeout, LeBron tells Dom that he no longer wants to be the obstacle to Dom achieving his dreams. When Al-G chastises Dom for listening to his father, Dom forgives his father and joins the Tune Squad.
With the score getting tight, Al-G assumes control of the Goon Squad and further enhances himself and his players to make them unbeatable. The score is close, and Dom realizes that the only way to win the game is to use the move he previously showed his father, even though whoever does the move will be deleted. LeBron volunteers to do the move, counting on the fact that he is from the real world to prevent him from being deleted. However, Bugs steals the ball and performs the move, sacrificing himself. This allows Dom to assist his father to score the final points, winning the game and deleting Al-G. LeBron, his family, and the abducted citizens are all returned to the real world. Meanwhile, Bugs says farewell to his friends before he disappears.
Back in the real world, LeBron reprioritizes his approach to his family and begins to support Dom's decision to become a video game designer. LeBron drops off his son at the E3 Games Design Camp. Bugs approaches him and informs him that he survived due to being a fictional character. Bugs asks LeBron if he and the other Tune Squad members can stay with him in the real world for awhile until they can find a way back to Tune World.
Additional Film Information
Rate the Film!
Warner Bros. Pictures released Space Jam: A New Legacy on July 16, 2021. Malcolm D. Lee directed the film starring LeBron James, Don Cheadle, and Cedric Joe.