Film and Plot Synopsis
Born to race cars, Speed Racer is aggressive, instinctive, and most of all, fearless. His only real competition is the memory of his brother, whom he idolized, the legendary Rex Racer. His death in a race has left behind a legacy that Speed is driven to fulfill.
His father, Pops Racer, runs the family racing business, and he designed Speed's thundering Mach 5. When Speed turns down a lucrative, but tempting offer from Royalton Industries, he not only infuriates the company's maniacal owner, but also uncovers a terrible secret; a handful of ruthless moguls fix some of the biggest races by manipulating the top drivers to boost their profits.
If Speed won't drive for Royalton, Royalton will see to it that the Mach 5 never crosses another finish line. The only way for Speed to save his family's business, and the sport he loves, is to beat Royalton at his own game. With the support of his family and his loyal girlfriend, Trixie, Speed teams with his one-time rival – the mysterious Racer X – to win the race that had taken his brother's life; the death-defying, cross-country rally known as The Crucible.
Buy the Film
Speed Racer [Blu-ray]
3 new from $28.95
14 used from $11.44

as of November 23, 2023 8:25 am
*As an Amazon Associate we earn from qualifying purchases.
'Speed Racer' Movie Summary
The summary below contains spoilers.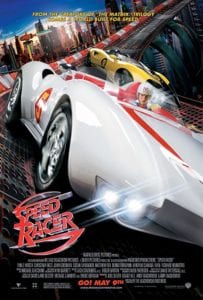 Speed Racer
lives for racing. His parents own Racer Motors, and his brother, Rex, whom Speed idolizes, is a world-class driver. Rex's car crashes while racing in the Casa Cristo 5000, and he dies. Speed grows up, and begins a racing career too that takes the racing world by storm.
Eventually, Speed attracts the attention of E.P. Arnold Royalton, the owner of Royalton Industries. He's a corrupt man, and tempts Speed with a life of luxury if he signs with him. Speed declines because Pops distrusts big corporations.
Of course, this annoys Royalton, and he lets it be known that corporations, including his, rig the races for their benefit because only money matters. To punish Speed, Royalton orders his drivers to make Speed crash, and then he sues Racer Motors for intellectual property infringement.
Inspector Detector, the head of the corporate crimes division, offers Speed an opportunity to get some revenge. Another racer, Taejo Togokahn, claims to have evidence that will put race fixer, Cruncher Block, and Royalton behind bars for the rest of their lives. He will only give that evidence if Speed Racer and Racer X agree to race on his team in the Casa Cristo 5000.
Speed agrees to race, but keeps it from his family as they don't want him racing on the course that killed his brother. Inspector Detector orders his team to add some defensive modifications to the Mach 5 for the rally. During the race, Speed begins to realize that Racer X is really his brother, Rex. His family learns that Speed is in the race when they see him on TV, and they join Trixie to help Speed. Against all odds, Speed and his team wins the race.
Unfortunately, Taejo lied to everyone. He only wanted to increase the stock value of his family's company so they could profit more from a Royalton buyout. Angry, Speed retreats to the track he used to drive with his brother. There, he tells Racer X he thinks he's his brother, Rex. Racer X removes his mask, and reveals a face that isn't Rex's.
When Speed returns home, Taejo's sister shows up, and she gives him an invitation to the Grand Prix. Everyone in the Racer family join forces, and in 32 hours, they build Speed a new racer; the Mach 6. Speed enters the Grand Prix, but the odds are stacked against him.
Royalton places a large bounty on Speed's head—one that tempts all the other drivers. Speed starts slow due to interference from two other drivers, but soon he catches up to Cannonball Taylor. Unfortunately, Taylor has a spearhook hidden in his car, and he uses it to latch onto Speed's car. Speed uses his jump jack which exposes Taylor's cheating to the cameras, and Taylor crashes.
Speed wins the race on one wheel as Racer X looks on. We see one quick flashback of Rex faking his death, his plastic surgery, and his decision to never tell his family the truth. Speed scoops up Trixie on victory lane, and kisses her in front of everyone. Royalton is indicted, and sent to prison forever… or until his lawyers can get him off on a technicality.
Additional Film Information
Rate the Film!
Warner Bros released Speed Racer on May 9, 2008. Lilly and Lana Wachowski directed the film starring Emile Hirsch, Matthew Fox, and Christina Ricci.