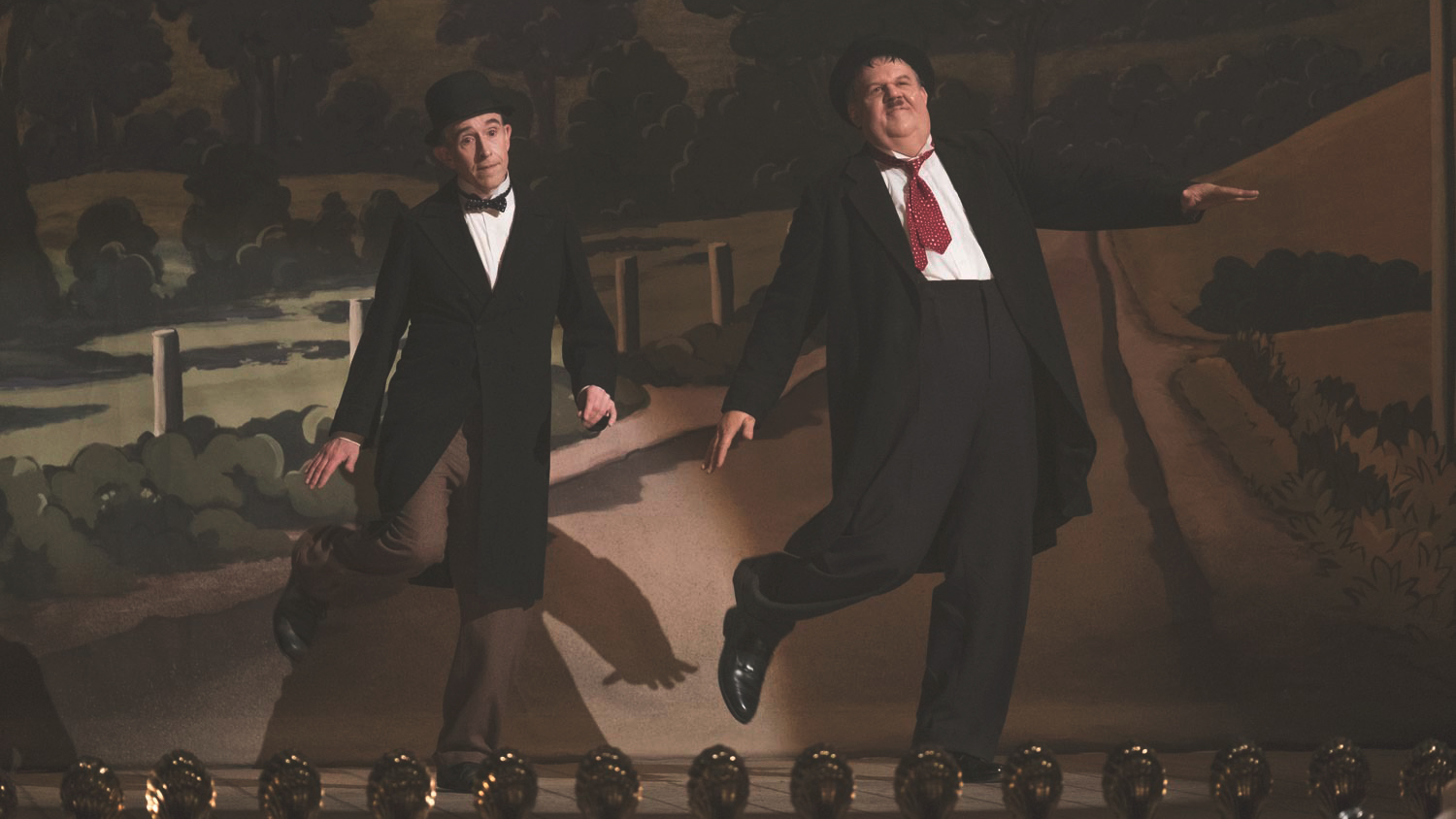 Film and Plot Synopsis
Laurel & Hardy, one of the world's greatest comedy teams, set out on a variety hall tour of Britain in 1953. Diminished by age and with their golden era as the kings of Hollywood comedy now behind them, they face an uncertain future. As the charm and beauty of their performances shines through, they re-connect with their adoring fans. Even as the tour becomes a hit, Stan & Ollie can't quite shake the specter of Laurel & Hardy's past; the long-buried ghosts, coupled with Oliver's failing health, start to threaten their precious partnership. A portrait of the most tender and poignant of creative marriages, they are aware that they may be approaching their swan song, trying to rediscover just how much they mean to each other.
Buy the Film
Stan & Ollie [Blu-ray]
12 new from $22.99
7 used from $16.49
Free shipping
as of April 30, 2022 12:18 pm
*As an Amazon Associate we earn from qualifying purchases.
'Stan & Ollie' Movie Summary
The summary below contains spoilers.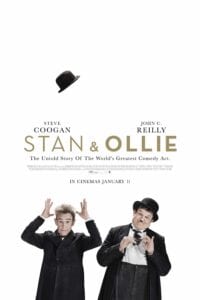 Stan & Ollie
begins in 1937 as Stan Laurel and Oliver Hardy are in production on their western comedy Way Out West. The pair are at the height of their fame, but not everything is coming up roses for Laurel. He is going through a messy divorce and is in the middle of contract dispute with famed Hollywood producer Hal Roach. Laurel believes that he and his partner are not being paid enough based on the overwhelming success of their films. He is looking for Hardy to back him up in the negotiation.
However, Hardy has his own contract that ties him to Roach for a longer period than Laurel. When the production is over, Laurel attempts to negotiate a new deal with Fox Studios for the comedy duo. However, Hardy honors his agreement with Roach, and makes the film Zenobia with another comedian, Harry Langdon. Hardy's refusal to follow Laurel to Fox causes Stan to feel betrayed, and he holds resentment for Hardy for years even though the two are soon reunited and working for Roach again.
The film then jumps to 1953. The big box office days of Laurel & Hardy have long since faded. The two men are embarking on tour of the United Kingdom performing in small music halls in the hope that it will jump start a film that they are trying to get into production. The tour begins poorly, with few people coming to the shows, and many not even knowing that they two men are still alive. Their tour manager convinces the duo to make some public appearances to drive up awareness and attendance, and slowly but surely, more people begin coming to the shows and the tour is extended. However, the grind of performing, making appearances, and traveling begins to wear on the comedy duo.
Laurel continues to work on new material for the possible new film, a comedy adaptation of Robin Hood. He constantly tries to contact the London-based producer to firm up the film deal, but he is never able to reach the man, and Laurel begins to think that the new movie may never happen. However, he doesn't tell Hardy, in fear that he may call off the tour and go home. Eventually, Laurel goes directly to the producer's office in London and he is told that the project has insufficient funding and the studio has cancelled the production. Despite his devastation, Laurel still doesn't tell Hardy of the project's collapse.
The comedy duo is eventually joined by their respective wives, Ida Laurel and Lucille Hardy, while they are playing a 2-week engagement in London. On the opening night of the engagement, a reception is held for them after the show where Laurel and Hardy get into an argument. Laurel's resentment for Hardy remaining loyal to Roach and making "the elephant movie" with another comedian roars to the surface, and the comedian finally reveals his true feelings concerning Hardy's perceived betrayal.
In response, Hardy responds that the two men are not friends, nor have they ever been friends. They were simply put together by circumstance and Hal Roach to make movies together. Hardy goes on to state that Laurel has no love for Hardy, that he only has love for their act together. Hardy leaves the party with his wife and puts the remaining dates of the tour into question.
Despite their fight, both men show up for their public appearance the next day judging a beauty contest. Hardy tells Laurel that he doesn't wish to speak to him any longer, and just wants to finish the tour. Right before they are to announce to winner of the beauty contest, Hardy collapses. Laurel takes Hardy back to the hotel instead of to the hospital. Lucille berates Laurel, puts her husband into the bed, and then kicks Laurel out of the hotel room. Hardy has suffered a heart attack, and potentially is suffering from congestive heart failure as well.
The doctor informs him that if returns to the stage, he could die. When Laurel comes to see him, Hardy informs him that he is retiring immediately and will be heading back to the United States as soon as he is well enough to travel. The two men reconcile, and Laurel gets into bed with Hardy to warm Hardy up. Laurel tells Hardy that their tour manager wants him to continue with the tour with an English comedian. Hardy tells him that he should continue with the tour, and Laurel reluctantly agrees.
The next night at the show, Laurel changes his mind and cancels the show right as it's supposed to begin. He tells his wife that he truly loves Hardy and they he won't go on without his partner. Additionally, he tells his wife they won't tell Hardy that he canceled the show, and they will proceed with the rouse that they will be leaving to do the Irish leg of the tour. When there is a knock on the door of the hotel room, Laurel is shocked to find Hardy standing there and saying that they have a show to do.
The men proceed with the final leg of the tour in Ireland. On the way, Laurel finally confesses that the movie deal fell through and they won't be making a Robin Hood movie. Laurel is surprised when Hardy doesn't get mad and confesses that he knew there was not going to be a movie. Upon arriving in Ireland, they are welcomed by large adoring crowds. During the show, Hardy is visually having difficulty, but insists that they continue with the normal routine. Eventually, Hardy is able to complete the show, and they receive thunderous applause.
The film ends with a written epilogue that reveals that the tour was the last time they worked together. Hardy's health continued to decline, ultimately leading to his death in 1957. Laurel, despite numerous requests to perform, never performed in public again since he could not perform with his legendary partner. The epilogue continues by stating that Laurel continued to write for the duo even after Hardy's death until Laurel passed away in 1965.
Rate the Film!
Sony Pictures Classics released Stan & Ollie on December 28, 2018. Jon S. Baird directed the film starring Steve Coogan, John C. Reilly, and Shirley Henderson.