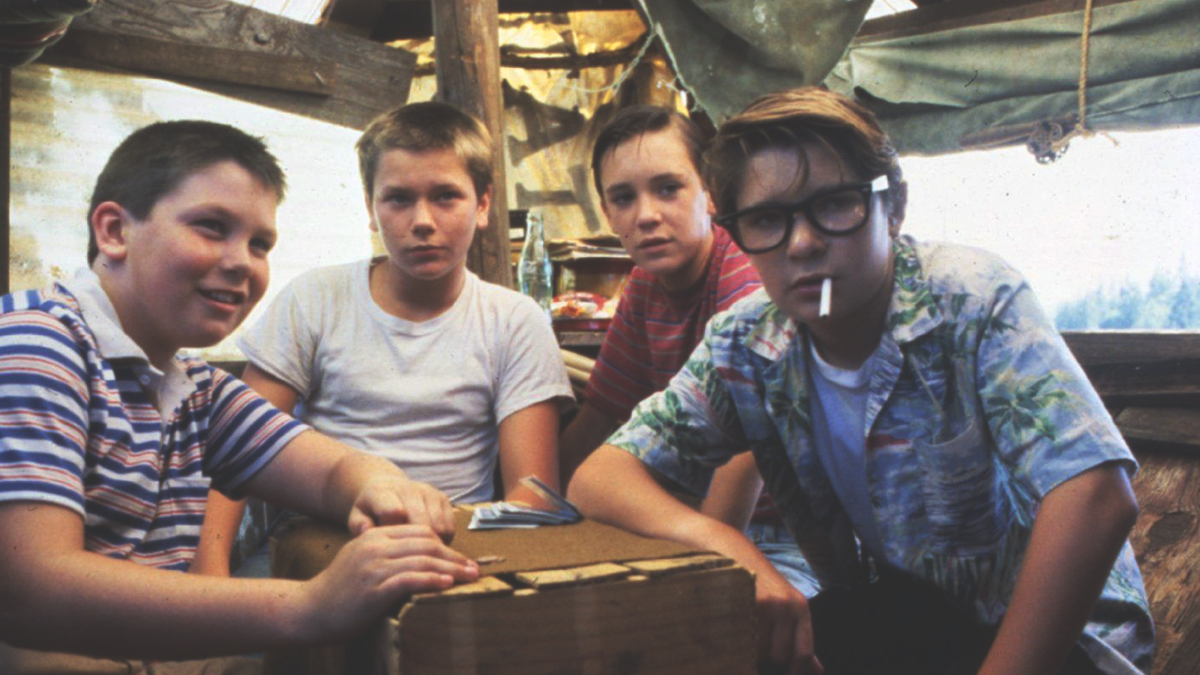 Film and Plot Synopsis
Stand By Me, based on Stephen King's The Body, takes place in the summer of 1959 in Castlerock, Oregon. Gordie Lachance, and his three close friends, Chris, Teddy and Vern, set out on a life-changing adventure to see the dead body of a 12-year-old boy. Only knowing the general location of it, the boys head out into woods. Along the way, they learn about themselves, find the meaning of friendship, and stand up to a local man named Ace Merrill and his gang of bullies.
Buy the Film
Stand by Me [4K Ultra HD + Blu-ray] [4K UHD]
14 new from $19.39
6 used from $17.64
Free shipping
as of May 14, 2022 6:07 pm
*As an Amazon Associate we earn from qualifying purchases.
'Stand By Me' Movie Summary
The summary below contains many spoilers and feeble attempts at humor.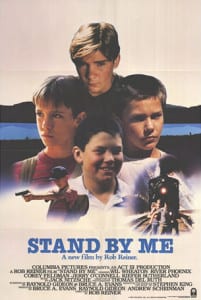 Once upon a time in Hollywood, 1985 to be exact, the meathead, Rob Reiner, said to his movie exec friends, "If WE release our own tweener coming-of-age story, similar to, but not completely identical to this year's successful
The Goonies
, I'd bet we could make $52 million dollars!" His movie exec buddies cheered, and green lighted a film version of Stephen King's 1982 novella,
The Body
, but instead of setting it in Astoria, Oregon like The Goonies, they made King set his story in CASTLE ROCK, Oregon. They then added a darker, more adult tone, and gave it a
Shawshank Redemption
voiceover with that cranky guy from
What About Bob?
, and 1986's
Stand By Me
was born.
Writer/author/cranky old guy from What About Bob?, Gordie Lachance reads in the newspaper that an old friend from his childhood has died. This triggers the memory of a goonie adventure he shared that friend and two others over the Labor Day weekend in 1959; just before they started junior high together. Gordie, as a boy, is the "Mikey" of the group. He's a freakishly quiet child who has been rejected by his parents after the death of his football star brother. Gordie enjoys writing and telling stories about obese boys who throw up on the townspeople to get revenge for their fat-shaming ways.
His best friend, Chris Chambers, is the "Brand" of the story; a big brother type, always looking out for Gordie. He comes from a family of criminals and raging alcoholics so bad that the entire town has labeled Chris, just like the rest of his family, a no-good bum who will one day overdose on the steps of a West Hollywood nightclub.
The "Mouth" of the four boys is Teddy Duchamp, an emotionally and physically scarred kid that won't shut the hell up. Not surprisingly, Corey Feldman annoyingly plays both Mouth and Teddy Duchamp in each film respectively. Even at this age, he has terrible range.
What would an 80s movie be without an awkward fat kid to pick on and get the hijinks going? The Goonies have Chunk, who, after FINDING a treasure map that leads to rich stuff, accidentally learns of a secret location that leads to a dead body and untold fame and glory beyond, all as he's hiding from thugs under a house.
Stand By Me has Vern Tessio, who, after LOSING a treasure map that leads to rich stuff, accidentally learns of a secret location that leads to a dead body and untold fame and glory beyond, all as he's hiding from WANNABE thugs under a house. Did you see that twist coming, one found a map, and the other lost a map?
Anyway, on their journey to find the dead body, treasures, fame, and anything else life throws at them; the boys encounter Milo and his dog, Chopper; a train speeding over a narrow bridge, cock-sucking leeches, and a villainous gang of lost boys from a bad acting school. In the end, our heroes find the dead body, but their hard work is nearly derailed when the aforementioned villainous gang (not the Fratellis) shows up to steal what the kids rightfully found.
That leaves Gordie with no other choice but to pull a gun on Jack Bauer, and hope that is enough to protect himself and his friends. Even though this future Trekkie is wearing a red shirt, he survives the confrontation, and the gang peacefully leaves. The boys decide it'd be better to anonymously call the cops with the location of the stiff, than use use his dead ass for their gain. They leave without the fame and the notoriety that comes with winning, but the boys are richer for the bonds they formed with each other, and the life-long lessons they learned, and isn't that what really counts?
The boys return home, and the older 1980s Gordie reveals that Vern, who married straight out of high school, has four boys and is now a forklift driver at a local lumber yard. Teddy tried to join the Army, but was denied entry because of his poor eyesight and ear injury. He eventually served jail time and is now doing odd jobs around Castle Rock…usually while dressed like Michael Jackson.
Chris got by in the advanced classes with Gordie, and later moved out of Castle Rock to become a lawyer, but it is Chris who was recently stabbed and killed when he attempted to intervene in the fight in that restaurant. Gordie then finishes his memoir, and takes his son and friend for a quick nip in the ocean out on New England's Amity Island.
Additional Film Information
Rate the Film!
Columbia Pictures Corporation released Stand By Me to theaters on November 26, 1986. Rob Reiner directed the film starring Wil Wheaton, River Phoenix, and Corey Feldman.