Summaries
Star Wars: Episode VII – The Force Awakens (2015)
Film and Plot Synopsis
30 years after the fall of Darth Vader and the Empire, a young scavenger on the planet Jakku comes across a BB-8 droid in the middle of the desert. When the First Order come looking for it, Rey finds herself on a wild journey that thrusts her into the middle of a burgeoning war between the Resistance, the First Order, and her destiny.
Buy the Film
Star Wars: The Force Awakens (Feature) [Blu-ray]
9 new from $23.95
7 used from $14.98
Free shipping
as of September 27, 2023 8:58 pm
*As an Amazon Associate we earn from qualifying purchases.
'The Force Awakens' Movie Summary
The summary below contains spoilers.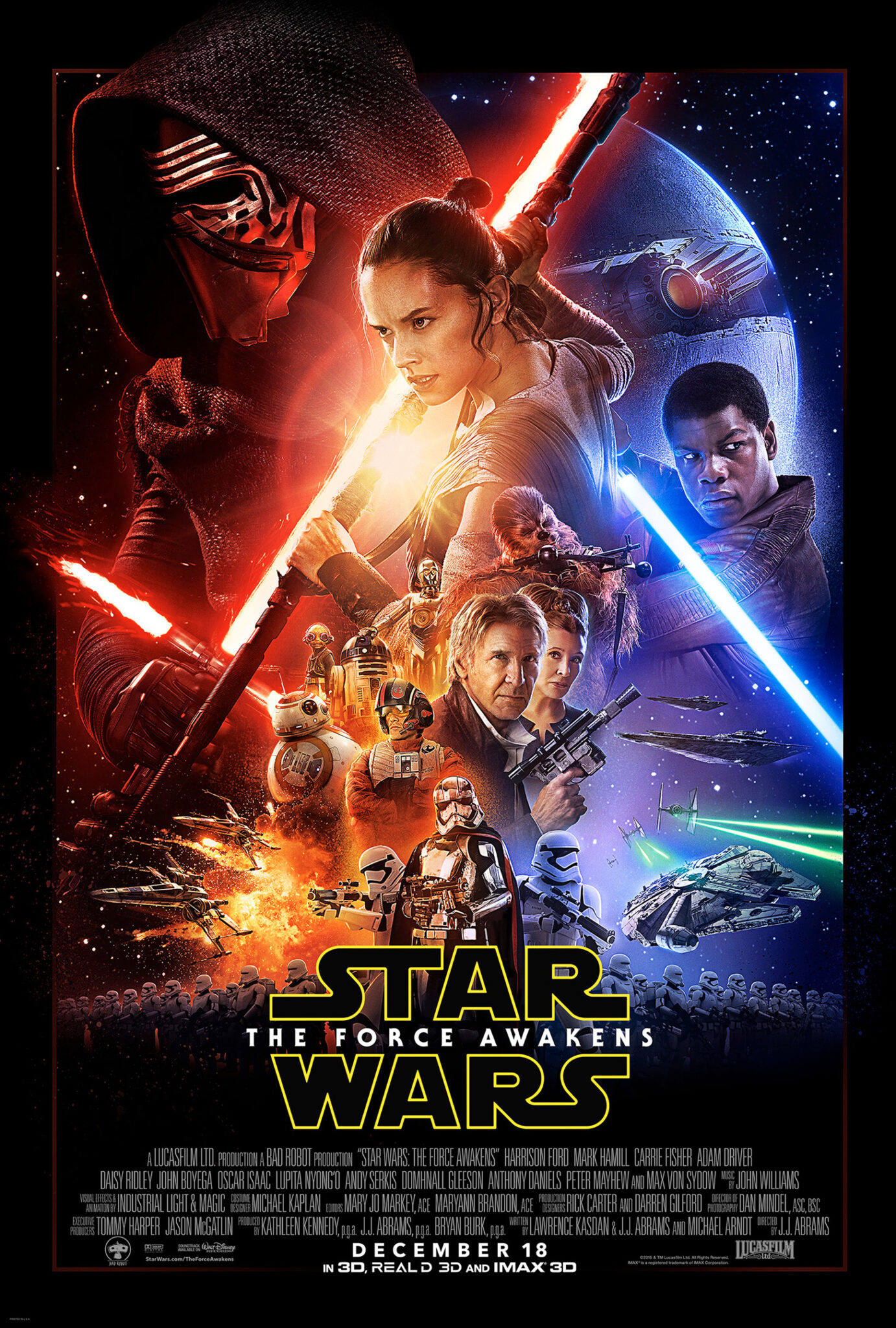 Star Wars: The Force Awakens begins roughly 30 years after the destruction of the second Death Star, that resulted in the deaths of The Emperor Palpatine and his apprentice, Darth Vader, and caused the Galactic Empire to fall. During this time, the First Order has risen to take its place.
Luke Skywalker, the last Jedi Master, has been forced into hiding because the First Order will stop at nothing to see him eliminated. The Resistance, led by Luke's twin sister, General Leia Organa, seeks to find Luke so he may aid in their latest fight.
The film begins with Poe Dameron flying to the planet Jakku to retrieve a map that leads to Luke's location, but a legion of Stormtroopers, led by Kylo Ren, captures Dameron, and destroys the village he is in.
His droid, BB-8 escapes with the map, and hightails it out of the burning village under the cloak of darkness. He eventually meets Rey, a local scavenger, and she takes him to the nearest settlement.
Ren takes Dameron back to his ship where he uses the force on Dameron to discover the whereabouts of the map. This lead Ren to BB-8, and he sends Stormtroopers down to the planet to retrieve the droid. While on board, Stormtrooper FN-2187 decides that stormtrooping just isn't for him after witnessing the destruction of the village. He forms a plan to escape the First Order, but he needs a pilot to help him. He frees Dameron, and the two steal a Tie fighter. Dameron renames Stormtrooper FN-2187 "Finn", and they take off into space.
Of course they are immediately shot down, and the TIE fighter crashes near the same village that Rey and BB-8 are in. Finn survives, but Dameron is nowhere to be seen, and Finn assumes he is dead. He heads off to the village, but once there, he is chased by Rey when BB-8 sees Finn wearing Dameron's jacket. Finn explains it's all a big misunderstanding, and that he's actually with the Resistance, and that Dameron didn't survive the crash.
The First Order shows up and shoots at everything that moves in the village. Rey, BB-8, and Finn escape the First Order in the abandoned Millennium Falcon that's conveniently parked on the outskirts of town, but once in space, the ship breaks down, and they are stuck. As they try to repair the ship, it gets captured by a much larger freighter. Luckily for them, that freighter is piloted by Han Solo and Chewbacca, and they want their ship back.
Han finds Rey and Finn, and they explain to him they have the key to find Luke Skywalker, but they think he's just a legend at this point. Han tells them that Luke and the Jedi are real, but Han's freighter is attacked by two gangs looking to collect on debts that Han owes. Our 5 heroes manage to hyperspace it out of the freighter in the Falcon to safety.
They land on the planet Takodana to consult with Maz Kanata. She has the ability to help BB-8 reach the Resistance. Thinking his job is done, Finn makes plans to head out to the Outer Rim to disappear, but we all know that's not going to happen.
The force calls out to Rey, and it leads her down to a vault below Maz's cantina where Luke's lightsaber is chilling in a box. She takes hold of it, and suddenly has visions of pain, death, and suffering, as well as her abandonment by her family on the planet Jakku. Scared by the vision, Rey runs off into the forest.
Meanwhile, at Starkiller Base, do not call it Death Star III, Supreme Leader Snoke orders it to destroy the Republic capitol. With the Republic gone, surely the Resistance will fall to. The First Order catches up to our heroes on Takodana, and levels Maz's cantina. The Resistance is able to save the day, but Rey is captured in the fight.
Ren, who may or may not know the true identity of Rey, decides to interrogate Rey using the Force. From her mind, he sees a vision of an island surrounded by water. It sounds like a lovely place one might want to escape to, but neither of them understand Rey's vision, and Ren keeps probing, but this searching also causes an awakening in Rey, and she is able to resist Ren. She finds that she too is Force-sensitive, and is able to escape from Stormtrooper 007 with a mind-trick of her own.
Back on Takodana, Leia arrives, and Han tells her that he saw their son, but their reunion is cut short when they learn that Starkiller Base is preparing to fire its "laser" at their planet, which would wipe out the Resistance too. Han, Chewie, and Finn set out to destroy part of the base, weakening it so that Poe Dameron, who was alive all this time, and his fleet of X-wing fighters can destroy the whole base ala Episodes 4 and 6.
At the base, our three heroes set the explosives, and manage to find Rey to boot. As they prepare to leave, Han spots Kylo Ren. He calls out to him by his birth name, Ben. He tries one last time to get Ben to give up the dark side, and come back home with him to his mother, Leia, but the only way for Ren to escape the pull of the Light Side of the Force once and for all is to kill his father. He stabs Han through the chest with his wannabe light saber as Rey, Finn, and Chewie helplessly look on. Han falls to his death.
A pissed off Chewie completes his life debt to Han by shooting Ren in the side, and blowing the roof off Starkiller Base, allowing the Resistance to blow the rest of the planet up, and saving the day.
Chewie runs off to get the Millennium Falcon, but Rey and Finn are stopped in the forest by a bleeding Ren. Finn pulls out Luke's lightsaber that Maz gave him, but he is no match for Ren. Ren strikes him down, but does not kill him. Rey uses the Force to snatch up Luke's lightsaber, and takes out Ren, but before she is able to finish him off, a fissure in the crumbling planet separates them. Rey seems unable to Force jump across to kill him, and instead gets Finn, and flies off with Chewie back to Resistance HQ.
Although Ren is defeated by Rey, he has passed his final test by killing Han Solo. Supreme Leader Snoke orders that Ren be saved to complete his training…or maybe Ren didn't pass his final test, and Snoke just needs all the help he can get, now that there are going to be two Jedi running around.
BB-8 and R2-D2's combine their maps to reveal the planet where Luke should be hiding. Rey, Chewbacca, and R2-D2 fly off to that planet where they find the island in Rey's vision that's surrounded by water. Rey hikes up the tall island where she finds Luke Skywalker, standing next to an unknown grave. He looks at Rey as she presents him with his lightsaber. Neither say a word.
Additional Film Information
Rate the Film!
Walt Disney Studios Motion Pictures released The Force Awakens on December 18, 2015. J.J. Abrams directed the film starring Daisy Ridley, John Boyega, and Oscar Isaac.