Film and Plot Synopsis
Inspector Callahan heads to San Paulo, a small town down the coast, to investigate a murder. The killer is Jennifer Spencer who's out for revenge. She's murdering all the men who gang-raped her and her little sister 10 years ago. During his investigations, Callahan becomes entangled in Jennifer's own troubles; never suspecting that she's the killer.
Buy the Film
4 Film Favorites: Dirty Harry (Blu-Ray)
10 new from $17.99
14 used from $12.13
Free shipping
as of May 21, 2023 10:45 am
*As an Amazon Associate we earn from qualifying purchases.
'Sudden Impact' Movie Summary
The summary below contains spoilers.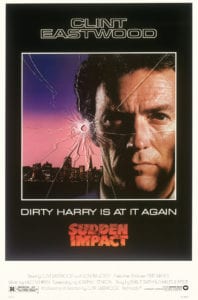 It's Molotov Cocktails at five paces as Detective 'Dirty' Harry Callahan is about to get ugly. When Jennifer Spencer and her sister are gang raped, and left for dead, Jennifer takes revenge over the next decade knocking off the perpetrators one by one herself in all manners of excruciating ways.
Luckily (if that's the way you want to put it), the San Francisco Police Department has placed Harry on a "forced holiday" due to the stringent ways he conducts himself towards San Francisco's criminal elements.
However, Harry lets his guard down after falling for Jennifer, and entering an actual relationship with her. Actress Sondra Locke was short, blonde, not real convincing as Jennifer, but was with Mr. Eastwood off screen at the time, which explains her lead role here. Her character has few redeeming features, but when Jennifer's life is threatened on a second occasion, Harry steps in to eliminate the scum.
In between saving the love of his life, Dirty Harry is in fine form in a court house elevator, on the street, and inside his favorite diner because all he wants is a large black coffee the same as he had had for the last ten years, with no sugar.
He just came back to complain in one of the most iconic scenes and lines delivered in cop movie history, "Go Ahead Make my Day" The finale at night in a closed up carnival is not something to remember unless you like silhouettes of old detectives with big guns. Harry sets sail to save his lady.
Up a rollercoaster no problem for Harry, although you may never look at a merry-go-round the same again. He rescues Jennifer in typical Callahan carnage style.
Bring on, The Dead Pool.
Additional Film Information
Rate the Film!
Warner Bros released Sudden Impact on December 9, 1983. Clint Eastwood directed the film starring Clint Eastwood, Sondra Locke, and Pat Hingle.