Film and Plot Synopsis
Mr. Freddy Shoop is a high school P.E. teacher with big plans for the summer. However, when the summer school teacher wins it big in the lottery, he quits. Upon finding out, the vice-principal corners Shoop and forces him to teach this dreaded summer school class full of misfits and goof offs. At first, Shoop tries to bribe his students, but after getting to know them better, he begins to care for them and their futures. With the help of another teacher whom Shoops crushes on, he hopes to get them all to pass his summer school class.
Buy the Film
Summer School [Blu-ray]
8 new from $22.99
2 used from $24.15
Free shipping
as of September 21, 2023 2:12 pm
*As an Amazon Associate we earn from qualifying purchases.
'Summer School' Movie Summary
The summary below contains spoilers.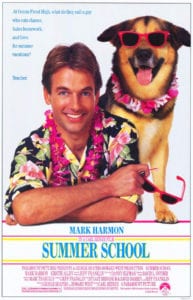 1987's
Summer School
begins on the last day of classes. Freddy Shoop is a P.E. teacher setting out for a vacation to Hawaii with his girlfriend, Kim as soon as the bell rings. As the teens excitedly sign yearbooks, and get ready for the break, Vice principal Phil Gills informs several failing students that they must attend summer school for remedial English.
These students include: a surfer named Pam House, a teen-aged stripper named Larry Kazamias, a football star named Kevin Winchester, the pregnant Rhonda Altobello, a dyslexic tough girl named Denise Green, the 80s nerd named Alan Eakian, a bathroom lover named Jerome Watkins, and the Texas Chain Saw Massacre enthusiasts of Francis "Chainsaw" Gremp and his buddy Dave Frazier.
Mr. Dearadorian is the teacher who will teach the class, but as the last school period of the day ends, the lottery ticket he scratches wins him $50,000, and Dearadorian splits; leaving Vice principal Gills without a replacement. He frantically hits up any teacher remaining on campus, but they all hightail it out of there…except for Shoop who is trying to pack his car without being spotted. Gills corners Shoop, and says if he doesn't teach the class, he won't be tenured.
Shoops's first day is eventful. He meets the sexy history teacher teaching next door, Robin Bishop. Shoop puts the moves on her, but she's dating that bite-in-the-ass Gills. Things go down hill from there. Many students enrolled for the class either don't show up, or leave immediately. Jerome takes the bathroom pass, and doesn't return until the end of the film.
We next meet the teenaged sex bomb from Italy, Anna-Maria. She's an exchange student who wants to improve her English before the next school year begins. Dave and Chainsaw immediately fall in love with her, but who can blame them.
For the students who remain in class, Shoop doesn't have a clue how to teach them, so they go on field trips for the first few days instead of studying. Shoop takes them to a a theme park, a petting zoo, and the beach until Alan's grandmother catches wind, and rats them all out.
This leads to a confrontation between Shoop and Gills where Shoop's students must now pass the English basic skills exam or Gills will have Shoop fired. To get the kids to actually study, Shoop negotiates a contract of sorts where he agrees to grant each one a favor in return for them trying hard in class.
Shoop teaches Denise to drive. He goes with Rhonda to her Lamaze classes, and helps Kevin stay in football shape. He throws a Fourth of July party for Dave in Anna-Maria's honor; get's Larry a bed for class, and screens The Texas Chain Saw Massacre for Chainsaw…also in Anna-Maria's honor. Pam, needing a place to stay near the beach, moves in with Shoop.
Meanwhile, Robin helps Shoop improve his teaching skills, but continues to turn down Shoop's advances. As Shoop and the kids bond, things start to go awry. Some beach cops arrest Shoop when he covers for Dave and Chainsaw after they are found to be in possession of alcohol. When Robin forces Gills to help her bail Shoop out of jail, Gills slips up in front of her, and reveals how much of a bite-in-the-ass he really is.
Larry, who is nocturnal because he spends his nights as a male stripper, loses that job because his mom and her sister spot him at one of his striptease acts. Chainsaw wrecks Shoop's 1964 Falcon Futura convertible during a driving test, and Pam, wanting a relationship with Shoop, storms off when he tells her there are bigger and better waves in the ocean coming for her to pick.
Eventually, with the pressure on, Shoops asks the kids to study more to pass the exam, but they make more demands in return; wanting to renegotiate their contract with him. Instead, Shoop throws a book at the chalkboard, storms out of the room, and quits his job. The kids quickly feel guilty, and do their best to get Shoop back using simulated gore and murder to scare Shoop's substitute away. They then go to visit him at the beach where he's chilling with Wonder Mutt, and eating ice cream. He agrees to come back.
In an 80s montage, the kids hunker down in their studies, and when the day of the test arrives, they all show up ready to pass…including Jerome who finally got his zipper to work in the bathroom. Everyone completes the exam, but Rhonda, who's been in labor the whole time, immediately leaves with Kevin to the hospital. (She and Kevin are now dating, you know.)
Unfortunately, most of them do not pass the test. Gills goes to Principal Kelban to have Shoop immediately fired. However, as the three men talk in Kelban's office, the kids show up with their parents who speak on Shoop's behalf. They convince Kelban that their kid's marked improvement proves Shoop is an excellent teacher even if not all of them passed. Principal Kelban, citing their combined 125% improvement on the test scores, agrees. He then approves Shoop's tenure.
The film closes with Robin shooting down Shoop's dinner offer one more time. She says they can talk about it over breakfast in the morning. The two make out in the waves until Wonder Mutt shows up to make it a kissy threesome.
Additional Film Information
Rate the Film!
Paramount Pictures released Summer School on July 22,1987. Carl Reiner directed the film starring Mark Harmon, Kirstie Alley, and Robin Thomas.