Film and Plot Synopsis
A gay Jewish doctor, Daniel Hirsh and a middle-aged woman, Alex Greville are both having affairs with the same male artist, Bob Elkin. Not only are Alex and Daniel aware that Bob is seeing the other, but they know each other as well. Despite this, they are willing to put up with the situation through fear of losing Bob who switches freely between them. The film highlights some worrying facts about how much people's attitudes to relationships and each other have changed over just two generations.
Buy the Film
Sunday Bloody Sunday (The Criterion Collection) [Blu-ray]
6 new from $16.29
7 used from $14.40
Free shipping
as of May 19, 2023 11:26 pm
*As an Amazon Associate we earn from qualifying purchases.
'Sunday Bloody Sunday' Movie Summary
The summary below contains spoilers.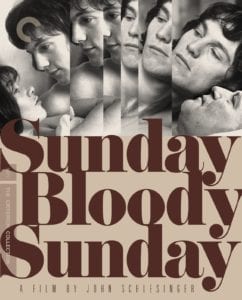 Daniel Hirsh (
Peter Finch
) is a middle-aged gay Jewish doctor living in 1970's London. Daniel is involved in a homosexual relationship with sculptor Bob Elkin (
Murray Head
), a much younger man in his mid-20's. Bob is also involved in a heterosexual relationship with Alex Greville (
Glenda Jackson
), a divorced woman in her mid-30's. Alex and Daniel are each aware of Bob's relationship with the other person. Additionally, Alex and Daniel know one another through common friends. Despite their competing affections for Bob, the two tolerate Bob's relationship with the other party for fear of their respective relationship with Bob coming to an end. Neither is completely satisfied with their relationship with the philandering Bob.
Alex and Daniel are also both close friends with Alva and Bill Hodson (Vivian Pickles and Frank Windsor). The Hodsons are a middle-class family who live in a suburb of London. Alex and Daniel alternate having Sunday dinner with the Hodsons who are aware of their relationships with Bob, but don't talk about them. The Hodson children however frequently snicker when they see Bob.
Bob frequently spends time with Alex when she watches over the Hodsons' children. Alex becomes frustrated with Bob for leaving her suddenly to spend time with Daniel. She confronts him about the sudden disappearances, but Bob is unwilling to change and dedicate himself to just Alex. Alex ultimately apologizes to Bob for her jealous behavior.
One night, Daniel runs into one of his former lovers (Jon Finch) while driving on the streets of London. The lover is a heroin addict, but Daniel picks him up anyways and attempts to get him drugs at a pharmacy. While Daniel is in the drug store, the lover steals Daniel's medical bag.
On one occasion, the Hodson's eldest daughter, Lucy, is nearly run down by a truck while Alex and Bob are watching her. Lucy is fine, but the Hodsons' dog is killed. The incident causes Alex to recall traumatic incidents from her childhood. Bob puts her to bed to get her to calm down, but when Alex awakes, the Hodsons have returned and Bob is working with some of his artist friends. That night, Bob leaves, causing Alex to feel abandoned again.
Alex occasionally has meals with her mother (Peggy Ashcroft) and father (Maurice Denham). Alex fights with her mother about Mr. Greville's workaholic lifestyle. Her mother implies that Alex's criticisms of her own father is caused by her dissatisfaction with someone in her life. The next day, Alex works on drafting her resignation letter from her job, but has difficulty putting her feelings into words.
One day, Daniel is hosting a party at his flat with Bob. Some of Daniel's friends begin to argue and Bob gets up to leave. He and Daniel get into a fight and Bob leaves. Meanwhile, Alex has a conversation with her friend George Harding (Tony Britton). Tony has recently lost his job to age discrimination and has become extremely depressed. Alex and George sleep together at Alex's apartment until Bob arrives unexpectedly. Alex and George pretend to be having a drink together, but Bob sees through the ruse. Bob tells Alex that he has no problem with her sleeping with other men. They are "free" to do what they want. Bob's indifference further fuels Alex's depression and jealousy.
Unbeknownst to both Alex and Daniel, Bob makes steps to move to the New York after receiving an offer to open his own art gallery in the United States. At the same time, Daniel begins planning for a vacation in Italy. The next day, Bob gets sick and after being examined by Daniel informs his lover that he is planning on moving. Daniel begins to realize the lack of permanence in his relationship with the younger man. When Bob tells Alex about his move, she tells him that she won't be waiting for him when he comes back. She too begins to realize the lack of any kind of stable and consistent relationship with the flighty Bob. Eventually, Bob leaves for New York.
Alex and Daniel come face to face for the first time outside of the Hodson house when Daniel is leaving from a lunch. They share a cigarette together and realize that Bob has left them both. Daniel returns home and plans for his trip to Italy alone. The film ends with Daniel speaking directly to the audience. He discusses his relationship with Bob and his friends' concern for his happiness. The older man tells the audience that he is happy but misses Bob.
Additional Film Information
Rate the Film!
The Criterion Collection released Sunday Bloody Sunday to Blu-ray on October 23, 2012. John Schlesinger directed the film starring Peter Finch, Glenda Jackson, and Murray Head.