Film and Plot Synopsis
Wealthy advertising executive Drew Latham is living an empty, shallow life with tremendous wealth and not real relationships. Facing another lonely Christmas, Drew wants to revisit his old childhood home and relive some holiday memories. He finds his home occupied by the Valco family, Tom, Christine, Alicia, and teenage Brian. Drew offers them $250,000 to let him spend Christmas with the Valcos, and the "in need of cash" Valcos reluctantly accept. However, they soon start to regret their decision as Drew begins to make bizarre requests to relive his childhood, and the Valcos begin to wonder if they will survive Christmas.
Buy the Film
Surviving Christmas
11 new from $8.79
6 used from $4.08
Free shipping
as of September 21, 2023 12:32 am
*As an Amazon Associate we earn from qualifying purchases.
'Surviving Christmas' Movie Summary
The summary below contains spoilers.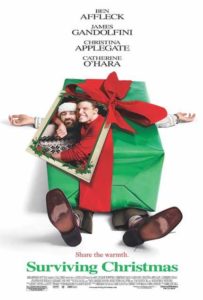 Wealthy advertising executive Drew Latham (
Ben Affleck
) surprises his girlfriend Missy (
Jennifer Morrison
) with first class tickets to Fiji right before Christmas. Missy is horrified and shocked that Drew would even want to spend Christmas away from his family, a group of people that Missy has never met. Missy comes to the conclusion that Drew is not serious about their relationship and decides to break up with him. Distant and aloof, Drew has his secretary send Missy a Cartier bracelet to apologize. Feeling lonely, Drew calls all of his "friends" to find a place to stay on Christmas, but discovers that he does not have any close relationships.
Drew tracks down Missy's therapist Dr. Freeman (Stephen Root) at the airport as he is about to leave on vacation. Drew seeks to receive a little immediate therapy. The doctor tells Drew to list all of his grievances and then to burn them at his childhood home. Drew's childhood home is now occupied by the Valco family. Drew heads to the Valco home and attempts set his grievances on fire, but he is knocked unconscious with a shovel by Tom Valco (James Gandolfini). Once he regains conscious, Drew finds himself in old bedroom and suddenly offers the Valco family $250,000 to let him spend Christmas with the Valcos. Tom accepts the unusual offer, and Drew has his attorney draw up a contract that requires the entire Valco family to pose as his family.
The next day, Drew forces the Valco family to begin engaging in his ideas of a family Christmas. He directs the family to go out and buy a tree together. Even worse, he requires Tom to wear a Santa cap in public. Once the tree is brought back to the Valco house, they begin trimming the tree. The eldest Valco child, Alicia (Christina Applegate) returns home for the holidays and is surprised to find Drew in the home. Since Alicia does not have a place in his imaginary family, Drew suggests that Alicia could portray the maid.
At dinner that night, Drew writes a script for the family to read at the table. Drew hires a local actor to play the part of his grandfather, whom he lovingly calls Doo-Dah (Bill Macy). The next day, Drew takes Alicia and her younger brother Brian (Josh Zuckerman) sledding. However, they end up crashing instead. Drew makes a move to kiss Alicia after the crash, but she sneezes instead, ruining the mood. Once back at the Valco house, Alicia shares a memory from her childhood with Drew about an old tree that was coated in ice during a storm.
Tom begins to buckle under the oddity of the situation and asks Drew to leave. Tom explains to Drew that he was planning on divorcing his wife Christine (Catherine O'Hara), and the executive encourages Tom and Christine to indulge themselves with the money he gave them. Tom proceeds to buy a Chevelle SS and Christine goes to a photographer for some glamour shots.
Drew tries to make inroads with Alicia. He takes her to the old tree from her childhood, which he has covered in ice again. Alicia is touched by the gesture, but Drew once again overdoes it. He brings in a full pageant production to surround the tree, which angers Alicia. She asks Drew to leave her family's home.
Meanwhile, Missy receives the Cartier bracelet and is won over by the expensive gift. Missy contacts Drew's assistant who informs her that he is spending the holidays with his family. Missy decides to surprise Drew and shows up at the Valco house with her parents, Horace and Letitia (David Selby and Stephanie Faracy).
Desperate, Drew promises the Valcos an additional $75,000 to play along for the evening and pretend to be his family. The Valcos agree. However, the evening descends progressively into madness. The evening ends with everyone seeing Christine's glamour shots which have been manipulated into pornography on Brian's computer. Offended, Missy's parents storm out of the Valco home. Drew informs Missy that their relationship is over.
Alicia confronts Drew and finally discovers the truth about his family. Drew admits that his father left the family when he was just four, and his mother died when he was in college. After admitting his past, Drew returns to his apartment to spend Christmas alone. Tom comes to the apartment to collect the money that Drew owes his family. The two men decide to go watch the actor who Drew hired to play Doo-Dah perform in the local production of A Christmas Carol. The rest of the Valco family joins them at the performance. Tom and Christine decide not to divorce. Drew and Alicia make up outside the theater. Everyone eats in the dinner where Drew's mother worked a double shift to make extra money.
Additional Film Information
Rate the Film!
DreamWorks Pictures released Surviving Christmas on October 22, 2004. Mike Mitchell directed the film starring Ben Affleck, Christina Applegate, and James Gandolfini.