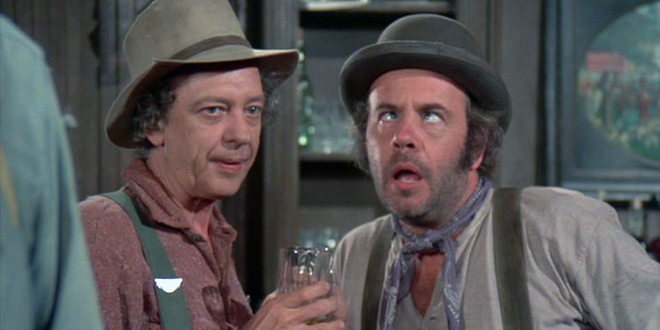 Podcast: Play in new window | Download
Subscribe: Apple Podcasts | Android | Google Play | Stitcher | RSS | More
Directed by: Norman Tokar
Starring: Bill Bixby, Susan Clark, and Don Knotts
The Apple Dumpling Gang Movie Summary
In The Apple Dumpling Gang, Russel Donovan is a smooth talking man living in California during the post gold rush era ca. mid 1870s. He's not a miner, but a pseudo respectable man that spends his nights gambling and drinking to make a living until he can move to New Orleans to open up his own saloon. First class too…red carpets, crystal chandeliers from Europe, two roulette tables, AND whores!
Donovan arrives in the boom town of Quake City, a town named after the earthquakes that frequent the area, as an overnight stay on his way to San Francisco. That night, however, trouble ensues when Donovan agrees to accept "some valuables" for $5 the next morning for John Wintle who has to rush out of town immediately to San Francisco on an emergency. Although Wintle duped Donovan once before in Santa Fe, NM, when he sold him the Marshal's horse, Donovan agrees to do it because the money will allow him to raise the ante in the current card game he has going, and accepting "some valuables" seems simple enough, right?
The next day, when Donovan goes to get the delivery, he learns that the "valuables" are the Bradley children; a trio of orphans whose parents died back east, and Donovan now has to take care of them.
Donovan tries to refuse the delivery, but Homer McCoy, the town's sheriff, barber, Justice of the Peace, and judge is there, and he witnessed Donovan agree to accept payment for claiming responsibility for Wintle's delivery the night before. McCoy tells Donovan that he's legally obligated to take care of the children until someone else agrees to take custody of the kids, but nobody in Quake City really believes Wintle will ever return.
As Donovan stumbles between raising three kids and gambling to make ends meet, he begins shopping the children around town to see if anyone will accept responsibility for them. One day, the children find a large gold nugget worth $87,000 in Commodore mine, a mine that their dad had laid claim to in 1871. Now rich beyond their dreams, everyone in town wants to adopt the kids so they can get the gold.
Realizing that the kids best interests aren't in mind from these adoptive suitors, McCoy convinces Donovan to marry Dusty Clydesdale, so that Dovonan can now keep the kids. Dusty is respectable in town, and she will ensure that the kids will be brought up properly. Dusty reluctantly agrees to the marriage, but right after they get hitched in the Barber Shop, Wintle returns to town, with his attorney, to claim the children as his.
The kids then convince Amos Tucker and Theodore Ogelvie to steal the gold, so Wintle won't want them again, and then they can go back to Donovan, but while Amos and Theodore are trying to steal the gold nugget, for the second time in the film, their old boss, Frank Stillwell shows up with his gang to steal the nugget for themselves.
Everyone is discovered in the bank trying to take the nugget, and a gun fight ensues with the townsfolk. Amos and Theodore manage to accidentally blow up the nugget…and the entire bank…with some old, sweating dynamite.
Although the gold is lost, Donovan captures Stillwell, and uses the reward money to buy the Benson place. Donovan and Dusty move to the farm with the kids, and Dusty's drunk of a father, Col. T.R. Clydesdale. Amos and Theodore ask for work as farmhands, and the group head out to a very happy Disney ending.
Disclaimer: This podcast is not endorsed by Walt Disney Home Video and is intended for entertainment and information purposes only. The Apple Dumpling Gang, all names and sounds of The Apple Dumpling Gang characters, and any other The Apple Dumpling Gang related items are registered trademarks and/or copyrights of Walt Disney Home Video or their respective trademark and/or copyright holders. All original content of this podcast is the intellectual property of Movie House Memories, Lunchtime Movie Review, and Fuzzy Bunny Slippers Entertainment LLC unless otherwise noted.
This post contains affiliate links that will take you to Amazon.com and/or the iTunes Store. This means if you click on the link and purchase the item, we will receive an affiliate commission. Our content is not influenced by advertisers or affiliate partnerships. For more information, please read our Terms of Use about the inclusion of affiliate links on this site.
---
---