Film and Plot Synopsis
In this sequel to The Best Man, the cast reunites fourteen years after the events in the first film. Mia Sullivan sends out an invite to all of her and Lance's friends to join them at their house for the Christmas holiday. Mia hopes that the get together will help to alleviate the tension that has developed between the friends and bring them closer together again. Over the course of several days, the friends learn to once again rely upon one another as they deal with new obstacles and adversities. In the end, they will all be forever changed by their friendship with each other.
Buy the Film
The Best Man Holiday [Blu-ray]
18 new from $5.00
28 used from $2.00
Free shipping
as of November 29, 2023 1:10 pm
*As an Amazon Associate we earn from qualifying purchases.
'The Best Man Holiday' Movie Summary
The summary below contains spoilers.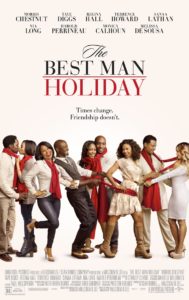 In this sequel to The Best Man, Mia Sullivan (
Monica Calhoun
), the wealthy wife of NFL football sensation Lance Sullivan (
Morris Chestnut
), sends out invitations to all her old friends to join the Sullivans for Christmas. The years have been hard on some members of the group. Writer Harper Stewart (
Taye Diggs
) is struggling with writer's block after writing a successful debut book years before. Harper is also suffering through financial difficulties after spending a lot of money for fertility treatments for his pregnant wife Robyn (
Sanaa Lathan
). Harper has also recently been released from his facility position at New York University. Harper's agent pushes him to approach Lance about writing his biography. Lance and Harper are estranged despite the invite for the Christmas vacation. Harper feels uncomfortable approaching Lance even though they were once best friends. Harper agrees to the idea of writing the biography but decides to keep it a secret for now.
Julian "Murch" Murchison (Harold Perreneau) has opened and runs a renowned school with his wife Candace (Regina Hall), a former stripper. Julian's main donor abruptly terminates his relationship with the school after he learns about Candace's past as a stripper. Julian learns that there is video on YouTube of Candace appearing to accept money for sex at a fraternity party years before. Julian is now struggling to find a new donor. Julian shares the information about the video with Quentin "Q" Spivey (Terrence Howard). Q is now a successful brand manager and heavily connected to many prominent celebrities. Julian's former fiancée, Shelby Taylor (Melissa De Sousa), is now a member of the popular The Real Housewives television show franchise and has become a prominent reality television star.
Mia's best friend Jordan Armstrong (Nia Long) is now a successful businesswoman. She has a new boyfriend, Brian McDonald (Eddie Cibrian), who is a white guy. Jordan meets with Harper before the getaway trip. She agrees that Harper should write Lance's biography and promises to try to make inroads into making it happen. However, Harper asks her not to mention it to Lance.
All the friends begin arriving at the house. It is the first time that they have been together in fourteen years. There are tensions between many of the friends; however, the most perplexing is the tension between Harper and Lance. Additionally, the presence of Brian adds a new dynamic to the group. However, Brian leaves early to attend his own family's annual Christmas gathering in Vermont. As he leaves, Jordan tells him that, while she loves him, she does not need him. Brian seems a little disturbed by the statement.
Over the course of days, the group engages is various activities together, which does seem to begin to mend the relationship between Lance and Harper. One night, Harper enters the kitchen and finds Mia throwing up blood. Mia tells him that she has been diagnosed with cancer. Even worse, her cancer is terminal, and she asks Harper to help guide Lance through the grief since he is still refusing to acknowledge the fact that Mia is going to die. Mia asks Harper not to tell anyone since she wants to do it herself.
The next morning at breakfast, Q and Shelby accidentally switch phones, and Shelby finds the Candace fraternity video on Q's phone. With that information, Shelby tries to coerce Julian to resume their previous relationship with her and even offers to become Julian's new donor for the school. Julian turns down both of her offers. Not long afterwards, Candace becomes angry with Shelby and confronts her. The argument leads to a physical fight. Shelby calls Candace a prostitute which results in an argument between Candace and Julian. Candace leaves the house with her and Julian's children. However, she returns soon after and reconciles with her husband. She admits to taking money for sex, but states that it was just the one time and that she really needed the money.
Later, the women are preparing to spend a spa day together when Mia collapses while trying to hang a Christmas ornament. Mia tells the girls about her physical condition. Harper is at Lance's practice and receives the text from his wife about Mia. He tells Q and Julian, and the three men console Lance and show their support for their friend. A short time later, Harper rebuild their relationship as they reminisce about the old days.
The next day, the group volunteers at a shelter. Lance stumbles across Harper's iPad and journal in Mia's purse which shows a mockup for an unauthorized biography book cover with Harper as the author. Lance confronts Harper and tells him to stay away from him and his family. Mia tries to calm Lance down, but he leaves the shelter with her, stranding Harper and Q. Harper confesses his financial problems to Q who offers to give him some money to help him.
Back at the mansion, Lance is still angry over the planned biography. Mia confronts him and forces him to acknowledge the truth about her prognosis. Mia removes her wig to show her hair loss, further forcing Lance to confront the reality of her situation. She also forces Lance to acknowledge that she is equally to blame for her and Harper's affair in the previous film, which resulted in the two best friends hardly speaking to each other over the last fourteen years.
Christmas Day finally arrives. Mia is extremely weak and confined to her bed. Lance tells Mia that he is going to skip his last professional game in which he may set the all-time career record for rushing. Mia convinces him to play. The rest of the guys go with Lance to the game, while the girls and kids stay with Mia. Lance has a horrible first half. Mia calls Harper to speak to Lance. She tells him what she wants for Christmas, and Lance has an amazing second half, breaking the record and helping his team win the game. The men all rush back to the mansion immediately after the game. Brian also returns, giving Jordan a chance to express how much she needs him. Mia passes away on Christmas.
At the funeral service, Harper delivers a heartfelt eulogy. Lance later thanks his friend for his words. Everyone is shown to reconcile. Q and Shelby sleep together. Shelby gives Julian a check for two million dollars, enough money to cover his school's funding gap with no strings attached. Brian also promises to assist as well with some investors he knows. Robyn's water suddenly breaks and Lance, Harper, and Candance rush her to the hospital. The foursome gets stuck in traffic, and Lance must deliver Harper's baby in the backseat of the SUV. Robyn has a baby girl and names her Mia after her friend.
Ten months later, Harper and Lance are once again best friends. Harper's biography of Lance is about to be released and early orders indicate that it will be a hit. Lance visits Harper and Robyn at their house in New York City. Harper gets a call from Q who announces his engagement. He tells Harper that he will be the best man, but he better not have slept with his future bride.
Additional Film Information
Rate the Film!
Universal Pictures released The Best Man Holiday on November 15, 2013. Malcolm D. Lee directed the film starring Monica Calhoun, Morris Chestnut, and Melissa De Sousa.