Film and Plot Synopsis
The Best Years of Our Lives begins with Fred, Al, and Homer who are attempting to re-enter civilian life after World War II ends. Although Fred is a war hero, he finds himself unable to compete with more highly skilled workers. This leaves his only option to return to his old job as a low-wage soda jerk. Al is a bank executive who winds up in trouble with the higher ups for offering favorable loans to veterans. Finally, Homer, who lost both hands in the war, struggles to live a normal life even as his loving fiancée supports him any way she can. In the end, all three men do their best to find their way in their new lives.
Buy the Film
Best Years of Our Lives, The [Blu-ray]
7 new from $11.71
2 used from $26.46
Free shipping
as of November 29, 2023 5:21 pm
*As an Amazon Associate we earn from qualifying purchases.
'The Best Years of Our Lives' Movie Summary
The summary below contains spoilers.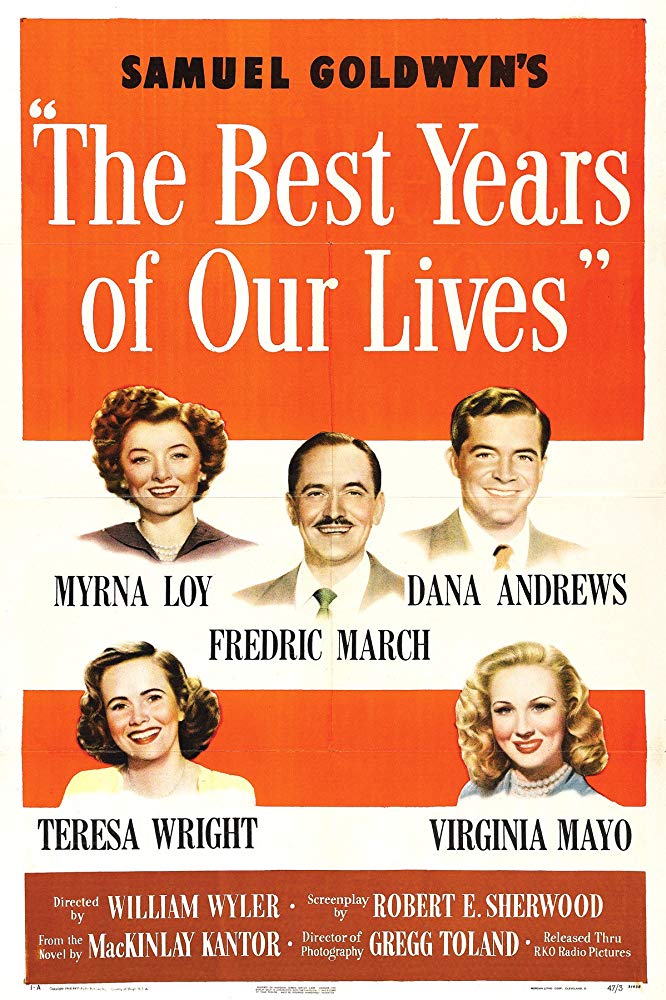 The Best Years of Our Lives
takes place after World War II. Returning veterans Fred Derry (
Dana Andrews
), Homer Parrish (
Harold Russell
), and Al Stephenson (
Fredric March
) meet while flying home to Boone City. Fred was a captain and bombardier in Europe. Homer was a petty officer who lost both hands when the Japanese sunk his ship. He now has to use mechanical hook prostheses in his daily life. Finally, Al was an infantry platoon sergeant in the Pacific. All three men find readjusting to civilian life after the war to be more difficult than fighting in it.
Al has a good job as a banker. He lives in a nice place with a loving family: his wife, Milly (Myrna Loy); an adult daughter, Peggy (Teresa Wright); and younger son, Rob (Michael Hall), who's in high school. The bank promotes Al to vice president in charge of small loans after the bank's president feels Al's military experience can help bring in new business from other returning servicemen.
The men have trouble adjusting to civilian life
However, when Al approves an unsecured loan to a young Navy veteran (despite the man's lack of collateral), the president lets his displeasure be known. He strongly advises him against doing that again. Later at a banquet in his honor, a very drunk Al openly opines that the bank should stand with the vets—give them every chance they need to rebuild their lives.
Elsewhere in town, Fred must return to his old job as a soda jerk due to the tight labor market. Of course he'd like to find something better, and his wife, Marie (Virginia Mayo), whom he met and married less than a month before he shipped out, demands he do it sooner rather than later. She took a job as a nightclub waitress while Fred was overseas, and now makes it perfectly clear that she's not going to be married to some lowly soda jerk.
Homer might have the biggest adjustment to make of the three. Before the war, he was a high school football quarterback, engaged to his next-door neighbor, Wilma (Cathy O'Donnell). Homer doesn't want to be a burden to anyone with his new disability, especially Wilma. He tries to push her away. However, Wilma isn't having any of it. She still loves him, and wants to marry him no matter what.
Reunited
As Peggy drives her parents around to various nightclubs to celebrate, they stop at Homer's uncle's place. There, Al reunites with Homer and Fred. Peggy and Fred both share a mutual attraction for one another as some sparks fly.
As a soda jerk again, Fred finds himself working under a young man who was his assistant before the war. Peggy drops by two see him the next day, and the two have lunch together. After it, Fred surprisingly kisses her—passionately—then immediately apologizes. Confused, upset, and still confused, Peggy gets in her car and drives off. However, she decides to find out more about Marie. To do so, she arranges a double-date with herself and a boyfriend.
It's clear that Peggy dislikes Marie from the get go. Later that night, she informs her parents that she intends to end Fred's unhappy marriage. Al doesn't like that, and he demands Fred stop seeing his daughter. Fred agrees, but their friendship becomes strained from the request.
Anti-war sentiment back home
On another day, Fred chats with Homer at work. When an obnoxious customer pisses Homer off with remarks about fighting the wrong enemy in the war, Fred intervenes. He knocks the man down resulting in his boss firing him on the spot. Soon after, Fred encourages Homer to marry Wilma. That same evening, Wilma visits Homer, and he shows her how hard life with him would be. Once again, she doesn't care. She still loves him no matter what.
When Fred catches his wife with another man after returning home unexpectedly, the two argue. Marie demands a divorce. With that news, Fred decides to leave town to make a fresh start. As he waits for a plane, he wanders into an aircraft boneyard. Inside the nose of a B-17, he has a flashback. The boss of a work crew that disassembles the planes for scrap materials for prefabricated houses spots him, and strikes up a conversation. Fred persuades the man to hire him, and once again he's employed.
The film ends with Homer and Wilma's wedding. Fred, now divorced, is Homer's best man, and Peggy still has a thing for him. After the ceremony, Fred takes her in his arms, kisses her and asks if she understands the troubles that lie ahead. She smiles at him, and then kisses him one more time for a happily ever after.
Additional Film Information
Rate the Film!
RKO Radio Pictures released The Best Years of Our Lives on November 21, 1946. William Wyler directed the film which starred Myrna Loy, Dana Andrews, and Fredric March.