Film and Plot Synopsis
When a suicide of a mutual friend brings a group of thirty-something baby boomers back to town for the funeral, the old pals end up spending the weekend together. Nostalgia abounds as they reminisce on their childhood of the 1960s and also confront the uncertain days of their lives in the gay '80s.
Buy the Film
The Big Chill [Blu-ray]
9 new from $15.89
6 used from $11.31
Free shipping
as of September 19, 2023 3:52 pm
*As an Amazon Associate we earn from qualifying purchases.
'The Big Chill' Movie Summary
The summary below contains spoilers.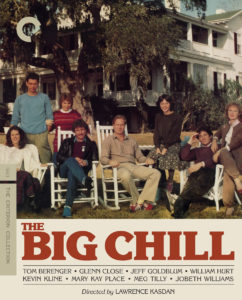 Filmed in 1982, seven thirty-something former college friends who graduated in 1969 reunite 13 years later after one of their classmates commits suicide. Fueled by not one but two best-selling soundtracks, straight-shooter ultra-achievers husband and wife, Harold & Sarah, host their friends in their historic huge plantation home in South Carolina after the funeral for their departed friend, Alex.
Among the guests are: Nick, the still-drugged up washout who left his ideals in college and his manhood in the Vietnam war. There's Karen, the unhappily married mother of two who not-so-secretly hides a crush for one of the friends in attendance. "People" magazine gossip columnist, Michael, shows up with his tape recorder, annoying motor mouth, and pent-up horniness for his former classmates, and he smells a story brewing. We meet Sam, the hunky Hollywood Magnum P.I.-like television actor, newly divorced and absentee father syndrome with the hots for one his former classmates, and he misses his stuntman during one particularly painful sequence. Overachieving defense attorney, Meg, shows up with her cigarettes, briefcase, guilt around her last conversation with Alex, and her ovaries are ripe for propositioning the male populance at this weekend's festivities. Throw in Alex's much-younger airheaded girlfriend, Chloe, with her non-Flower Power observations and the weekend is set to explode.
As memories and emotions come rushing back to the now-out-of-touch BFFs, they realize how their idealistic, world-saving, lustful college-aged selves have matured into jaded, money-seeking, approaching-middle-age adults with a penchant for witty comebacks instead of discussing their true feelings. Once one of the group starts telling actual truths about where they really are in life, the secrets come spilling out, both good and bad. Although they never find out why Alex committed suicide, their collective loss breaks down the barriers and we discover how loss of innocence and losing your way in life has no age limit. Karen realizes her husband, Richard, is in love with being married and having two boys, but is not in love with her so she decides to fulfill her past lust for Sam.
Straight-arrow Sarah had a long-ago affair with Alex that broke Harold's heart but he got over it and their marriage looks as perfect as ever. Failed-hippy-turned-upwardly mobile-yuppie Harold's "Running Dog" sports shoe store chain is being bought out by a big conglomerate so he discreetly tells a few of their cash-strapped friends so they can clean up by buying the stock illegally. Meg propositions all the available men at the gathering one-by-one as they turn her down for one reason or another, until Michael, a one-time flame, volunteers to Meg's horror. Sam is confused by all the fuss given to him about being a big star by the world, but with his friends he's always felt comfortable – until he's propositioned for sex twice in the same night which throws him into confusion.
Nick is always high and finds a video camera so he goes around interviewing all the friends so they can cynically watch themselves and what they've all done with their lives. And not-so-innocent Chloe watches all of these shenanigans with a distant eye and a voice of youthfulness the group views as naïve.
What will the rest of the weekend have in store for this group as they realize not all memories should be shared and even lifelong friends living happily in the past can find value in the present before heading into the unknown future.
Additional Film Information
Rate the Film!
Columbia Pictures released The Big Chill on September 28, 1983. Lawrence Kasdan directed the film starring Tom Berenger, Glenn Close, and Jeff Goldblum.