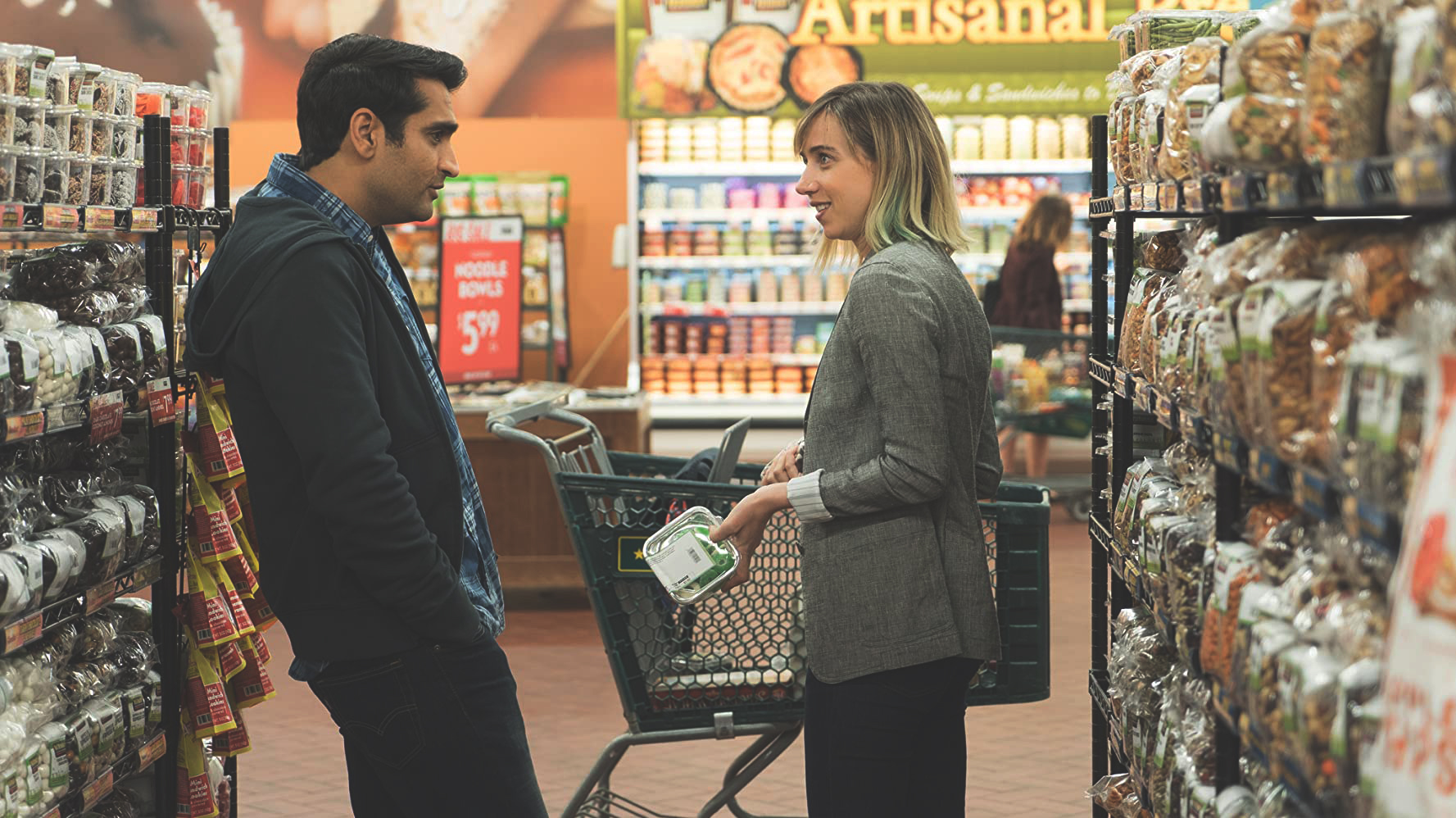 Film and Plot Synopsis
Inspired by real life events, Pakistan-born comedian Kumail Nanjiani and grad student Emily Gardner fall in love but struggle as their cultures clash. When Emily contracts a mysterious illness, Kumail finds himself forced to face her feisty parents, his family's expectations, and his true feelings.
Buy the Film
The Big Sick [Blu-ray + DVD + Digital]
15 new from $4.99
19 used from $2.49
Free shipping
as of December 4, 2022 7:11 pm
*As an Amazon Associate we earn from qualifying purchases.
'The Big Sick' Movie Summary
The summary below contains spoilers.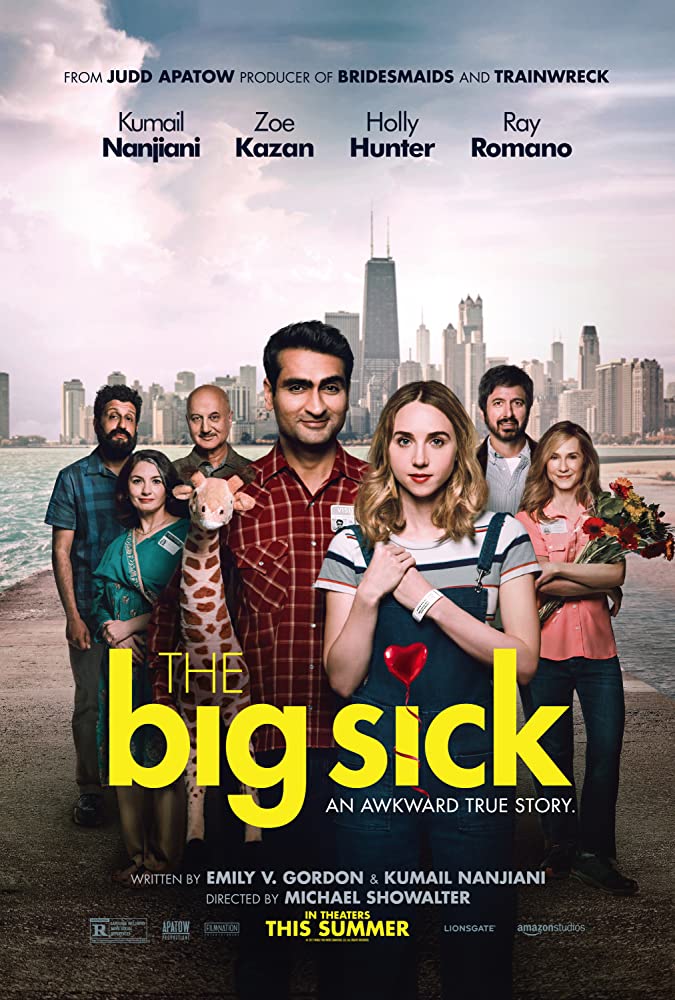 Kumail Nanjiani (
Kumail Nanjiani
) is a struggling stand-up comedian in Chicago. He is hoping to make it big, but works as an Uber driver on the side to make ends meet. He and his family are from Pakistan, and his parents are firm believers in Pakistani culture where arranged marriages are not only common, but preferred. Kumail is not interested in the women that his mother is constantly trying to set him up with and does not want an arranged marriage.
One night after a show, Kumail hooks up with Emily Gardner (Zoe Kazan), a white college student who heckles him during his act. After having sex on the first night, Emily and Kumail begin a relationship with each other. However, Kumail does not tell is family about Emily in fear that his parents will disown him. Five months later, Emily finds a cigar box full of pictures of the women that Kumail's mother (Zenobia Shroff) has been setting "appointments" with over the years. Emily is upset, and asks Kumail if his parents even know about her to which he says no. The two fight and Emily leaves after Kumail tells her that he doesn't see a future between them because it would mean that his family would disown him. Emily breaks up with Kumail and tells him never to call her.
A few weeks later, Kumail is contacted by Emily's friend who asks him to come to the hospital to sit with Emily while she is being treated. He is told by hospital staff that she has a serious lung infection and must be immediately placed in an induced coma. He signs the permission form and calls Emily's parents, Beth and Terry (Holly Hunter and Ray Romano) to let them know their daughter is in a coma. When Emily's parents arrive the next morning, Beth tells Kumail that they are aware of why they broke up and that he is not needed. Nevertheless, Kumail returns and the three become closer as they deal with Emily's illness. Beth and Terry attend one of Kumail's stand-up performances and when an audience member yells a racist heckle, Beth and Terry begin yelling at the heckler. Later that night, Beth and Kumail bond over wine and food as Kumail learns more about Emily's life.
The doctors recommend surgery to remove the infection from Emily. However, the surgery is not successful and the infection spreads to Emily's kidneys. Controlling Beth wants to have Emily transferred to another hospital because she believes that she could receive better care. However, Kumail and Terry believe that it might be dangerous to move her while she is in a coma. Beth and Terry argue over it, and Terry ends up staying at Kumail's apartment one night. That night, Terry confesses to Kumail that he cheated on his wife one time and told Beth about it. Terry indicates that he immediately regretted the incident.
Meanwhile, Kumail has not been visiting with his parents during Emily's hospitalization. Even worse, he continues to reject all the women his mother is trying to set him up with. His parents come to his apartment and confront him. Kumail tells his parents that he does not want an arranged marriage and reveals his relationship with Emily. His mother is devastated and his parents vow to disown him. That night, Kumail attempts to perform his act at a comedy club as an audition for a comedy festival in Montreal. Right before taking the stage, Terry calls Kumail and tells him that the infection has reached Emily's heart and that she may die. Kumail takes the stage and has a break down in front of the audience. Needless to say, he fails the audition.
The next day, Terry texts Kumail and tells him to get to the hospital immediately. When Kumail arrives, he finds Emily awake and recovering. The doctors inform Beth, Terry, and Kumail that when Kumail told a nurse that Emily hurt her ankle shortly before the hospitalization, they realized that she might have adult-onset Still's disease. Still's disease can be very serious, but it is treatable and Emily is expected to make a full recovery.
Emily is not pleased to see Kumail, unaware of what he did while she was in a coma. She asks him to leave and he does. Beth tells Kumail that she hopes to see him again. Beth invites Kumail to Emily's homecoming party. Kumail pleads with Emily to take him back and promises that he has changed. Emily rejects him and tells him that although he might have had a transformative experience during her illness, from her perspective nothing has changed since she was in a coma.
Kumail decides to move to New York City with his two comedian friends, C.J. and Mary (Bo Burnham and Aidy Bryant), to really try to make his stand-up career work. Before he leaves, he tells his family about his relocation plans and refuses to allow them to reject him. Emily discovers a video online of Kumail's disastrous audition. In the video, Kumail confesses his feelings for her and how he told his family about her. Emily goes to Kumail's show to talk about getting back together. Before she can tell him anything, Kumail tells her he is moving to New York. She wishes him luck and does not tell him about her feelings.
Before Kumail leaves, his parents visit him. His mother refuses to get out of the taxi, but his father tells him to stay in touch. The film ends with Kumail performing his stand up in New York when he is heckled by Emily from the crowd.
In the credits, photos are shown of Kumail's real wife, the real life Emily. The photos shows the couple getting married and Kumail's parents attending the wedding.
Additional Film Information
Rate the Film!
Lionsgate released The Big Sick on July 14, 2017. Michael Showalter directed the film starring Kumail Nanjiani, Zoe Kazan, and Holly Hunter.