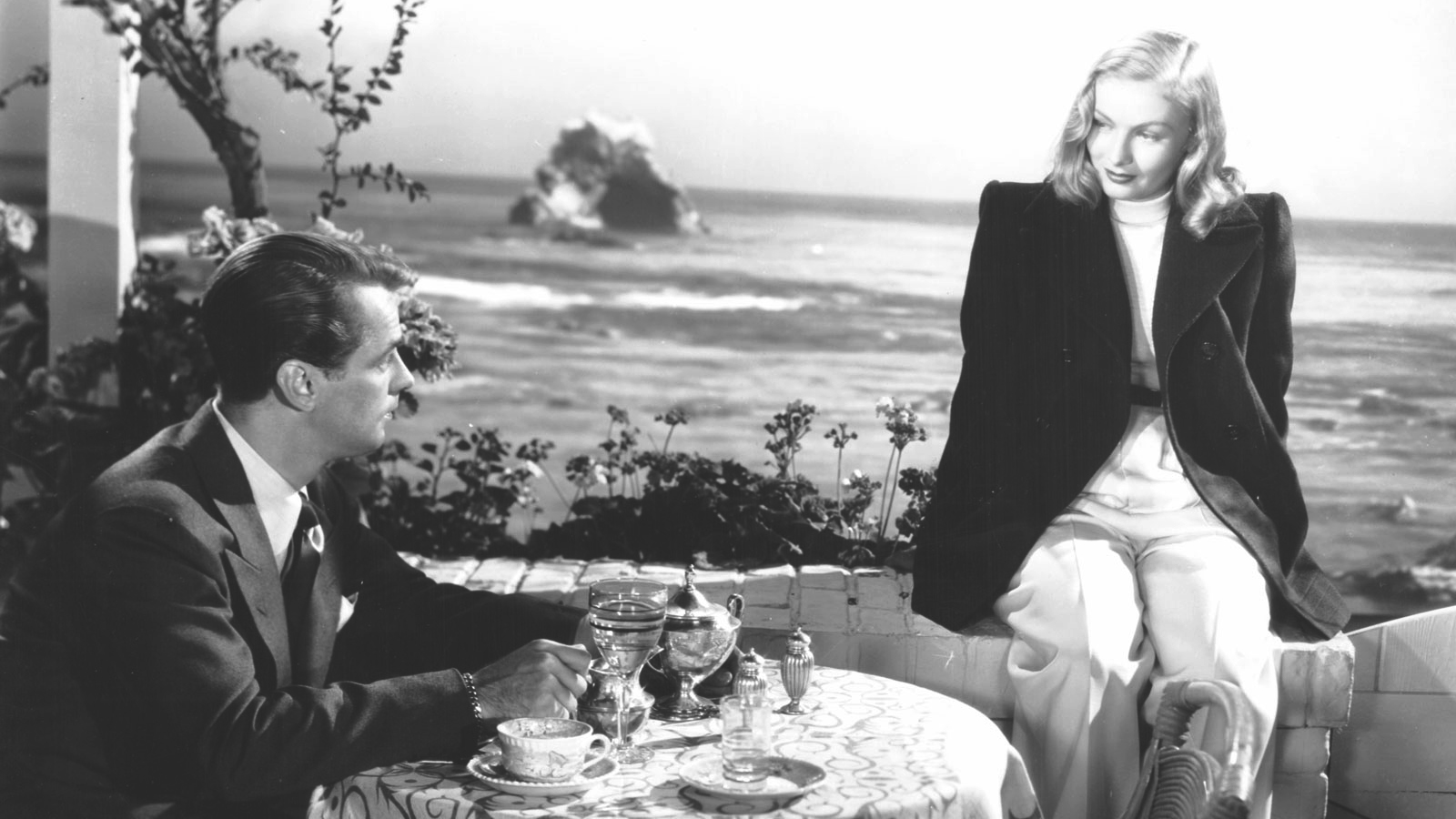 Film and Plot Synopsis
A WWII veteran is accused of killing his unfaithful wife and races against time to find the real murderer with the help of a sympathetic stranger.
Buy the Film
The Blue Dahlia [Blu-ray]
11 new from $14.99
7 used from $13.05
Free shipping
as of December 2, 2022 10:35 pm
*As an Amazon Associate we earn from qualifying purchases.
'The Blue Dahlia' Movie Summary
The summary below contains spoilers.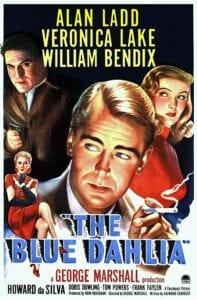 The Blue Dahlia
begins as Johnny Morrison, Buzz Wanchek, and George Copeland arrive home in Hollywood, California. The three served together as part of the same flight crew in the South Pacific for the United States Navy.
Johnny was released for his heroic actions in the theater of war while George had to leave due to his bad eyes. However, poor Buzz suffers from shell shock (PTSD) while dealing with the pain from a metal plate in his head above his ear. Loud noise drives him crazy!
George and Buzz wind up getting a nice apartment together while Johnny returns home to surprise his wife Helen. Once he arrives, he finds a party raging there, and Helen having a torrid affair with Eddie Harwood—the owner of a nightclub on the Sunset Strip called The Blue Dahlia.
Johnny punches Eddie for wearing his wife's lipstick without his permission before Helen asks all her guests to leave. Once gone, a drunk Helen confesses that she lied about the death of their son, Dickie. She told Johnny that the boy died of diphtheria, but in reality, Helen killed him when she drove home drunk, and got in a car crash.
Through the window, house detective "Dad" Newell spots the two arguing, and intervenes. Once Newell leaves, an angry Johnny draws his gun on Helen, but instead throws it on the ground and walks out disgusted.
Johnny Disappears
Helen spots George and Buzz's phone number that Johnny wrote on a pad of paper. She calls, and Buzz picks up. After she tells him that Johnny walked out on her, Buzz leaves George at the apartment to find Johnny.
He arrives at the bar at Helen's hotel where he meets Helen. The two are unaware of who the other person is. They chat briefly before she invites him back to her Hollywood bungalow for a drink. While there, Eddie calls Helen to end their affair. However, Helen can not stand to have two men dump her in one night, so she blackmails Eddie into continuing on.
Elsewhere in town, Johnny walks in the pouring rain, suitcase in hand, and with no real destination in mind. Joyce Harwood, Eddie's estranged wife, just so happens to be driving in the pouring rain with no destination in mind too. She pulls over, and offers Johnny a ride up to Malibu.
They chit chat, but never reveal to one another their real names. After a time, the two find themselves stopped at a Malibu inn. Johnny tells Joyce goodbye, and leaves her to stay at the inn.
The next morning as he eats breakfast, he's surprised to find that Joyce stayed at the same inn as well. She asks if he will go for a walk with her on the beach before they say goodbye forever. While Joyce heads off to her room to change her shoes, Johnny hears over the lobby's radio that Helen turned up dead during the night, and Johnny is wanted for questioning. Joyce spots Johnny in a panic as he hurriedly leaves the inn.
The Police Hunt for their Man
By now, the cops have rounded up Newell, Eddie, Buzz, and George for questioning. Eddie assumes it was murder, but the police never mentioned that Helen was murdered. Newell comes off suspicious as well for being out in the rain. Buzz and George don't have many answers, and Buzz can't ever remember being out last night from his shell shock symptoms.
The inspector, for his part, believes everything and believes nothing. He suspects everyone and he suspects no one.
A couple of small-time crooks lure Johnny to a cheap hotel where he checks in under an assumed name. A guy named Corelli runs the sleazy joint, and when Johnny's out, he creeps into Johnny's room. He pries open Johnny's suitcase to find Johnny's photo of himself with Dickie. Corelli realizes he's the guy that the police are after for killing Helen, and tries to blackmail him.
Johnny knocks the guy out cold before discovering Helen wrote on the back of Dicke's photo. She says that if anything happens to her that everyone should know that Eddie Harwood is really a man known as Bauer, and the New Jersey police want him for murder there.
Johnny leaves, and once Corelli wakes, he rats Johnny out (for money of course) to the gangster Leo who runs The Blue Dahlia. Leo and one of his boys then kidnaps Johnny as he leaves George and Buzz's apartment.
George figures the men aren't cops, so he and Buzz pay Eddie a visit at The Blue Dahlia. After the police call Eddie downtown for more questioning, the boys decide to wait in his office for him to return. Joyce shows up, and introduces herself.
Buzz Snaps
With the nightclub's music ringing in Buzz's head, he becomes quite agitated. Joyce look on; picking at a blue dahlia flower. These two things sets him off into a PTSD rage. His anger and frustration triggers his memory of the night of Helen's death. The nightclub's music is the same she played at her bungalow.
Over at Leo's little hideout, Johnny manages to choke Leo out, and escape as Eddie arrives. That wasn't the police that called him away from his office. Johnny confronts Eddie about the photo and his real name of Bauer. Eddie admits that 15 years earlier, he took part in the shooting death of a bank messenger in New Jersey.
Leo comes to, and tries to shoot Johnny but misses. Instead, he hits and kills Eddie. Johnny now heads over to The Blue Dahlia where the cops are busy interrogating Buzz who is increasingly confused. They do their best to get him admit that he killed Helen. However, when Johnny shows up, he asks Joyce to turn up the music. The music enflames Buzz even more, and he finally remembers leaving Helen alone but alive in her bungalow.
Captain Henrickson then turns his attention to Newell who saw Buzz leave, but didn't tell anyone. The Captain suggests that Newell blackmailed Helen about her affair, but when she refused to pay, he shot and killed her. Newell confesses, pulls a gun, and tries to flee, but Henrickson shoots him first; killing him.
With the case now solved, and everyone either dead or exonerated, Buzz and George head out for a drink; leaving Johnny and Joyce alone together to be blackmailed another day.
Additional Film Information
Rate the Film!
Paramount Pictures released The Blue Dahlia on April 19, 1946. George Marshall directed the film which starred Alan Ladd, Veronica Lake, and William Bendix.