Film Synopsis
In The Bourne Identity, after someone recovers the body of a mystery man somehow alive at sea, he no longer remembers his old life—including who he once was. Eventually he begins to remember some details in life and learns that his name was Jason Bourne. Now he also has a gun, fake passports belonging to him, and a new friend named Marie Helena Kreutz who travels alongside him from country to country in search of his new identity. However, someone isn't happy he's still alive, and is now hot on his tracks.
Buy the Film
The Bourne Identity [Blu-ray]
3 new from $16.20
5 used from $6.87
Free shipping
as of May 28, 2023 1:50 pm
*As an Amazon Associate we earn from qualifying purchases.
'The Bourne Identity' Movie Summary
The summary below may contain spoilers.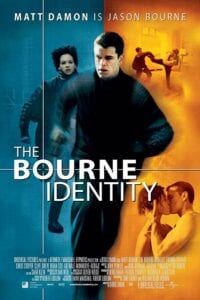 The Bourne Identity
is the very loosely-based adaptation of the Robert Ludlum novel about a young man who wakes up on a fish trawler in the middle of the Mediterranean Sea with two bullet holes in his back, a secret Swiss bank account number embedded in his hip, and zero memory of who he is or how he got there.
As he recovers on the ship, they land and the man heads to the Swiss bank where he discovers not only many different visas w his face and different names, but many thousands of dollars, and a gun. He realizes his name is Jason Bourne.
He leaves the gun behind long enough to go to the US embassy, where he is forcibly approached by several armed law enforcement officers, which Bourne violently disables the entire group and runs for the rooftop, where he vanishes without a trace with a young German woman named Marie. As Bourne and Marie flee, a secret, illegal CIA Black OPs program called Treadstone is in full swing trying to track down Bourne. Bourne starts to realize he is an assassin with no memory of his past.
As the Treadstone team activates several ghost-like, elite assassins to track down Bourne and eliminate him and anyone with him, Bourne bounces all over Europe tracking down clues to his past while evading bullets, blades and endless bad guys. He has no idea where they are coming from.
As Bourne tracks down the truth and realizes he is the most lethal of the illegal Treadstone assassins but is seriously off the reservation, he launches headlong into a collision course with the entire Treadstone program to determine whether he stops the bad guys, or dies at the hands of Black Ops assassins. Who is Jason and will he ever find his Bourne Identity?
Additional Film Information
Rate the Film!
Universal Pictures released The Bourne Identity on June 14, 2002. Doug Liman directed the film which starred Franka Potente, Matt Damon, and Chris Cooper.