Film Synopsis
In The Boys From Brazil, Barry Kohler is a young Nazi hunter who tracks down a group of former SS officers meeting in Paraguay in the late 1970s. Dr Mengele leads a group of Nazis on a plan to do some unknown evil. Ezra Lieberman is an old Nazi hunter who is at first uninterested in Kohler's findings. However, when he learns something of their plan, he wants to find out more. Lieberman visits several homes throughout Europe and the U.S. in order to uncover this Nazi plot. It's at one of these houses that he notices something strange. It's a discovery that turns out to be horrible in every way.
Buy the Film
The Boys From Brazil [Blu-ray]
10 new from $17.94
8 used from $13.09
Free shipping
as of November 19, 2023 5:34 am
*As an Amazon Associate we earn from qualifying purchases.
'The Boys From Brazil' Movie Summary
The summary contains spoilers.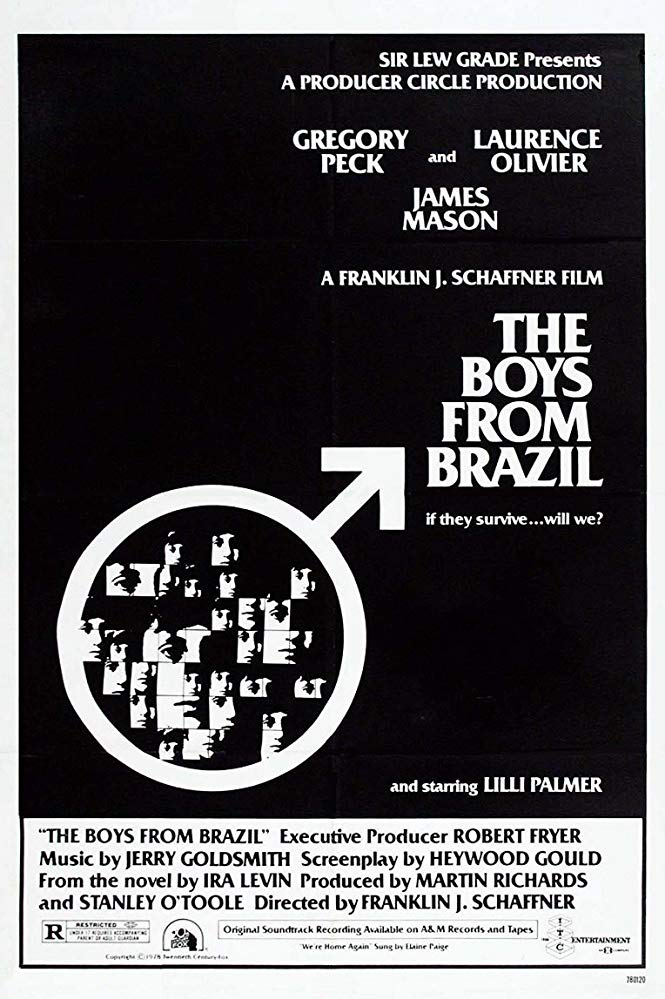 In
The Boys from Brazil
, Barry Kohler stumbles upon a secret organization of Third Reich war criminals holding some meetings in Paraguay. He learns that
Dr Josef Mengele
, the infamous Auschwitz doctor, is part of them. When he phones Ezra Lieberman, an old Nazi hunter, with this information, he's pretty skeptical of the news. Lieberman replies that's already well known that Mengele lives in Paraguay.
Kohler knows when and where the next meeting with Mengele will be, so he records part of it with a hidden microphone. The assembled Nazis discover and kill him when he makes another phone call to Lieberman. Before the call abruptly ends, Lieberman hears Mengele's recorded voice ordering the group to kill 94 men in 9 different countries.
Although he's now a frail old man, Lieberman follows Kohler's leads, and he travels throughout Europe and North America to investigate the suspicious deaths of a number of aging civil servants. When he meets several of their widows, he's amazed to find an uncanny resemblance each of their adopted, black-haired, blue-eyed sons has to the other. Also coincidentally, at the time of their deaths, all the civil servants were around the age of 65, and were quite cold and abusive towards their adopted sons. The wives, on the other hand, were around 42 and adored the boys.
The horrible truth revealed
Frieda Maloney, an incarcerated former Nazi guard who worked with the adoption agency, gives Lieberman some insight into a terrible truth behind this Nazi plan. In the 1960s, Mengele had several surrogate mothers in a Brazilian clinic implanted with zygotes carrying a sample of Adolf Hitler's DNA preserved since World War II. The 94 clones of Hitler were sent to different parts of the world for adoption. Mengele hoped that one or more of the boys would turn out like the original Hitler, so he arranged for all of them to be placed with foster parents similar to Hitler's own. Now he's ordered the assasination their foster fathers at the same age at which Hitler's own died.
As Lieberman uncovers more of the plot, the Nazis become more and more nervous about the scheme. When an enraged Mengele meets one of the agents he thought was in Europe to carry out his orders, Eduard Seibert informs him that they had to abort the mission to prevent Lieberman from exposing it to the authorities. Mengele storms out with a pledge that the operation will continue.
Seibert and his men head over to Mengele's jungle estate, kill his guards, his servants, and then destroy the estate as well. However, Mengele had already left so he could continue on with his plan. He travels to Lancaster County, Pennsylvania where one of the Hitler clones, Bobby Wheelock, lives on a farm with his parents. Once there, he murders the boy's father, and then waits to kill Lieberman, who he knows is on his way to the farm to warn Mr. Wheelock.
The final confrontation
Once Lieberman arrives, he sees Mengele, and immediately attacks the doctor in a rage. However, Mengele is too strong for the old guy, and he shoots Lieberman. As he taunts Lieberman with his plan to return Hitler to the world, Lieberman lunges for the closet door. When he opens it, Mr. Wheelock's Dobermans run out, and attack Mengele. At this time, Bobby arrives home from school, and calls off the dogs.
An injured Mengele, now meeting one of his clones for the first time, tells Bobby how much he admires him before revealing that he's a Hitler clone. Bobby not only doubts his story, but is quite suspicious of Mengele because the dogs only attack people who threaten his family.
When Lieberman tells Bobby that Mengele killed his father, Bobby checks the house to find him dead in the basement. He then rushes back upstairs to set the vicious dogs on Mengele once again, and look on with enjoyment of Mengele's bloody death. Bobby then helps Lieberman once Lieberman promises not to tell the police about the incident.
Later, while recovering from his injuries in a hospital, an American Nazi-hunter named David Bennett encourages Lieberman to expose Mengele's scheme to the world. He asks for the list Lieberman took from Mengele's body when Bobby called for an ambulance. On it were the names and locations of the other boys from around the world. Bennett now wants to kill the kids before they can grow up to become bloody tyrants too. Lieberman won't do it because they're only children. He burns the list before anyone can read it, and that is The Boys From Brazil.
Additional Film Information
Rate the Film!
20th Century Fox released The Boys From Brazil on October 6, 1978. Franklin J. Schaffner directed the film which starred Gregory Peck, Laurence Olivier, and James Mason.