Film and Plot Synopsis
A wide variety of competitors from all parts of the world arrive in Darien, Connecticut to race cross country. Whoever arrives in Redondo Beach, California first is the winner. The rules; there are no rules. Just get there first, the fastest, and don't let any cops pull you over along the way.
Buy the Film
The Cannonball Run [Blu-ray]
10 new from $8.99
7 used from $7.92

as of November 19, 2023 5:35 am
*As an Amazon Associate we earn from qualifying purchases.
'The Cannonball Run' Movie Summary
The summary below contains spoilers.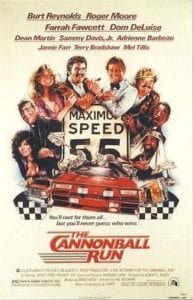 Based on a real cross-country car race that ran for several years in the 1970's from Darien, Connecticut to Redondo Beach, California, The Cannonball Run, is simple; drive fast, don't stop, and never ever let the po-pos pull you over.
A plethora of stars from the late 70s and early 80s entertainment world bring the sex, drugs, and rock n roll lifestyle to automobile racing. There'd be a better chance of catching Farrah Fawcett wearing a bra in this film than character development or traditional three-act structure, and really nobody wants that here anyway.
Real life BFFs, Burt Reynolds and Dom DeLuise play the leads, J.J. and Victor. Reynolds was looking to cash in on a $5 million salary for 4 weeks of work, and DeLuise heard that there was all-you-can-eat catering on the set. These two rocket scientists decide to win the Cannonball driving a supped-up ambulance; complete with their scarier-than-hell doctor who gives everyone a little prick, from coast to coast.
Along the way, they kidnap the beautiful Pamela Glover (Farrah Fawcett) to play their patient, and boy do they give her a thorough examination. Helsinki Syndrome progressed faster back in the 70's as Pamela goes from "innocent" victim to willing accomplice within 10 minutes of the film. Victor struggles with his inner voice which manifests itself as an overweight Comic-Con participant in the name of DUN DUN DUNN! CAPTAIN CHAOS!!!
J.J. and Victor compete against a litany of crazy characters. There is Seymour Goldfarb Jr, the Roger Moore wannabe with a glass jaw that would embarrass Bond, James Bond. The hard drinking, gambling priests Jamie Blake and Morris Fenderbaum leap straight out of a Rat Pack movie and into a bright Ferrari 308 GTS. Two cat-suited babes with a pair of tight chaises drive a Lamborghini and flash every headlight on their person to take advantage of every situation.
What would a film of this era be without some hilarious racism and homophobia? Jackie Chan and not Jackie Chan bring their super smarts, a computerized 4WD Subaru, and a wallop of kung fu fighting to the race. A slightly insane Sheikh, comes straight out of a Korean hospital to drive his Rolls-Royce Silver Shadow from sea to shining sea, and make the Cannonball fall to the forces of Islam. Then there is the totally not gay business executive who not only enjoys riding a motorcycle out of planes, but also pretending to be married to his male former racing partner. I guess it just goes to show you how far a cross country trip on one wheel will take you.
A ton of Smokeys (and Pamela's jilted Safety Enforcement Unit paramour, Mr. Foyt) tail our Bandits throughout the cross-country trip with as much skill as a gaggle of Stormtroopers looking for a pair of droids out on some sandy dunes.
The teams compete against each other (and sometimes work together) to make it across the country. Who wins? Well, that is not as important as whether you had a good time along the journey. Ultimately, it doesn't matter, because there were two horrible sequels that followed this one, and Farrah Fawcett's bra-less wonders were not there for either of them.
Additional Film Information
Rate the Film!
Twentieth Century Fox released The Cannonball Run to theaters on June 19, 1981. Hal Needham directed the film starring Burt Reynolds, Roger Moore, and Farrah Fawcett.