Film and Plot Synopsis
Kate and Teddy are a sister and brother whose father has recently passed away. Their widowed mother Claire struggles to keep the household in order and the two kids from killing each other. Kate still believes in Santa Claus which causes Teddy to ridicule her. When she hatches a scheme to capture Santa on video, she and her brother inadvertently crash Santa's sleigh, causing him to lose his magic hat and his sack full of presents. Now, Santa, Kate, and Teddy have to gather all the items before time runs out for Santa to deliver the presents and Christmas Spirit disappears forever.
'The Christmas Chronicles' Movie Summary
The summary below contains spoilers.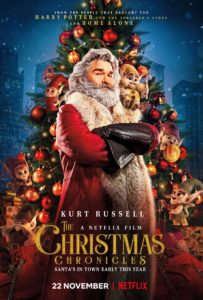 Claire Pierce (
Kimberly Williams-Paisley
) is a widowed mother of two children in Lowell, Massachusetts. She is struggling to hold her family together after the untimely death of her firefighter husband Doug (
Oliver Hudson
). Her son Teddy (
Judah Lewis
) has become a juvenile delinquent and has taken to running with the wrong crowd. Even worse, he has lost his Christmas spirit, something that his younger sister Kate (
Darby Camp
) has in abundance. Kate has taken on the role of maintaining the Christmas spirit in her house. She continues to make video messages for Santa Claus (
Kurt Russell
) despite her brother's ridicule.
On Christmas Eve, Claire is called into work and leaves Teddy in charge of the house. She makes him responsible for watching Kate and finishing with the Christmas decorations. Kate watches old Christmas videos from previous years to pass the time and notices a hand emerge from the fireplace and placing a present under the tree after her parents left the room. She believes that it is Santa caught on video and blackmails her brother into helping her prove it is him. The two booby trap the house with trip wires and set up a hidden camera to capture the man in red.
Later in the night, Kate is awoken by her tripwires and sees Santa in the living room. Unfortunately, he escapes to the roof before she can get a good video image of him. She wakes Teddy and the two kids follow him outside. They discover Santa's sleigh and reindeer hovering over the street while Santa delivers presents to the other houses in the neighborhood. Kate climbs up and jumps into Santa's sleigh, and Teddy reluctantly follows her. Santa returns to his sleigh and begins to ride off unaware that the kids are in the back. Kate taps Santa on his shoulder as the sleigh arrives in Chicago, Illinois. Santa is startled and loses control of his sleigh. Santa's bag of presents flies out of the back and Santa loses his hat. The sleigh breaks down, causing the reindeer to scatter and the sleigh to crash.
Santa introduces himself and makes sure that the kids are okay. Santa explains to the kids that he needs to return to delivering his presents or else Christmas Spirit will disappear. Santa tries to fly, but discovers that his hat is gone which makes it impossible for him to move quickly or through tight spaces. The kids offer to help Santa after he threatens to list them on the naughty list permanently. They stop at a nearby restaurant to ask for assistance from the patrons. The bartender kicks them out after some of the diners begin to get freaked out. They steal the bartender's car, which he in turn stole from someone else.
Santa tracks his reindeer, but the police show up and begin to chase Santa and Teddy in the stolen car. Kate makes friends with the reindeer and rides one in pursuit of her brother and Santa. Santa crashes the car and is arrested by police officers Dave Poveda (Martin Roach) and Mikey Jameson (Lamorne Morris). Teddy jumps on a reindeer and gets away with Kate while the police officers watch the reindeer fly away. The kids use a tracker to find Santa's present bag. Kate climbs inside the bag to find help and is teleported to the North Pole, where she meets Santa's elves. The elves agree to help her.
Meanwhile, Teddy is attacked by a gang who take him and the sack back to their hideout. When each of the gang members reach into the sack, they each pull out a lump of coal. The leader of the gang throws the bag into the fireplace, and Teddy leaps to pull it out, fearful for his sister. The gang takes back the bag and threatens to kill Teddy. However, the elves begin emerging from the bag and free Teddy. The elves head out to repair Santa's sleigh, while Kate and Teddy try to figure out a way to get Santa out of jail.
At the same time, Santa tries to talk his way out of jail to Officer Poveda. He tells the police officer that his wish for Christmas is to reconcile with his ex-wife Lisa, and includes the information that Lisa is thinking the same thing. Poveda remains skeptical of Santa and places him into a holding cell. However, Poveda becomes suspicious when he sees a larger number of arrests than usual on Christmas Eve, something Santa attributes to the Christmas Spirit becoming too low.
In the holding cell, Santa uses his magic to gather all the inmates to perform "Santa Claus Is Back In Town" which convinces most of the other police officers of his identity, with the exception of Poveda. When Lisa suddenly calls Poveda's cell phone and invites him to coffee in the morning, the police officer becomes a believer and lets Santa go, just as the elves show up to free him. An elf gives Santa a spare hat which the man in red uses to slide through the air vent to the roof where the elves, Kate, and Teddy are waiting for him with a repaired sleigh.
Santa's watch alerts him that he only has an hour to complete his deliveries. Santa tells the kids that he can't get it done in that time. Kate comes up with a plan where she and Teddy help Santa by doing some of the work, speeding up Santa's delivery time. The trio, along with the elves, successfully delivers all the presents around the world in time, saving Christmas and restoring Christmas Spirit. Santa drops Kate and Teddy back off at their home before their mother returns. Santa gifts his hat to Teddy as memento, signifying that he didn't need it the whole time. He grants Kate's request for him to say "Ho, Ho, Ho", something that he said was an urban myth about him.
The kids' mother returns a few moments later. When the three of them go inside, they find their home fully decorated for Christmas, just like their father used to. They begin opening presents, and Teddy finds another one of Santa's gifts. Inside, Teddy finds an ornament from Santa, who regretfully tells the boy that he cannot bring his father back, something Teddy had asked for from Santa in a secret letter that he wrote. Instead, the ornament he received shows an image of Teddy's father in the reflection. Father and son express pride in each other, something they did not have a chance to do in life. Kate receives the skateboard that she asked for.
Back at the North Pole, Santa expresses how much fun he had this year for Christmas to Mrs. Claus (Goldie Hawn). With a twinkle in his eye, he looks forward to the next year.
Additional Film Information
Rate the Film!
Netflix released The Christmas Chronicles on November 22, 2018. Clay Kaytis directed the film starring Kurt Russell, Darby Camp, and Judah Lewis.