Film and Plot Synopsis
In The Farewell, a headstrong Chinese-American woman returns to China after doctors diagnose her beloved grandmother with terminal cancer. Billi struggles with her family's decision to keep grandma in the dark about her own illness; opting instead to stage an impromptu wedding to see grandma one last time.
Buy the Film
The Farewell [Blu-ray]
3 new from $12.00
15 used from $4.00
Free shipping
as of June 5, 2023 6:50 am
*As an Amazon Associate we earn from qualifying purchases.
'The Farewell' Movie Summary
The summary below contains spoilers.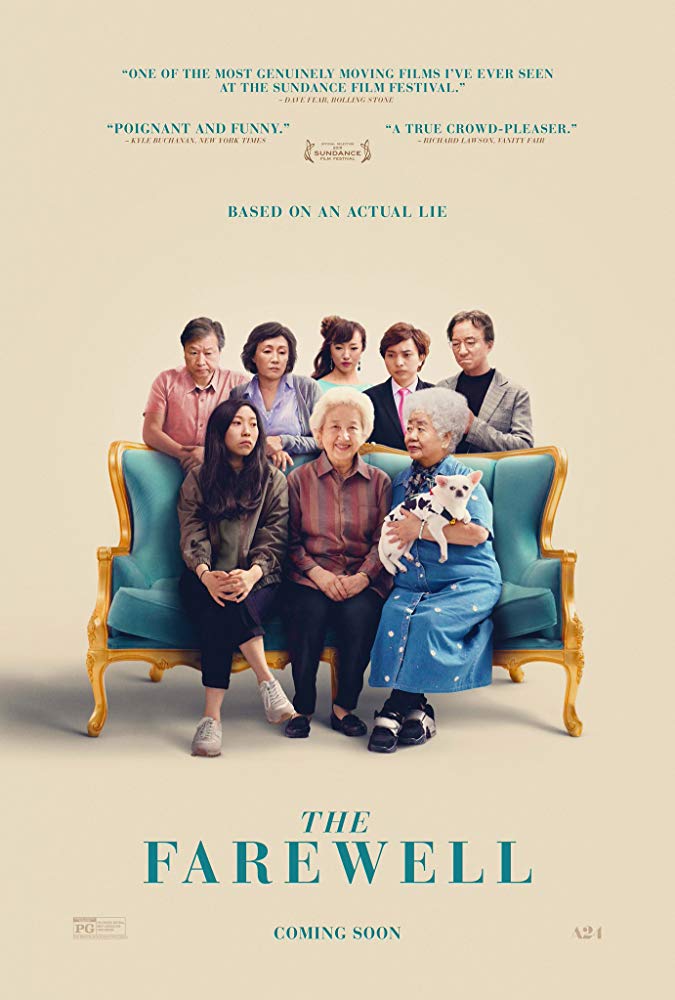 In 2019's
The Farewell
, Billi (
Awkwafina
) is an aspiring writer who emigrated from China to New York City when she was a small child. She maintains a close relationship with her Nai Nai (paternal grandmother in Mandarin) who lives in Changchun, China. She talks to Nai Nai (
Zhao Shuzhen
) frequently on the phone, but keeps her struggles secret from her grandmother so she will not worry. Billi is struggling for money to pay her rent and has just received a rejection letter from the Guggenheim Fellowship.
As close as she is to Nai Nai, there is distance between Billi and her parents. One night while she comes to visit her parents, who also live in New York, her parents tell her that they are heading to Changchun for Hao Hao's (Chen Han), Billi's cousin, wedding. When Billi inquires if she should go as well, Haiyan Wang (Tzi Ma), Billi's father, tells her that it is not a good idea. Suspicious of that answer, Billi asks what is really going on. Jian (Diana Lin), Billi's mother, tells Billi that Nai Nai has been diagnosed with terminal lung cancer and her prognosis indicates that she only has a few months to live.
Devastated, Billi says she wants to make the trip as well, but her parents insist that she stay in America because Billi will not be able to hide her emotions and Nai Nai will figure out something is wrong. Billi's parents tell her that the family has agreed not to tell Nai Nai of the diagnosis because they think the fear of the cancer will cause her to die even sooner. The family has used Hao Hao's wedding as a pretense for the family to all return and say their goodbyes. Billi's parents leave the next day, and against the wishes of her family, Billi flies to Changchun shortly thereafter.
Once in Changchun, Billi goes to Nai Nai's house where her family has gathered for dinner. Her family is surprised to see Billi and Nai Nai continually asks Billi if something is wrong because she does not look well. The family informs Billi that they are telling Nai Nai that the doctor has diagnosed her with "benign shadows" so that Nai Nai does not become suspicious. Billi promises not to reveal Nai Nai's diagnosis to her, but constantly clashes with the family, and Nai Nai's doctor, over the dishonesty that they are all directing at her grandmother.
Overwhelmed with guilt, Billi expresses her conflicted thoughts with her parents and her uncle Haibin (Jiang Yongbo) over the Chinese cultural beliefs that result in a family refusing to disclose a life-threatening disease to an ill family member. Billi believes that they should tell her so that it would give her the opportunity to say goodbye to her loved ones. In contrast, Haibin tells her that the lie allows the family to bear the emotional burden of the diagnosis, rather than Nai Nai herself. This practice of collectivism, he contends, differs from the individualistic values common in the Western culture that Billi was raised. Billi later learns that Nai Nai also told a similar lie to her husband, Billi's grandfather, up until his death when he was diagnosed with a terminal illness.
On the day of the wedding, Haibin and Hao Hao are overcome with emotion from the knowledge of the diagnosis and openly weap during the reception. However, Billi and the family are able to maintain the ruse. While the family is taking pictures at the end of the dinner, Nai Nai reveals that she sent a friend to pick up the medical test results during the ceremony. The family looks at each other believing that their deception is about to be revealed. Fortunately, Billi is completely onboard and goes out an intercepts the test results. She has the results altered to show a clean bill of health.
Shortly afterwards, Billi and her parents prepare to leave for New York. Billi tells Nai Nai that she wants to stay a little longer in Changchun, but Nai Nai tells her that she needs to go home and live her own life. Billi reveals that she did not get the Guggenheim Fellowship. Nai Nai tells her that she is not worried because Billi has a strong mind and she knows that Billi will succeed. Nai Nai encourages Billi to continue following her dreams, and that life is not about the things she does, but rather how she goes about doing them. The next day, Nai Nai and Billi share a long embrace with each other and hesitate to part company. Nai Nai tells Billi that they will see each other soon. As everyone leaves, Nai Nai has no knowledge of her condition.
The film ends with Billi in New York leading her life and following her grandmother's lessons. In the credits, a video of the real life Nai Nai is shown. The post script reveals she is still alive six years after her diagnosis.
Add the film to your collection today!
Additional Film Information
Rate the Film!
A24 released The Farewell on July 12, 2019. Lulu Wang directed the film starring Shuzhen Zhao, Awkwafina, and X Mayo.