Film and Plot Synopsis
Anthony is an aging senior who is suffering from dementia and constantly forgets many of the important details of his life. He refuses all assistance from his daughter Anne, including her various attempts to find a caretaker that he will get along with. Anthony is constantly confused by his faltering memory as it puts him at various points in his life. His changing circumstances cause him to distrust his loved ones, his own mind, and even the fabric of his reality.
Buy the Film
The Father
11 new from $9.50
12 used from $4.29
Free shipping
as of June 4, 2023 2:24 am
*As an Amazon Associate we earn from qualifying purchases.
'The Father' Movie Summary
The summary below contains spoilers.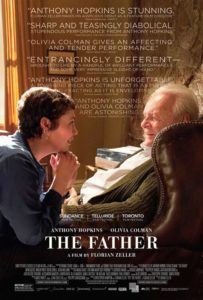 Anthony (
Anthony Hopkins
) is an aging senior who is suffering from dementia and constantly forgets many of the important details of his life. He is visited by his daughter Anne (
Olivia Colman
) in his flat in London. Anne reprimands her father for chasing off another caretaker. Anthony accuses the unseen nurse of stealing his things, including his watch. In reality, Anthony makes the accusations to cover for his inability to remember where he puts things from time to time. Anthony also tells Anne that he will never leave his flat. Anne tells her father that he needs to find a caretaker that he can work with because she is moving to Paris to live with her new boyfriend. Anthony is confused since he believes that she is married to James. Anne informs her father that she has been divorced from her ex-husband for five years.
The next day, Anthony is making tea in the kitchen when he hears a door close. Anthony begins to search the apartment and finds an unknown man named Paul (Mark Gatiss) sitting in the living room reading a newspaper. Anthony demands to know why the man is there, and Paul informs Anthony that he lives with Paul and Anne in their flat. Due to the confusion, Paul calls Anne to return to the flat to calm him down from his frustration. Anne (Olivia Williams) returns from the store, and Anthony does not recognize her. Nevertheless, this other Anne calms Anthony down and makes him dinner.
Shortly afterwards, Anne schedules an interview with a new caretaker for Anthony. The applicant, Laura (Imogen Poots), appears to immediately get along with Anthony. Anthony tells the younger woman that he used to be a professional dancer, that he does not need any living assistance, and that Laura resembles his other daughter Lucy, whom he has not spoken to for quite some time. During the conversation, Anthony indicates that Anne wishes to for him to have a caretaker so she can move to Paris. Anne indicates that she is not moving to Paris and is confused why her father would think so.
I don't need any help from anyone. And I'm not going to leave my flat. All I want is for everyone to fuck off. Having said that… it's been a great pleasure. Au revoir. Toodle-oo. Anthony
Not long after, Anne takes Anthony to see the doctor. Anthony is asked about his memory, and Anthony claims he has no memory problems. Both Anne and the doctor look at each other with skepticism. Back at home, Anthony tells Laura about how proud he is of his daughter Lucy, who works as a painter. Laura tells Anthony she is deeply sorry about her accident, which Anthony has no memory of. Laura drops the subject and moves on, giving him his medication. Their conversation is interrupted by a mysterious man who also goes by the name of Paul (Rufus Sewell). Paul tells Anthony that he lives with he and Anne. Paul calls Anne and asks her to come home to calm her father when Anthony becomes agitated by the conversation.
During the film, it is revealed that Anthony no longer lives in his flat and has been living with Paul and Anne for years. Yet, Anthony still believes that he is living in his apartment. One night, Anne and Paul have an argument over a vacation to Italy that was cancelled at the last minute due to Anthony losing his caretaker. Paul confronts Anne about how much she sacrifices for her father, who does not even appreciate what she does for him and will never recover from his illness. When Anne is out of the room, Paul confronts Anthony about how long he plans to stay in their flat and annoy them. The argument between the two men leads to Paul slapping Anthony until he begins to cry. Anne sees what Paul was doing, and the confrontation leads to Paul and Anne divorcing.
Next, Anthony wakes up in his room and hears the voice of his daughter Lucy calling for him. Anthony leaves his room and finds himself in a hospital hallway. He follows the voice and finds the body of his daughter Lucy (Imogen Poots) lying on a hospital bed after a fatal car accident. Anthony then awakes in a different room in a nursing home. His nurse, Catherine (Olivia Williams), looks like the other version of Anne. Catherine informs Anthony that Anne has moved to Paris and placed Anthony in the nursing home. Another nurse, Bill (Mark Gatiss), who likes the other version of Paul, checks in on Anthony as well. Anthony has an emotional breakdown over his inability to understand the world anymore. He struggles to understand why Anne is not present and begins to regress to his childhood memories. Anthony breaks down crying, asking for his mother. Catherine embraces Anthony and comforts him as he cries. She promises Anthony that she will take him outside to the park later in the day.
Additional Film Information
Rate the Film!
Sony Pictures Classics released The Father on June 11, 2021. Florian Zeller directed the film starring Anthony Hopkins, Olivia Colman, and Mark Gatiss.