Summaries
The Fugitive (1993)
Movie review coming on 12/4/2023
Film and Plot Synopsis
In the film, unjustly accused and found guilty of murdering his wife, former Chicago surgeon Dr. Richard Kimble escapes from custody and races to uncover the identity of the real killer and the reasons for his wife's death, all while being the target of a nationwide manhunt led by tenacious United States Deputy Marshal Sam Gerard.
Buy the Film
The Fugitive [Blu-ray]
11 new from $7.95
21 used from $3.49
Free shipping
as of May 26, 2023 11:27 pm
*As an Amazon Associate we earn from qualifying purchases.
'The Fugitive' Movie Summary
The summary below contains spoilers.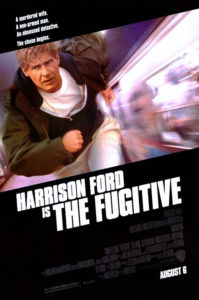 The Fugitive stars Harrison Ford as Dr. Richard Kimble and Tommy Lee Jones as U.S. Marshal Samuel Gerard. Dr. Kimble is a respected Chicago surgeon that is framed for the brutal murder of his wife, Helen. Dr. Kimble arrived home from work in time to struggle with a one-armed intruder and sees his dying wife.
A jury wrongfully convicts Kimble and he is sent to prison. During a convict transport, another prisoner causes a vehicle accident. Kimble and still another inmate are able to escape custody. Tenacious U.S. Marshal Samuel Gerard makes it his mission to apprehend the fugitive.
During a brief face to face encounter, Kimble professes his innocence to Gerard. Marshall's response is a flat, "I don't care." Kimble makes an incredulous escape by jumping hundreds of feet into a river. The doctor has his own mission.
Instead of fleeing for a life of freedom, Dr. Kimble sets out to solve the murder of his wife. As he investigates Kimble has flashbacks of his happy marriage and his wife's final hours.
The doctor uses his connections and hospital knowledge to find one-armed suspects with a prosthetic arm that matches the killer's. As he solves the case, Kimble leaves clues for Gerard and the police. He also saves several lives and catches the one-armed multiple murderer. He accomplishes all of this while being relentlessly pursued himself.
Kimble clears his name and discovers why his family was targeted. Kimble's best friend and co-worker targeted Helen Kimble to cover up fake research results for profit and get Richard Kimble out of the way.
Rate the Film!
Warner Bros. released The Fugitive on August 6, 1993. Andrew Davis directed the film starring Harrison Ford, Tommy Lee Jones, and Sela Ward.