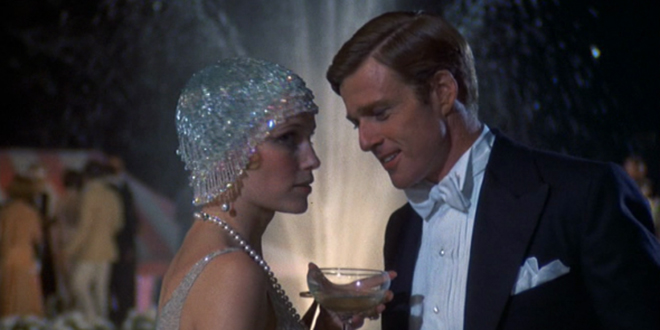 MHM Mart
The Great Gatsby (1974) Hitting Blu-ray This April
Great Gatsby, The (1974) (BD) [Blu-ray]
7 new from $9.99
13 used from $2.83
Free shipping
as of September 27, 2022 4:51 pm
Warner Bros. Home Entertainment has announced the Blu-ray release of director Jack Clayton's The Great Gatsby. The film stars Robert Redford, Mia Farrow, Bruce Dern, Karen Black, Scott Wilson, and Sam Waterston. The Great Gatsby will be available online and in stores beginning April 23, 2013.
The film is based on a F. Scott Fitzgerald novel and has a screenplay by Francis Ford Coppola. In the film, Redford stars as Jay Gatsby, who had once loved beautiful, spoiled Daisy Buchanan (Farrow), then lost her to a rich boy. But now Gatsby is mysteriously wealthy and ready to risk everything to woo Daisy back. The film was a winner of two Academy Awards for Best Costume Design and Best Music. At its center is the opulent evocation of an era of hot jazz and cold champagne, of women as exotic and demanding as hothouse flowers, and of lives made soft by too much, too soon.
The Great Gatsby was released in March of 1974 and grossed over $26.5 million at the box office. In addition to winning the two Academy Awards, it was nominated for four Golden Globe Awards, winning one for Karen Black as Best Supporting Actress.
The Great Gatsby was originally released by Paramount Pictures and acquired by Warner Bros. earlier this year through a deal the studios struck in 2012 in which Warner gained access to more than 600 Paramount catalog titles. Exact technical specifications and special features for the Blu-ray have yet to be revealed.
Disclaimer: Affiliate links are contained in this post. This means when you click a link, and purchase an item, Movie House Memories will receive an affiliate commission. Advertisers and Affiliate Partnerships do not influence our content. See our
Terms of Use
about the inclusion of affiliate links on this site for more information.