Film and Plot Synopsis
While on the way to a family vacation, real-estate agent, Jim Evers, drags his wife, Sara, and their two children to the Louisiana bayou to sell a mansion that could bring in a lot of commission for the family. Unfortunately, a torrential rain forces them to spend the night at the palatial estate. However, the manor's master, Lord Gracey, and his eerie butler, Ramsley, soon show that they have more on their minds than selling a house. Now, the Evers must trust a spectral gypsy named Madame Leota if they want to escape the mansion alive.
Buy the Film
The Haunted Mansion [Blu-ray]
2 new from $19.99
Free shipping
as of June 5, 2023 12:36 pm
*As an Amazon Associate we earn from qualifying purchases.
'The Haunted Mansion' Movie Summary
The summary below contains spoilers.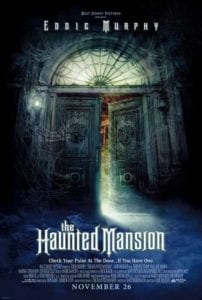 The Haunted Mansion
begins over a century ago when a wealthy landowner named Edward Gracey (
Nathaniel Parker
) falls in love with Elizabeth Henshaw who is a multiracial servant in his grand manor. However, when he receives a letter informing him that she spurned his love, and committed suicide using poison, Edward hangs himself in despair.
We cut to the present day. Jim (Eddie Murphy) and Sara Evers (Marsha Thomason) are successful realtors with two children, Megan (Aree Davis) and Michael (Marc John Jefferies). Jim is workaholic with little time for his family, and after he misses his wedding anniversary for a meeting with a client, he suggests a lake trip to his wife to make up for it.
As they are about to leave, a mysterious man who now runs the Gracey Manor in the Louisiana bayou contacts Sara about selling the place. Jim, always ready to wheel and deal, convinces his wife to agree to meet the owner. They'll just stop for twenty minutes on their way to the lake with the kids.
Once there, a light rain begins to fall, and quickly thickens as the four wait at the mansion's front door. Lord Gracey's butler, Ramsley (Terence Stamp), greets the drenched family, and then takes them to see Edward himself. However, the rainstorm quickly grows to the point the nearby river floods the road, and it traps the Evers for the night. Gracey graciously makes accommodations for the family in a few of the mansion's many rooms.
Once settled in, Ramsley invites Jim to the library discuss the deal with Gracey. While he waits for Gracey to arrive, Jim plays around with some of the items in the library. He finds movie a statue's head reveales a secret passage hidden behind bookcase. When he goes inside to look at it, the wall shuts behind him, and he finds himself stuck in the strange corridor.
Meanwhile, Gracey gives Sara a tour of the mansion where he discusses the mansion's storied history; including how his grandfather killed himself after his lover, Elizabeth, died. While this goes on, Megan and Michael spot a spectral orb in their room. Noticing that it seems to want them to follow it, they do. The orb leads them to the attic where they find a portrait of a woman that looks exactly like their mother, Sara.
While the kids look at the painting, two other Gracey servants, a maid named Emma (Dina Spybey) and footman Ezra (Wallace Shawn) appear with a plate of cookies. The two servants tell the kids that the woman's name is Elizabeth.
By now, Jim has escaped the secret passage through another hidden doorway that a large painting covered. He wanders into a room with the gypsy spirit of Madame Leota (Jennifer Tilly) encased in a crystal ball. She spooks him, and he runs out of the room as various spectral musical instruments take chase.
He eventually runs into Emma, Ezra, and the kids. They all return to Madame Leota to find out more about Elizabeth, and why she looks nearly identical to Sara. Madame Leota reveals that the mansion's inhabitants are ghosts; a curse befell them a century ago when Gracey and Elizabeth killed themselves. The two lovers must reunite if they are to break that curse, and Gracey believes Sara is Elizabeth reincarnate.
To save his wife, Madame Leota tells Jim that he must head to the mansion's cemetery to find a key that can reveal the truth behind Elizabeth's death. Emma and Ezra make ready the old horse carriage, and the five head to the family mausoleum if they can find it. Jim stops and asks the Dapper Dans, four singing busts, for directions, but they are of little musical help.
Eventually they do find it, and Jim goes inside while Megan and Michael wait outside. However, once inside it, Megan shows up to help her dad get the key. Eventually, they find a crypt with the key held in the hands of a skeleton. When Jim takes the key, it wakes the skeleton holding it, and it attacks Jim. Soon all the other undead skeletons inside wake and take chase. The two run up the stairs as quickly as possible, but as they reach the exit, the door slams shut in front of them.
Spiders crawl out from tiny crevices on the outside of the door to prevent Michael from opening it. Since spiders terrify him, Michael must overcome his arachnophobia before it's too late. Michael sucks up his fear, opens the door, and saves his dad and sister.
They all return to Madame Leota to find out what to do next, and she leads them to a trunk in the attic. When Jim unlocks it, he finds a handwritten letter from Elizabeth to Gracey, revealing she truly loved him and wanted to marry him; indicating that someone murdered her. Ramsley suddenly appears to reveal he poisoned Elizabeth to prevent Gracey from abandoning his heritage, as he believed their mixed relationship was unacceptable. Now wanting the curse broken, Ramsley traps the children in a separate trunk, and literally throws Jim out of the mansion before it boards itself up.
Back in the ballroom, Gracey continues wooing Sara in hopes that Elizabeth will waken inside of her. However, she replies with nothing but confusion. Gracey then reveals to her that SHE is his beloved Elizabeth, and the room fills with dancing ghosts. Sara still insists she is not Elizabeth which confuses Gracey. As he pauses on that thought, Ramsley shows up again to insist they have indeed found Elizabeth, and she will remember him when the time is right. Ramsley then blackmails Sara into marrying Gracey in exchange for her children's safety.
Outside the mansion, Jim sits in a pity puddle after failing many times to get back inside. Madame Leota rolls up to make him try again. Encouraged, Jim gets in his pretty BMW, and drives it through the mansion's conservatory. After a quick skeletal battle, he rescues his children, and stops Sara and Gracey's wedding. He's not quick enough to stop her from sipping from Ramsley's poisoned cup.
Jim then gives Elizabeth's letter to Gracey which not only reveals the truth to him about her death, but all of Ramsley's lies. When Gracey angrily confronts Ramsley, he rages back at his master's selfishness for loving Elizabeth. He then summons some devil / wraith thing to send everyone to Hell. However, the fiery beast that emerges from the ballroom's fireplace, grabs Ramsley's feet instead, and heads back down to the Earth below. Ramsley tries to take Jim down with him, but Gracey jumps in for the save. Ramsley alone falls down to Hell to face eternal damnation for his sins.
At this point, Sara collapses from the poison she sipped in the cup. However, the spectral orb from earlier in the film appears once more, and takes possession of Sara. The orb reveals itself to be Elizabeth's ghost. Elizabeth and Gracey reunite with a passionate kiss in front of Jim and the kids, which is odd as it's Sara's body. She then revives Sara from her eternal slumber.
With the curse finally lifted, Gracey gives the Evers the deed to the mansion, and departs to Heaven with Elizabeth's ghost in his arms. Emma, Ezra, and the other ghosts in the mansion follow closely thereafter.
Now free, the Evers drive across the Lake Ponchartrain Causeway for a proper vacation with Madame Leota in the back seat and the Dapper Dans from the cemetery strapped to the back of their car.
In a post-credits scene, Madame Leota bids the audience a farewell; "Hurry back! Hurry back! Be sure to bring your death certificate. If you decide to join us, make your final arrangements now! We've been dying to have you…"
Additional Film Information
Rate the Film!
Buena Vista Pictures released The Haunted Mansion on November 26, 2003. Rob Minkoff directed the film starring Eddie Murphy, Marsha Thomason, and Jennifer Tilly.