Film and Plot Synopsis
Lovelorn Iris Simpkins is getting over the end of her relationship with an unfaithful boyfriend. At the same time, Amanda Woods is getting over a break up as well. The two women decide to escape from their usual lives for the Christmas holiday season and agree to exchange homes for two weeks. While in London, Amanda meets Iris's widower brother Graham and the two begin dating. At the same time, Iris discovers a way to make herself stronger and makes new friendships with Amanda's neighbor Arthur and composer Miles. But will Iris find love again?
Buy the Film
The Holiday
216 new from $2.95
128 used from $1.51
Free shipping
as of December 6, 2023 10:09 pm
*As an Amazon Associate we earn from qualifying purchases.
'The Holiday' Movie Summary
The summary below contains spoilers.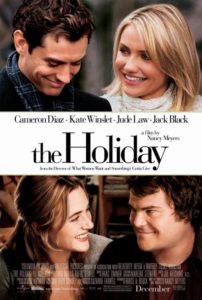 Lovelorn Iris Simpkins (
Kate Winslet
) is a society columnist for The Daily Telegraph in London. Iris is still in love with her ex-boyfriend, Jasper Bloom (
Rufus Sewell
), a man who cheated on Iris when they were together. When Iris hears that Jasper has gotten engaged to his new girlfriend, she is heartbroken and decides to leave London for the holidays.
Meanwhile, movie trailer producer Amanda Woods (Cameron Diaz) has just broken up with her film composer boyfriend, Ethan Ebbers (Edward Burns), after he admits to being unfaithful to her. Amanda comes across Iris' listing for her cottage in London on a home swap website and messages her. The two women decide to switch houses for the two weeks around Christmas. Amanda flies to London while Iris travels to Los Angeles.
Once in Los Angeles, Iris has no trouble getting used to Amanda's large house, but Amanda has difficulty adjusting to Iris' more meager living conditions. Amanda comes to the conclusion that she has made a mistake and looks to return home the next day. That night, Iris' single brother, Graham (Jude Law) stops by Iris' house after drinking too much at the local pub and asks to spend the night. Amanda allows the handsome book editor to stay and after they talk, Graham unexpectedly kisses her on the lips. Amanda takes advantage of the moment and the fact that she is leaving the next day and has sex with Graham. The next morning, the couple admits to enjoying their time together, but agree to go their separate ways. Amanda decides to stay and encounters Graham again at a pub where he is meeting some friends for dinner.
At the same time, Iris meets Arthur Abbott (Eli Wallach), Amanda's elderly neighbor and an Academy-Award winning screenwriter. The two have dinner together and Iris shares her troubles with the unfaithful Jasper. Arthur gives her a long list of movies with strong female characters to watch so she can become the leading lady of her own life. In return, Iris convinces Arthur to be the keynote speaker at a Writers Guild of America gala. She also exercises with him to prepare Arthur to walk on to the stage without his walker. Iris also becomes friends with Miles Dumont (Jack Black), a colleague of Ethan's who is dating aspiring actress Maggie (Shannyn Sossamon). One night, Iris and Miles goes to the video store looking for one of the movies on Arthur's list. Miles catches Maggie with another man and is devastated. A sympathetic Iris explains her troubles with Jasper to Miles. The two have dinner together to bring each other spirit's ups for Christmas Eve.
Back in London, Amanda grows closer to Graham. She opens up to him and confesses that she has not cried since her parents divorced when she was 15-years-old. One day, she surprises Graham by stopping by his house unexpectedly. She discovers that Graham is a widower with young daughters. He explains that he kept his daughters secret because compartmentalizing his life helps him deal with the responsibility of being a single working father. He also explains that he does not want to bring a woman into his girls' lives unless he is sure the relationship has a future. Although attracted to each other, Amanda and Graham begin to realize that a relationship between them maybe more complicated than either of them can handle.
Back in Los Angeles it is the day of the screenwriter's gala. Maggie shows up unexpectedly and begs Miles to take her back, but he refuses. At the same time, Jasper shows up in Los Angeles to surprise Iris. Jasper expresses his interest in becoming involved with Iris again, but the columnist uses the example of the women from Arthur's films and kicks him out of Amanda's house. At the gala, Arthur succeeds in walking onstage unassisted, and Miles asks Iris out on a date for New Year's Eve. She agrees and the couple kiss.
Meanwhile, Graham confesses his love to Amanda. However, Amanda does not profess her love for the editor. Nevertheless, the couple agree to try to make a long-distance relationship work. Amanda leaves for the airport to return to Los Angeles. While on the way, she breaks down crying. Amanda returns to Iris' cottage and tells Graham that she loves him. The two of them make plans to spend New Year's Eve together with his daughters.
On New Years' Eve, Iris, Amanda, Graham, Miles, and Graham's daughters all happily celebrate the holiday at Graham's house in London.
Additional Film Information
Rate the Film!
Sony Pictures Releasing released The Holiday on November 29, 2006. Nancy Meyers directed the film starring Kate Winslet, Cameron Diaz, and Jude Law.