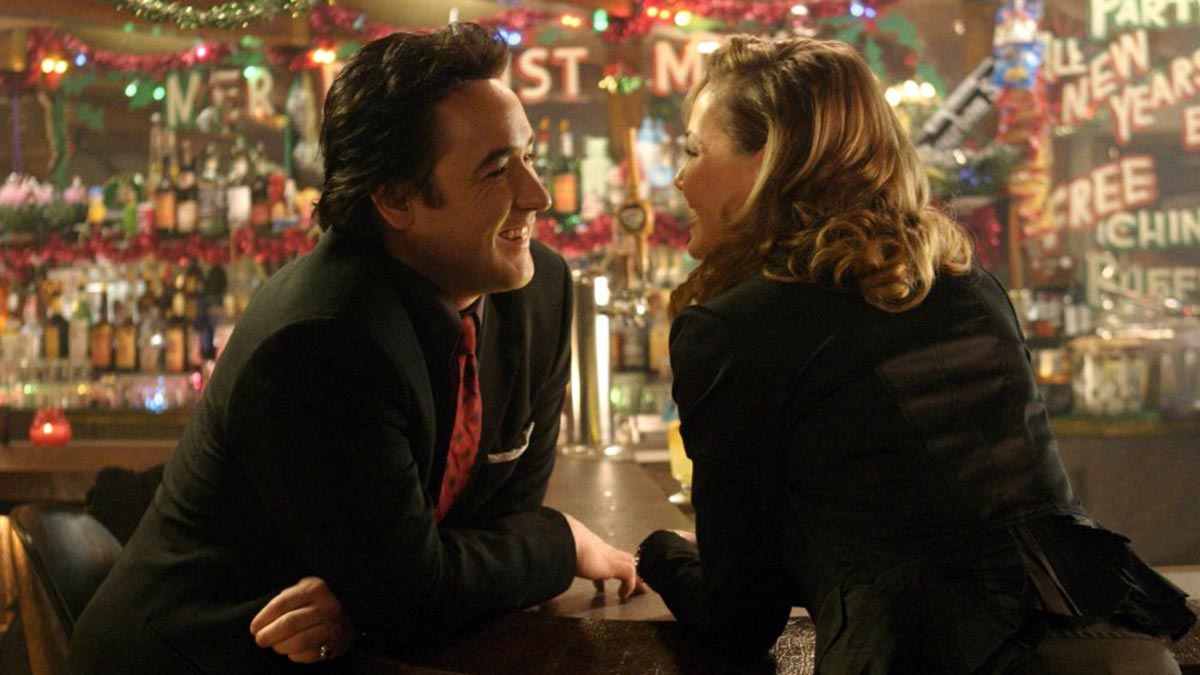 Film and Plot Synopsis
Larceny, lust and lethal behavior. In icebound Wichita, Kansas, it's Christmas Eve, and this year Charlie Arglist just might have something to celebrate. Charlie, an attorney for the sleazy businesses of Wichita, and his unsavory associate, the steely Vic Cavanaugh have just successfully embezzled $2 million from Kansas City boss Bill Guerrard. But the real prize for Charlie is the stunning Renata, who runs the Sweet Cage strip club. Charlie hopes to slip out of town with Renata. But as daylight fades and an ice storm whirls, everyone from Charlie's drinking buddy Pete Van Heuten to the local police begin to wonder just what exactly is in Charlie's Christmas stocking – and the 12 hours of Christmas Eve are filled with surprises.
Buy the Film
The Ice Harvest [Blu-ray]
13 new from $19.98
5 used from $20.19
Free shipping
as of September 27, 2022 2:06 pm
*As an Amazon Associate we earn from qualifying purchases.
'The Ice Harvest' Movie Summary
The summary below contains spoilers.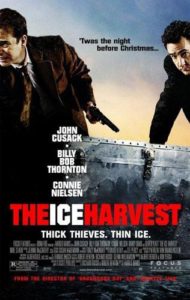 It's Christmas Eve in Wichita, Kansas. Charlie Arglist (
John Cusack
) is lawyer who works for the mob. Vic Cavanaugh (
Billy Bob Thornton
) is a crooked businessman and pornographer. Together, the two men have stolen two million dollars from their boss, mobster Bill Guerrard (
Randy Quaid
). The pair plan to skip town and make their getaway with their small fortune, but they soon learn that the roads in and around Wichita have become too icy to drive on due to the weather. They decide to stay in town until they can successfully get away. They split up in order to best evade being captured by Guerrard or his men, who have discovered the theft. Vic decides that the money will stay with him for safe keeping.
Charlie goes to the local strip club, the Sweet Cage. The club is owned by Vic and run by Renata Crest (Connie Nielsen), a woman whom Charlie lusts after. An expert in reading people, Renata quickly figures out that Charlie is hiding something. Charlie hints that he maybe coming into some money, and Renata suggests that they run away together. However, Renata informs Charlie that before she can leave with him, she needs to acquire an incriminating picture of herself with a local politician from Vic. She asks Charlie to get the photograph for her, which he agrees to do. Before leaving, Charlie briefly talks to his friend Sidney (Ned Bellamy), a bouncer at the club.
Charlie next goes to another strip club owned by Vic, the Tease-O-Rama. Once there, he takes the photo from Vic's safe. Before he can leave, one of Guerrard's henchmen, Roy Gelles (Mike Starr), shows up at the club looking for Charlie. Charlie hides in the men's bathroom where Gelles soon goes to relieve himself. While Gelles reads a limerick written on the wall above the urinal, Charlie sneaks out. Charlie then goes to a local restaurant and runs into his friend Pete Van Heuten (Oliver Platt), who is married to Charlie's ex-wife Sarabeth (Justine Bentley). Pete is very drunk and decides to tag along with Charlie for as long as it takes for him to pass out.
Soon after, Charlie calls Vic from a pay phone and notes that the same limerick from the bathroom is written in red marker above the phone. Charlie warns Vic that Gelles is in town and is looking for him. Vic dismisses the warning and tells Charlie that Gelles has family in Wichita. Vic does not answer why Gelles would be looking for Charlie. Charlie then heads back to the Sweet Cage and gives Renata the photo she requested. Renata tells Charlie that Vic had called her earlier and said that Charlie had been right about Gelles looking for them.
Charlie then takes Pete home after he vomits in Charlie's car, leaving him passed out on the floor of his living room. Charlie then borrows Sarabeth's Mercedes Benz that was bought for her by Pete and heads to Vic's house. Once there, he find's Vic's wife dead from a gunshot wound to her head. Vic arrives a few moments later and informs Charlie that he has locked Gelles in an industrial clothes trunk. He also tells Charlie that Gelles must have killed his wife. The two men stuff both Gelles and Vic's dead wife into the trunk of the Mercedes Benz and head for a local lake. Gelles screams at the men from the trunk while in route. Gelles claims that he did not kill Vic's wife, but that Vic did. Vic gets annoyed and shoots a hole in the trunk, silencing Gelles.
Once at the lake, Charlie and Vic get the trunk down to the lake dock, but the trunk is shot open from the inside by Gelles. Vic is wounded in the process. A brief shootout occurs, which results in Gelles getting killed and Vic falling into the frozen lake when the dock collapses. Charlie realizes that Vic intended to kill him the whole time and take the money for himself. Charlie leaves Vic to die. He drags Vic's wife to the collapsed dock and slides her into the lake, which knocks a pleading Vic under the water. Charlie opens Vic's suitcase expecting to find the stolen money. Instead, he merely finds Vic's clothes. Charlie suddenly realizes that without Vic, he will never find the money before Guerrard finds him. Charlie runs back to the dock to save Vic, but it is too late. Vic has already drowned.
Charlie returns to town and the Sweet Cage. He finds that Guerrard has come to town himself and has tied Renate to a desk chair to find out information about the whereabouts of Charlie and Vic. Charlie finds a shotgun in the bar and turns it on Guerrard. Another shootout occurs, but Charlie's shotgun is loaded with small caliber shot, which only wounds Guerrard. The mob boss stabs Charlie in the foot despite his injuries. Renata briefly distracts Guerrard long enough for Charlie to reload with more lethal shells and kills the mobster.
Renate takes Charlie back to her house. While Renate takes a shower, Charlie finds the money hidden in her closet. The film reveals in flashbacks that Vic and Renata planned to run away together after Vic had killed Charlie. When Renate returns to the room, Charlie shoots Renata just before she can kill him with a hidden straight razor.
Charlie begins to drive out of town with the stolen money. He encounters Sidney on the side of the road with his kids in a motor home. Charlie stops to help his friend. Charlie helps Sidney syphon some gasoline out of his car. As Sidney tries to start the engine of the motor home, Charlie takes out a red Sharpie and writes the same limerick down on the back of the RV. Sidney gets the motor home started and accidentally knocks a scribbling Charlie down before driving away. Charlie gets up and returns to the Mercedes. Pete wakes up in the back seat of the stolen car, and the two men drive away together for warmer weather.
Additional Film Information
Rate the Film!
Focus Features released The Ice Harvest on November 25, 2005. Harold Ramis directed the film starring John Cusack, Billy Bob Thornton, and Connie Nielsen.