Film and Plot Synopsis
The Last Dragon takes place in New York City. A young man searches for the "master" to obtain the final level of martial arts mastery known as the glow. To reach this goal, he must fight a corrupt martial arts expert, and save a beautiful singer from an obsessed music promoter at his bludgeoning mushroom castle.
Buy the Film
The Last Dragon [Blu-ray]
6 new from $14.95
10 used from $7.50
Free shipping
as of November 12, 2023 12:37 pm
*As an Amazon Associate we earn from qualifying purchases.
'The Last Dragon' Movie Summary
The summary below contains many spoilers and feeble attempts at humor.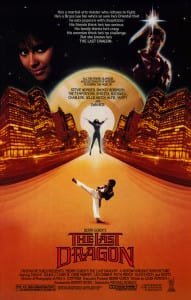 Ever wonder how black people thought about how white people made music and got it played on the air in the eighties? And what if there were a movie that has a killer black sound track and not that "Time After Time" bullshit? And, what if black people pretended to be Asian and the Asians pretended to be black people? And what if Michael Jackson (when he was black and alive) knew Kung Fu and lived in Harlem? And what if Kung Fu Jackson was able to harness the power of Tron? In 1985 a movie put those questions to rest in the classic movie:
Berry Gordy's The Last Dragon
…or what I call
Glory Part II
– who's the Master now?
The film focuses on Bruce Leroy in Harlem. I know when you hear Bruce you automatically think Asian or gay then they tack on Leroy so you know he is black (who would have thought Motown would be racists). Hollywood made Bruce Leroy an Easter Oreo. Bruce Leroy is told by his Miyagi that he needs to find the Master in order to obtain to glow. The glow is an electric aura that manifests itself around the body letting spectators know that you are a master. Now white people are saying this is the force – but remember this is way before Samuel L. Jackson took up a lightsaber – so blacks at this time can only let their soul glow – style over substance.
As Bruce Leroy searches Harlem for another old Chinaman (as if that exists) he runs into Sho'nuff – the self proclaimed Shogun of Harlem (yes, even when blacks pretend to be Asians that Japs are still the bad guys – Pearl Harbor). Sho'nuff hears that Bruce Leroy is a Kung Fu Master capable of catching bullets with his teeth. Honkey, please! Sho'nuff believes he must defeat Bruce Leroy in order to rule Harlem but Bruce Leroy refuses to fight.
Meanwhile, an evil George Castanza known as Eddie Arcadian wants to transition from video game king to music producer. Eddie has a middle age Cyndi Lauper type singer, but with more talent and not crazy like a shit house rat. Eddie decides to get Prince's bitch Vanity, a soul train like DJ, to play his music video. Eddie decides to do what any white person wanting a black person do something for them audience participation. (He bribes her crack?) No, he kidnaps her. (From Africa?) No, not from Africa but from her television show – 7th Heaven – who would have thought she was Mormon. That joke is huge in Utah. Actually, the slavery joke is big in Utah too.
However, Bruce Leroy ends up kicking some Italian ass as he rescues Prince's bitch (and then they ate pancakes). This makes Eddie (i.e. Whitey) mad. So Eddie decides to uses some good old black on black violence to get revenge. Eddie gets Sho'nuff to fight Bruce Leroy. Eddie then uses Vanity to lure Bruce Leroy to Sho'nuff…and it works.
Leroy shows up and the fight is on. Leroy starts kickin' the ass of this string bean Rick James lookin' fool. However, Sho'nuff begins to glow in the middle of the fight – he glows red like the rising sun and not Vader's lightsaber. Sho'nuff gets the upper hand during the fight and wants Leroy to call him Master. Leroy then realizes that the Master he was searching for was himself and not some yellow dude. Leroy calls himself the Master and begins to let his soul glow. Leroy defeats Sho'nuff with atomic punches and kicks.
After Leroy wins Eddie shoots Leroy but Leroy catches the bullet in his teeth (Honkey, please!). Leroy ends up with Prince's bitch – proving that effeminate black guys are still cool enough to get chicks.
Additional Film Information
Rate the Film!
TriStar Pictures released The Last Dragon to theaters on March 22, 1985. Michael Schultz directs the film which stars Taimak, Vanity, and Christopher Murney.