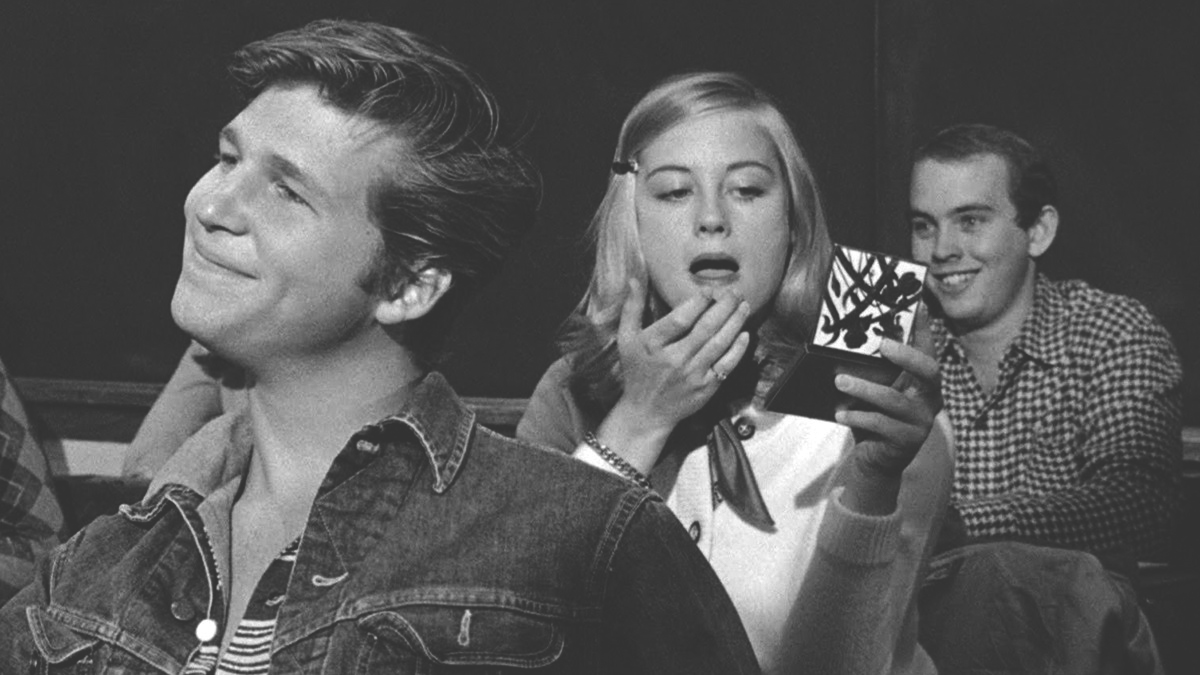 Film and Plot Synopsis
In 1951, a group of high school students come of age in a bleak and isolated North Texas town that is slowly dying; both culturally and economically.
'The Last Picture Show' Movie Summary
The summary below contains spoilers.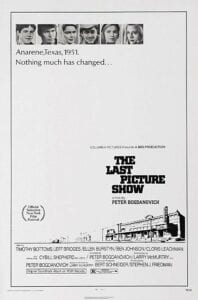 The Last Picture Show,
is about life in the dying town of Anarene, TX circa 1951 comes to the big screen. The story follows three graduating seniors from the local high school; Sonny, innocent and trustworthy, big man on campus, Duanem and Duane's girlfriend, Jacy.
Sonny and Duane try to understand what life holds for them once they graduate. Duane has unrealistic dreams while Sonny has a more pessimistic view of life. Duane's only focus is escaping the small town's monotony…and getting Jacy to go all the way with him in his broken down pickup. However, Duane bores Jacy.  Anarene bores her. Her uneventful life bores her. So, she sets her sights on more promising prospects over in Wichita Falls.
Billy, the town's retard,  is friends with Sonny. Sam the Lion, the town's soulful patriarch and owner of the pool hall, diner and movie house, takes care of Billy. Sam advises Sonny, but has very little hope for his future. Sonny breaks up with his undesirable girlfriend at the same time Duane and Jacy try unsuccessfully figure out how to lose their virginity. Everyone in town hears about that!
Sonny stumbles awkwardly into a romantic relationship with the basketball coach's middle-aged and emotionally-needy wife, Ruth. After graduation, Duane and Jacy grow further apart. Sonny and Ruth become more dependent on each other. Jacy's unfaithful, but doting mother tries guiding Jacy to bigger and better opportunities outside Anarene. At the same time, Duane sees wedding bells with Jacy.
When Duane, Sonny and a group of equally bored boys play a dirty trick on Billy, Sam disowns them. However, Duane hides, and shows he's a coward. After some soul searching with the help from a friendly waitress at the diner, Sonny makes amends with Sam. Jacy breaks up with Duane; causing further drama in town, so Sonny and Duane head out to Mexico for the weekend.
When they get back, they find out Sam's dead, and he left the pool hall to Sonny in his will. With very little excitement left in town, Duane leaves for work outside of Anarene. Seeing no better prospects left in the one-horse town, Jacy starts up a relationship with the star struck Sonny; thus breaking up (and devastating) the unsuspecting Ruth.
When Duane returns, he finds out about the new couple, and confronts Sonny. He breaks a beer bottle over Sonny's head; blinding him in one eye. Duane then leaves again to join the army. Jacy proposes marriage to Sonny which he happily accepts. On the way home from Oklahoma, where they tied the knot, but before they consummated the marriage in Texas, the police pick them up at Jacy's parents' request. It becomes evident that Jacy only wanted the publicity of a scandal to further her popularity in town rather than out of love for Sonny.
Jacy moves to Dallas to attend college in Dallas while Duane comes back from the army, and makes amends with Sonny. Then the military ships him out to fight in the Korean conflict. With both Duane and Jacy gone, Sonny settles into a lonely life. Now he's in charge of Billy's care, but when a truck kills Billy, his death breaks Sonny. He panics and drives out of town, but he has nowhere to go. Knowing he has nothing left but a very bleak future in Anarene, he still turns around and heads back. On the way home, Sonny stops by Ruth's to apologize only to have her explode on him in a fit of pain and anger.
Through her rage, she only sees a broken and lonely man. She forgives him…more as a mother than as a lover. The camera pans over the lifeless, dust-covered Anarene before settling on the deserted movie house at the end of town.
Additional Film Information
Rate the Film!
Columbia Pictures released The Last Picture Show on October 22, 1971. Peter Bogdanovich directed the film starring Timothy Bottoms, Jeff Bridges, and Cybill Shepherd.