Film and Plot Synopsis
Philip Marlowe is a chain-smoking, wisecracking private dick eking out a living in Los Angeles, California. When a disheveled friend shows up to his place one night, he asks Marlowe to drive him to the Tijuana border. Marlowe agrees, and that's when his trouble begins. He returns home to find cops waiting to arrest him for abetting the murder of his friend's wife. After that friend commits suicide, the police release Marlowe. Then a beautiful woman hires him to locate her alcoholic husband who's disappeared. As that assignment winds down, a local gangster shows up with his boys to demand Marlowe find the $350,000 that his dead friend owed him. As Marlowe slowly pulls all the clues together, he finds the world is a small place, and his old friend is more dishonest than he ever knew.
Buy the Film
The Long Goodbye [Blu-ray]
5 new from $30.00
9 used from $11.58
Free shipping
as of December 4, 2023 7:07 pm
*As an Amazon Associate we earn from qualifying purchases.
'The Long Goodbye' Movie Summary
The summary below contains spoilers.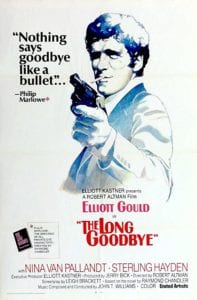 The Long Goodbye begins one late one night in Los Angeles California. As private investigator, Philip Marlowe (
Elliott Gould
), struggles to find cat food his cat will eat, his close friend Terry Lennox (
Jim Bouton
) arrives; looking like he was just in a fight. Without explanation, he asks Marlowe to immediately drive him to Tijuana, and Marlowe agrees; no questions asked.
When Marlowe later returns home in the early morning hours, two Los Angeles police officers are waiting for him outside his apartment. They accuse Lennox of murdering his fabulously rich wife, Sylvia, and think Marlowe is in on it. So they have a few questions for the private detective they'd like him to answer. However, when Marlowe refuses to answer them, the cops arrest him on a bogus charge.
Three days pass before the police release him, and they only do so after police in Mexico find Lennox dead from an apparent suicide. While the Los Angeles police and the press believe this is an open and shut case, Marlowe doesn't believe his friend would kill himself.
Soon after his release, Marlowe heads to his favorite watering hole to check to see if he has any messages. One is from Eileen Wade (Nina van Pallandt), the wife of Roger Wade (Sterling Hayden), an alcoholic and impotent novelist with writer's block. He's been missing for a week, and now Eileen needs Marlowe's help to find him.
This isn't the first time Wade's disappeared. He's had many alcoholic binges in his past that result in days-long disappearances from his Malibu home in the past, so Mrs. Wade isn't hysterical about her husband's disappearance.
Marlowe takes the job, and Wade's trail leads him to one of those shady '70s detox clinics for the wealthy. Not only does Marlowe locate Wade and return him safely home, he also learns that both the Wades knew the Lennoxes. He suspects that they too know more about their deaths than they are telling.
As Marlowe returns home, he finds more men waiting to ask him questions. This time it's a pleasant (but violent) gangster named Marty Augustine (Mark Rydell) who pays him a visit, and he's brought his boys to help get some answers. Augustine wants to know what happened to the $350,000 that Lennox was supposed to deliver to him the night he disappeared. When Marlowe gives his usual smart aleck non-answers, Augustine breaks a glass Coke bottle over his mistress' face. It serves as a warning that if he can do that to someone he loves, imagine what he will do to someone he hates. The point is well taken, and now Marlowe sets out to find that money.
Marlowe heads down to Mexico to meet the officials who found Lennox's dead body, but they don't really offer up anything other than some photographs of Lennox's dead body, and their story of his suicide. Marlowe then heads back to the Wade's ocean-side home in Malibu where they are throwing a party. However, when Dr. Verringer (Henry Gibson) from the detox clinic arrives to claim an unpaid bill, Wade tosses everyone out of his home.
Eileen asks Marlowe to stay, and she cooks him a lavish dinner while her husband sleeps in a drunken depression. As Eileen seduces Marlowe, she spots Roger leave their house and wander to the sea. The two race after him, but they are too late. Roger drowns.
As the Coast Guard search for his body in the ocean, and with many cops and onlookers on the beach, Eileen reveals that Roger was having an affair with Sylvia, and she thinks he might have killed her in one of his violent episodes. Upset from the revelation, Marlowe spots the detective who arrested him originally, and goes to tell him Eileens story. However, this confession falls on deaf ears. They are satisfied that the suicide story is correct, and that Roger's stay at the detox clinic is a solid alibi.
Marlowe next pays Augustine a visit, and he's not happy to see Marlowe without his money. As Augustine orders one of his men to cut Marlowe's private dick off, another crony interrupts with some important news. In the next room is the bag with Augustine's $350,000.
Satisfied Marlowe's come through for him, Augustine lets him leave…alive. As Marlowe exits the building, he spots Eileen drive off. As he chases after her on foot, runs head first into an oncoming car, and she doesn't stop to see if he's okay.
Marlowe wakes in a hospital three days later. The heavily-bandaged patient in the bed next to him gives Marlowe his harmonica as he leaves for some odd reason. Marlowe immediately returns to the Wade house in Malibu, only to find Eileen gone, and the house packed up for sale.
The film ends with Marlowe returning one last time to that Mexican town. He bribes the local officials $5,000 to tell him the truth. They helped Lennox fake his death, and he's alive and well at a local villa living the good life.
When Marlowe finds him, Lennox admits he killed Sylvia. He did so because he was having an affair with Eileen, and when Roger found out, he told Sylvia. The resulting argument between Sylvia and Lennox turned violent, and he killed her.
Gloating, he smugly tells Marlowe that he's a sap for helping him. Marlowe agrees before pulling out a gun and shooting Lennox dead. Marlowe then casually saunters down the road, playing his new harmonica as Eileen passes him in a car.
Additional Film Information
Rate the Film!
United Artists released The Long Goodbye on March 8, 1973. Robert Altman directed the film starring Elliott Gould, Nina van Pallandt, and Sterling Hayden.