Film and Plot Synopsis
When Walter and Anna go looking for a home of their own, a real-estate agent / friend offers them what looks like the perfect house. The couple quickly buys it. Unfortunately for them, they do not do their due diligence beforehand, and after they move in, they find their dream home has many structural, plumbing, and electrical problems (to name a few). Once they set out to fix their little money pit, their problems only get worse.
Buy the Film
The Money Pit [Blu-ray]
2 new from $9.35
4 used from $10.25
Free shipping
as of November 26, 2023 2:20 pm
*As an Amazon Associate we earn from qualifying purchases.
'The Money Pit' Movie Summary
The summary below contains spoilers.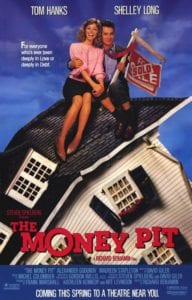 In
The Money Pit
, Walter Fielding is a lawyer. His dad used to be his law partner. But his dad stole all of their clients' money and fled south of the border. Walter's girlfriend, Anna Crowley is a classical musician and divorcee of the rich and well-respected symphony maestro Max. When Max returns to New York early, Walter and Anna have to find a new New York apartment, for which they have neither the time nor the money.
Walter's friend and fat realtor, between heart attacks, manages to find them a sweet deal on a house. The owner needs money fast, for the blood-sucking lawyers, and demands an offer quickly. She even throws in her old car to sweeten the pot. Walter and Anna bite and buy themselves a big house in the country.
The house falls apart immediately. First the stairs, the water, the electricity, then front door goes, and finally the dumbwaiter and the chimney all fail. The couple call in some contractors to get things fixed. The honest contractors cost four times as much as the crooked ones and take longer.
So Walter and Anna hire the Shirk Brothers to do the project. The Shirk Brothers quote them two weeks to finish and show up to the house for their renovation and post-apocalyptic bondage party. They tear the house apart but can't put it back together without the permits.
Meanwhile, the rebuilding efforts but a strain on the couple's budget, and their marriage. When Walter is out of town for business, Anna takes her business to her ex-husband Max. The two of them get drunk, and Max tells Anna that they got drunk and got busy with some greasy German piano sex. Anna returns home determined to lie to Walter. After he promises not be mad, Anna tells Walter that she did the horizontal polka with her German ex. Walter, however, is mad.
After they fight in front of the remodeling crew, Walter and Anna decide that they will stick things out until they can sell the house and then split up with the proceeds from the sale. In the meantime, Max pays Anna a visit and tells her that they in fact did not bang each other, but merely got ripped and passed out. Anna can't bring herself to tell Walter. She's too angry with him for being mad at her for telling him she boinked her ex-husband.
Eventually, the house is finished. When the time comes to split, they can't bring themselves to do it. Anna tells Walter that she never made schnitzel with Max, and Walter tells her that he was over it anyways. They embrace and get married and live happily ever after. Meanwhile, we close with Walter's dad and his new wife excitedly buying a mansion in South America, from the same crook that sold Walter and Anna their money pit.
Additional Film Information
Rate the Film!
Amblin Entertainment released The Money Pit on March 26, 1986. Richard Benjamin directed the film starring Tom Hanks, Shelley Long, and Alexander Godunov.