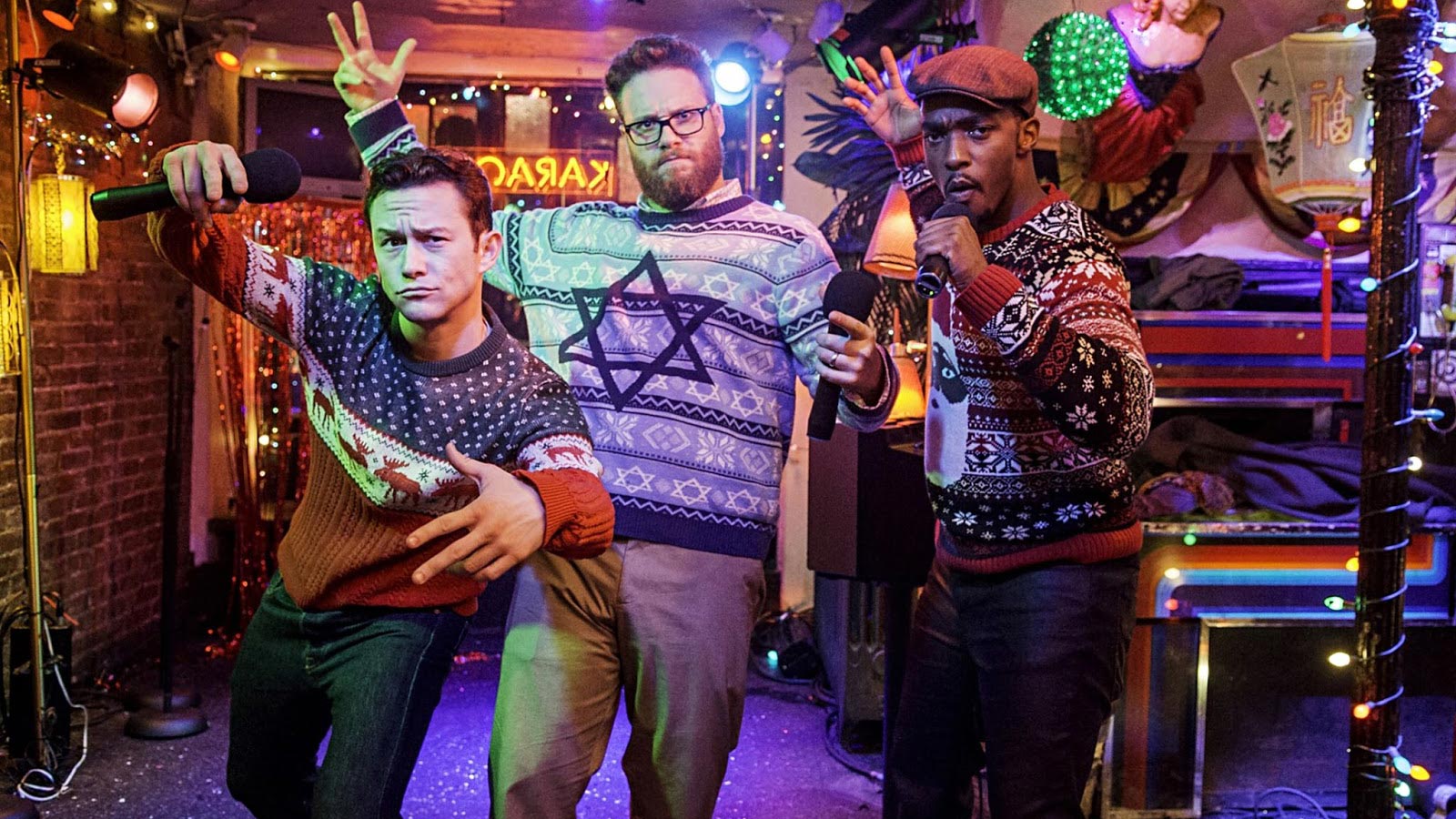 Film and Plot Synopsis
Ethan, Isaac, and Chris have been friends since childhood, and for a decade, their yearly Christmas Eve reunion has been an annual night of debauchery and hilarity. Now that they're entering adulthood, and they find that their individual lives are pulling them in separate directions. With their holiday tradition ending, the trio set out to make it as memorable as possible, and plan to find and attend Nutcracker Ball, an elusive and exclusive get together that is the Holy Grail of Christmas parties.
Buy the Film
The Night Before [Blu-ray]
14 new from $4.00
33 used from $2.02
Free shipping
as of September 28, 2022 1:24 am
*As an Amazon Associate we earn from qualifying purchases.
'The Night Before' Movie Summary
The summary below contains spoilers.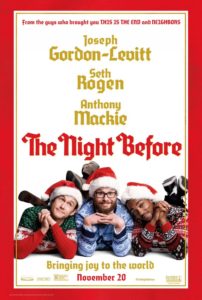 In December 2001, Ethan Miller (
Joseph Gordon-Levitt
) loses his parents in a horrible car accident. His two lifelong best friends Isaac Greenberg (
Seth Rogen
) and Chris Roberts (
Anthony Mackie
) make a solemn vow to spend every Christmas Eve with Ethan so he will not be alone for Christmas. However, fourteen years later, the friends decide to end the tradition as the friends respective lives begin to become too complicated to maintain the tradition. Chris is now a famous football player whose attention is constantly being pulled in different directions. Isaac is now married with a new child on the way. Nevertheless, the two friends worry about Ethan, who remains a struggling musician working at a hotel. Chris and Isaac worry that despite his claims that Ethan is ready to end the tradition he is, in fact, not.
The trio seek to attend the very elusive Nutcracker Ball, an extremely exclusive Christmas Eve party that the three friends have failed to attend every year. Ethan steals some invitations to the Nutcracker Ball for their final year together. The friends meet at Isaac's house to begin their evening. Isaac's pregnant wife Betsy (Jillian Bell) gives her husband some drugs to take later. The trio leave Isaac's house and head to the Rockefeller Center Christmas tree to begin their evening. Ethan reveals his acquisition of the treasured Nutcracker Ball tickets. Chris buys some marijuana from the friends' former high school dealer, Mr. Green (Michael Shannon) so that he can impress some of his football teammates.
After Rockefeller Center, the trio head to a karaoke bar and run into Diana (Lizzy Caplan), Ethan's ex-girlfriend who recently broke up with him. Diana is at the bar with Sarah (Mindy Kaling), who reveals that the girls are also planning on attending the Nutcracker Ball. Isaac takes some of the drugs his wife gave him and has a negative reaction. He records a video phone message where he confesses that he is terrified of having a child. The marijuana purchased by Chris is stolen by a Christmas-hating thief (Ilana Glazer) who claims to be a supposed fan of Chris.
Without any weed, Chris reaches out to Mr. Green again, who agrees to meet them at Chris' mother's (Lorraine Toussaint) house. The friends have dinner with Chris' mother, who encourages Ethan to make up with Diana. Isaac realizes that he switched phones with Sarah at the karaoke bar, and tells the guys that he needs to get it back. The trio go in search of Isaac's phone, and the marijuana thief strikes again and takes Chris' new package of marijuana. Isaac obsesses about his phone and Ethan just wants to go to the party. Chris doesn't get any additional marijuana, but learns the true value of his friends from the thief. Isaac separates from his friends and meets his wife and her family for a Midnight Mass. Under the effects of the drugs, Isaac vomits in the church. Meanwhile, Ethan is beaten by two drunk pub crawling Santas after he defends the spirit of Christmas.
The friends reunite back at a subway station where they barely speak to each other. The tension erupts when Ethan reveals that he and Isaac know that Chris' sudden career success is due to his use of steroids. Chris retaliates by stating that he and Isaac think that Ethan is lost. Nevertheless, the trio proceed to the Nutcracker Ball together.
Once at the party, Chris discovers that his teammates did not need the marijuana that he was trying to acquire all night. Chris' fellow teammates make fun of him for a video he shot earlier with his friends. Isaac reacquires his phone from Sarah and learns that she never revealed his video message. A desperate Ethan finds Diana at the party and proposes to her in front of the entire party, including guest Miley Cyrus (Miley Cyrus). Diana accepts the proposal publicly, but in private, she rejects his request for her hand in marriage. Diana tells Ethan that the only reason he proposed to her is because he is in fear of losing his friends. Rejected, Ethan goes to the roof of the building where he finds Mr. Green. The drug dealer reveals that he is the creator and the host of the Nutcracker Ball. Ethan reminisces about his yearly holiday ritual with Chris and Isaac, and suddenly returns to the party, understanding what is really important. He seeks out his friends and finds that Chris and Isaac have been thrown out of the party after Chris gets into an altercation with his teammates.
As the sun begins to rise on Christmas Day, the friends reconcile. Isaac receives a message from his wife that she has gone into labor, and the trio rush to the hospital in Mr. Green's car. Once there, they discover that it is a false alarm, but they do discover that Mr. Green is an angel who has been using the trio to earn his wings. Isaac fesses up and shows Betsy the video from the night before and his wife reveals that she too is afraid of raising their child.
The three friends spend Christmas together at Isaac's house. Chris leaves Isaac's and heads to his mother's house for dinner where he admits to his steroid use. Ethan goes to Diana's house and apologizes for his behavior and his reluctance to commit to their relationship. Diana admits that she has missed Ethan. Ethan tells Diana that he is finally willing to meet her parents.
The film then jumps ahead one year. The three friends and their respective loved ones spend Christmas together. Isaac's baby has difficulty falling asleep so the trio serenade her. It is revealed that the story is told from a book read by Santa Claus, the father of Mr. Green.
Additional Film Information
Rate the Film!
Sony Pictures Releasing released The Night Before on November 20, 2015. Jonathan Levine directed the film starring Joseph Gordon-Levitt, Seth Rogen, and Jillian Bell.