Film and Plot Synopsis
The Philadelphia Story begins as Tracy Lord gets ready to marry a nouveau riche man named George Kittredge. When her first husband, C.K. Dexter Haven, arrives at her house, he brings with him a tabloid reporter named Mike Connor and his photographer, Elizabeth Imbrie. While Dexter is there for mischief, Mike is a serious writer who works for Spy Magazine only to earn a paycheck. He and Tracy finds themselves attracted to one another, but her father has other plans for his daughter. An odd love triangle soon develops as Tracy must reevaluate her life and what she wants for her future.
Buy the Film
The Philadelphia Story (The Criterion Collection) [Blu-ray]
9 new from $22.81
5 used from $17.71
Free shipping
as of September 28, 2023 4:24 pm
*As an Amazon Associate we earn from qualifying purchases.
'The Philadelphia Story' Movie Summary
The summary below contains spoilers.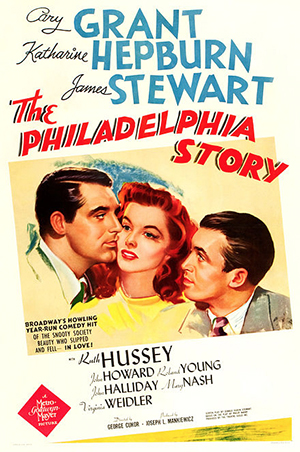 The Philadelphia Story
begins with the end of the marriage between two members of the upper class. C.K. Dexter Haven (
Cary Grant
) packs up, and leaves his wealthy socialite wife, Tracy Lord (
Katharine Hepburn
). The downfall of their marriage, which we will learn later in the film, is due to Dexter's drinking. It has become an excessive coping mechanism brought on by Tracy's unforgiving manner to the imperfections which Dexter admits he readily has.
Fast forward in time, and Tracy prepares to marry George Kittredge (John Howard); a nouveau-rich man hoping Tracy's upper class friends will accept him. Meanwhile, Spy magazine seeks to get the inside scoop on the wedding between Tracy and George. Magazine publisher, Sidney Kidd (Henry Daniell), enlists Dexter to introduce reporter Mike Connor (James Stewart) and photographer Liz Imbrie (Ruth Hussey) as friends of Tracy's brother, Junius. Once entrenched in the family gathering, the news duo reports on the inside workings of the wedding. Dexter, now sober, seems dedicated to dragging his ex-wife's family through the tabloids.
Upon arriving at the Lord household, Dexter's rouse doesn't fool Tracy, but she reluctantly agrees to let the reporters stay—after her ex-husband explains that Sidney has an innuendo-laden article about Tracy's father, Seth (John Halliday). Tracy believes her father is having an affair with a dancer while separated from Tracy's mother, Margaret (Mary Nash). She resents her father, but feels obligated to protect the family's reputation and avoid any kind of scandal that will drag her and her family's names through the tabloids. Tracy informs her family of Mike and Liz's true identities, and implores them all to continue with the deception throughout the wedding and welcome the secret paparazzi in their home.
Mike and Liz don't want to be there either
Meanwhile, Mike and Liz don't particularly like their assignment or for working for Spy magazine. Mike resents the tabloid nature of his existence, and desires to be a full time novelist. Mike has previously written a book, but unfortunately, it was neither the critical nor financial success that Mike had hoped for. Now, he prostitutes himself out to Spy magazine to make ends meet. Additionally, Mike has disdain for the wealthy class that Tracy and her family belong to. He is barely able to contain himself from berating the Lord family for their excess.
Tracy's family loves Dexter, and they are much more forgiving than Tracy. Margaret and Dinah (Virginia Weidler), Tracy's teenage sister, welcome Dexter back with open arms. This affection annoys Tracy, but she distracts herself by taking an interest in Mike. She gradually discovers that Mike has admirable qualities. She even takes the trouble to find his published stories in the library. Thus, as the wedding nears, she finds herself torn between George, Dexter, and Mike.
The night before the wedding, Tracy drinks for the second time in her life due to relieve her stress. Upon returning home, she takes an innocent swim with the equally intoxicated Mike. When George sees Mike carrying an intoxicated Tracy into the house afterward, he thinks the worst. Meanwhile, Dexter and Liz work on a plan to get the Lord family out from under Spy's threats.
The Walk of Shame
The next day, Tracy's behavior the previous night embarrasses and humbles her. No longer does she see Dexter as the damaged man that he once was. During this realization, George shows up, and tells her that her behavior the night before was shocking. He feels entitled to an explanation before going ahead with the wedding. Tracy takes exception to his lack of faith in her, and breaks off the engagement. Then, she realizes that all the guests have arrived, and are waiting for the ceremony to begin.
Mike volunteers to marry her, much to Liz's distress. She has been openly pining away for him the entire film. However, Tracy graciously declines since Mike is not the man she is in love with. Dexter finally reveals his agenda for being at the wedding, which was to win back Tracy's affection. He asks Tracy to remarry him, which she happily accepts. The two remarry, and everything old is new again.
Additional Film Information
Rate the Film!
Metro-Goldwyn-Mayer (MGM) released The Philadelphia Story to theaters on December 26, 1940. George Cukor directed film which starred Cary Grant, Katharine Hepburn, and James Stewart.