Film and Plot Synopsis
The Rules of the Game takes place in pre-World War II France. World renowned pilot André Jurieux returns to France after flying solo over the Atlantic Ocean. André is disappointed to find that his lover Christine is not present for his landing, but has chosen to spend the evening with her husband Robert. Robert is engaged in an affair with Geneviéve, but Robert wants to end the relationship and rededicate himself to his wife. Everything comes to a head during a weekend retreat at Robert and Christine's castle in the country where no one will return the same.
Buy the Film
The Rules of the Game (The Criterion Collection) [Blu-ray]
7 new from $20.28
10 used from $13.31
Free shipping
as of June 5, 2023 7:13 pm
*As an Amazon Associate we earn from qualifying purchases.
'The Rules of the Game' Movie Summary
The summary below contains spoilers.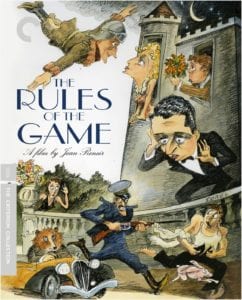 In pre-World War II France, dashing aviator André Jurieux (
Roland Toutain
) completes his solo flight across the Atlantic Ocean and lands his one man plane at Le Bourget Airfield. He is greeted by his good friend Octave (
Jean Renoir
) who has the thankless job of informing the famous pilot that the aviator's love, the very wealthy and very married Christine (
Nora Gregor
), the Marquise de la Chesnaye, is not present to great André. The pilot is devastated and communicates his disappointment to a radio reporter conducting a live interview. Christine is listening from her Paris apartment that she shares with her husband Robert, the Marquis de la Chesnaye (
Marcel Dalio
).
She converses with her loyal maid, Lisette (Paulette Dubost) what it means to be in love. Lisette is married to Robert's gamekeeper at his La Coliniére estate, Schumacher (Gaston Modot), but she is having an affair with Octave. Lisette is more dedicated to Christine than to her own husband. Lisette is aware of Christine's relationship with André, as is Robert. Christine and Robert discuss André's emotional outburst and pledge their devotion to one another. Feeling guilty, Robert excuses himself to make a telephone call to his mistress Geneviéve (Mila Parély) and arranges a meeting for the next day so that he can end their affair.
The next day, Robert tells Geneviéve that he must end their relationship because he is in love with his wife. However, Robert invites his mistress to join him and Christine for a weekend retreat at Le Coliniére. Geneviéve secretly plans to win back Robert, even if she has to destroy his relationship with Christine to do so. Christine invites her niece, Jackie (Anne Mayen), who is attracted to André. Octave induces Robert to invite the now suicidal André to the estate as well with the hope that they could possibly make a love connection between the dashing pilot and Geneviéve, which would solve both Christine and Robert's problems.
At Le Coliniére, Schumacher is trying to eliminate the estate grounds of rabbits. He discovers several snares on the grounds that have been placed there by poacher Marceau (Julien Carette). Schumacher catches Marceau, but Robert decides to hire him as a domestic employee so that he can use Marceau's ability to catch rabbits. Once Marceau actually enters the estate, he begins to flirt with Lisette, who returns his affections, much to the chagrin of Schumacher.
Robert's guests begin to arrive at the estate. André's arrival draws the attention of all the women who wish to meet him, including Jackie. The next day, the invited guests engage in a hunt on the estate grounds which is led by Schumacher. During the hunt, Robert tells Geneviéve that he no longer loves her, and she threatens to tell Christine about their affair. Robert is able to placate her by giving her one last kiss which is witnessed by Christine using some binoculars. Back in her room, Geneviéve prepares to leave, defeated. However, Christine convinces Geneviéve to stay while informing her that she is aware of the affair with Robert. Christine is hopeful that Geneviéve will keep Robert occupied so that she can pursue other interests.
That night, Robert and Christine host a masked ball and enlist the assistance of several guests to perform some musical numbers. During the night, various romantic liaisons are made. André and Christine declare their love for each other after Christine flirts with another man at the party. The couple plans to run away together. Marceau continues to pursue Lisette, which drives Schumacher into a jealous rage. Schumacher tries to shoot Marceau during the party causing Robert to dismiss both men from his employment. Robert and André get into an argument over Christine and begin a fist fight before settling their differences. Octave declares his love for Christine as well, which causes Christine to doubt her feelings for André.
Octave and Christine make plans to run away together. The terminated Schumacher and Marceau see the couple together and mistake Christine for Lisette as she is wearing Lisette's cape and hood. Octave returns to the castle to grab his things and encounters Lisette and André. Lisette begs Octave not to leave with Christine. Octave sends André out to greenhouse to meet Christine in his place. At the same time, Schumacher retrieves his rifle and returns to the greenhouse. He shoots André dead, believing he is Octave, who he thinks is trying to run off with Lisette.
Robert covers up the homicide and tells the other guests that there has been a horrible accident. He rehires both Schumacher and Marceau, who both know what really happen. Marceau and Christine appear to be haunted by the loss of their dear friend and lover. Nevertheless, they remain silent as to what really happen.
Additional Film Information
Rate the Film!
The Gaumont Film Company released The Rules of the Game on July 7, 1939. Jean Renoir directed the film starring Marcel Dalio, Nora Gregor, and Paulette Dubost.