Film and Plot Synopsis
Six African-American siblings return to their mother's home in Los Angeles for the Christmas holiday for the first time in four years. Each of the siblings has a secret. Lisa's husband is cheating on her. Claude is AWOL from the Marines and has secretly married a white woman. Kelli is single and lonely. Baby wants to follow a music career, but knows it will break his mother's heart. Quentin is a traveling musician who is haunted by the memory of his absent musician father and disapproves of his mother's new relationship with the church pastor. Over the few days before Christmas, the siblings will learn once again what it means to be a family and the spirit of Christmas.
Buy the Film
This Christmas [Blu-ray]
20 used from $2.92

as of September 23, 2023 2:40 pm
*As an Amazon Associate we earn from qualifying purchases.
'This Christmas' Movie Summary
The summary below contains spoilers.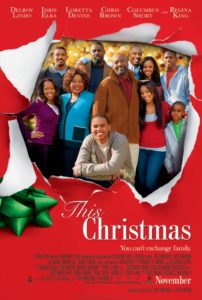 This is the story of an African-American family that reunites for Christmas in Los Angeles after spending the last several years apart. The family matriarch Shirley Ann "Ma'Dere" Whitfield (
Loretta Devine
) greets her boyfriend Joe Black (
Delroy Lindo
) when he wakes up one morning shortly before Christmas in her home in Los Angeles. Ma'Dere has lived with Joe, the church deacon, for several years since her children's father, Quentin Whitfield Sr., left the family to pursue a life as a jazz musician. Ma'Dere owns and operates a dry cleaning business, in which each of her six adult children owns a share. The business turns a slight profit and is barely enough for Ma'Dere to continue living in the family home.
Lisa Whitfield-Moore (Regina King), her husband Malcolm (Laz Alonso), and their two kids are about to leave their home in San Francisco to go to Ma'Dere's house. Lisa feels the need to act as the responsible one in managing her extended family's welfare. As a result, she often sacrifices her own wants in the process. Lisa wants to sell the dry-cleaning business, something her husband urges her to press with her siblings.
Michael "Baby" Whitfield (Chris Brown) still lives at home with Ma'Dere while he tries to figure out what he wants to do with his life. Quentin Whitfield Jr. (Idris Elba) has a career as a traveling musician, much like his father. He plays a saxophone in a local bar and has not seen his family in four years. Quentin is disconnected from his family and is not aware of his mother living with Joe. Kelli Whitfield (Sharon Leal) is a wealthy New York ad executive who openly admits to being the selfish one in the family. Claude Whitfield (Columbus Short) is in the United States Marine Corps and harbors a secret from this family. Melanie "Mel" Whitfield (Lauren London) is in college and shows up at the house with her new boyfriend Devan Brooks (Keith Robinson).
Lisa, Kelli Whitfield (Sharon Leal), and Claude Whitfield (Columbus Short) are the first to arrive at Ma'Dere's house to spend the Christmas holiday. During dinner on the first night, Malcolm asks Devan how he feels about attending an all-black college. Both Mel and Devan stated that they have the same major. Lisa suggests that the family should give up the dry-cleaners business, which results in a fight between Lisa and Kelli. Quentin finally arrives and startles everyone since no one expected him to attend. He engages his family at the dinner table. When Quentin sees Joe, he begins to make rude remarks towards him. In the kitchen, Mel informs Devan about Ma'Dere's ex-husband and the children's father before the young couple begins to make out.
Sometime later, Quentin finds Joe and threatens him again. Quentin sees Joe as an obstacle to his father one day returning to the family. After Joe leaves, Quentin plays his father's piano in the garage. Ma'Dere has kept the piano even though it reminds her of the pain caused by Quentin's father. Claude attempts to sneak out of the house to go to a club, but everyone ends up coming with him. At the club, Baby sings "Try A Little Tenderness" which surprises everyone in the family. Kelli meets Gerald (Mekhi Phifer) at the club and has an instant attraction towards him. Eventually, Claude loses his temper with a couple of guys who attempt to hit on his "secret" wife Sandi (Jessica Stroup) and pulls his gun out, which causes everyone in the family to leave the club.
Back at the house, Baby convinces his siblings to keep the fact that he can sing secret. Baby tells them that he wants to inform Ma'Dere himself. The next day, the Whitfield men head out to look for a Christmas tree while Kelli, Lisa, and Mel stay back and wrap presents. Kelli confesses to her sisters that she slept with Gerald the night before. Malcolm suddenly has to return to San Francisco because of his job, and Lisa confronts him as to why he needs to leave. Malcolm tells Lisa that everything is going to work out. Lisa feels depressed when her husband refers to them as partners. Lisa returns home from the airport with Mo (David Banner) and Dude (Ronnie Warner) who attempt to beat up Quentin for owing them money. Quentin frightens them off by telling them that a police car is nearby.
Claude is arrested. Lisa and Quentin go to the police station to try and get him out. Lisa tells Quentin why they have to sell the dry cleaners. Back at home, Ma'Dere scolds the family for not cooking dinner or being ready for Christmas. Lisa and Quentin return home without Claude. They tell the family that Claude is AWOL from the Marines, and the family is shocked when they meet Sandi, none of them being aware that Claude was married. Sandi tells Mel why Claude is AWOL and reveals that she is pregnant. Mo and Dude meet Ma'Dere, resulting in Quentin acting nonchalant. Later, Quentin confronts his mother about her relationship with Joe and why no one told him that she and his father were divorced.
Outside the house, Kelli talks to Lisa about the events that took place and Lisa's desire to sell the family business. Lisa tells her sister that even though she didn't get a college degree, someone had to help their mom with the dry-cleaning business while Kelli attended Harvard. Kelli tells her sister that Malcolm is unfaithful to her and Lisa tells Kelli that she already knew. Kelli tells Lisa that she is pathetic for sharing her husband with another woman, and the two proceed to get into a fist fight in the rain. Mel comes outside and breaks up the fight and tells Kelli about Sandi's pregnancy. She also shares that Claude does not know his wife is pregnant. At the same time, Lisa damages Malcolm's car when she lets it fall off a cliff.
That night, Kelli spends the night with Gerald. Baby gives Quentin a scrapbook of Christmas pictures of the family before the musician leaves the house. Baby tells his mother that he has singing talent, but Ma'Dere refuses to listen. Quentin goes to the train station to leave town, but he is ambushed by Mo and Dude. Joe shows up in the nick of time to save Quentin. Selfish Kelli asks Gerald to visit her in New York. Lisa confronts her husband about his infidelity while he is in the shower and repeatedly beats him with a belt. Lisa and Malcolm reluctantly agree to get a divorce.
At church that night, Baby sings "This Christmas" and Claude is released from jail. At the church service, Quentin reunites with his family and reconciles his differences with Joe and his mother. The film ends with the cast members singing "Got to Give It Up" before the credits roll.
Additional Film Information
Rate the Film!
Screen Gems released This Christmas on November 21, 2007. Preston A. Whitmore II directed the film starring Regina King, Columbus Short, and Delroy Lindo.